The Frank Walker Law/PSN Daily Notebook- February 23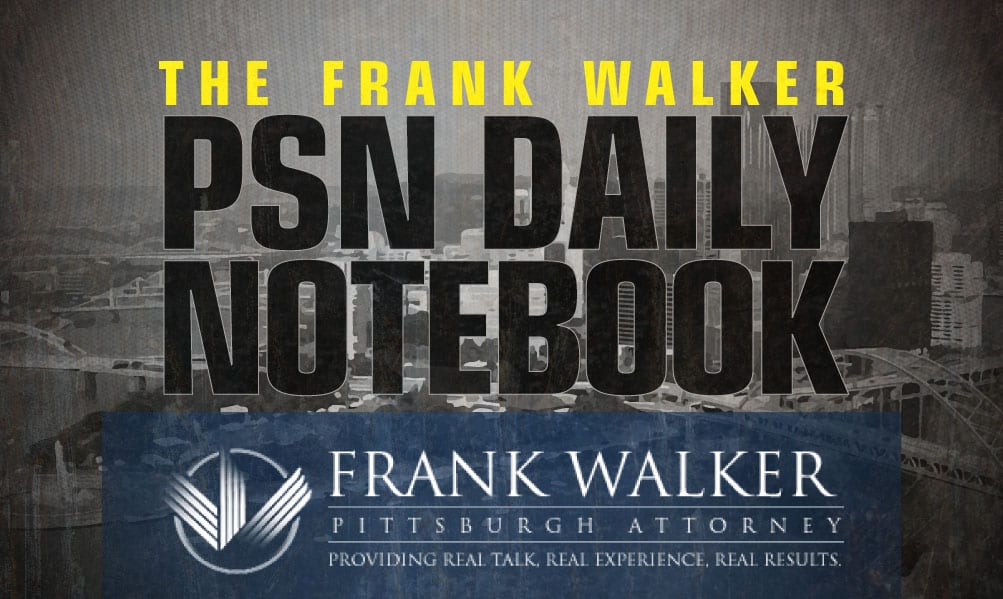 The PSN Daily Notebook is sponsored by Frank Walker, one of Pittsburgh and West Virginia's most respected criminal defense and injury lawyers. Mr. Walker has offices in Pittsburgh and Morgantown and has been named one of Top 100 National Trial Lawyers and is rated a perfect 10.0 Superb by Avvo for ethics, experience and results. To reach Mr. Walker, you can call 412-532-6805 or go to his website frankwalkerlaw.com. For real talk, real experience and real results, contact Frank Walker Law.
Update (9:05 PM)- 
**Tonight, Tiquan Underwood and Pitt extend an offer to 2023 4-star OL Knijeah Harris from IMG Academy in Florida. Harris (6'4", 305) holds an impressive list of offers- Florida, Oklahoma, Miami, Alabama, Auburn, Florida State, Georgia, LSU, Michigan, Notre Dame, Ohio State, Oregon, Penn State, Texas, Texas A&M and USC.
Beyond Blessed to Receive an Offer from The University of Pittsburgh #H2P pic.twitter.com/IPR3q0HCXB

— Knijeah Harris⁷⁷ (@knijeah) February 24, 2022

Update (8:50 PM)- 
**Two more offers today for Thomas Jefferson 2023 DE/TE Jordan Mayer, with the latest coming from Eastern Michigan and Charlotte. Mayer plans on making an unofficial visit to Pitt in March 2.
Junior season. @wpialsportsnews @210ths @PghSportsNow https://t.co/EqzWueipo6 #hudl

— Jordan Mayer (@Jordanmayer33) December 7, 2021

Update (8:23 PM)-
**Tonight, Pitt extends an offer to 2024 wide receiver Michael Key from Seminole High School in Sanford, Florida. This is Key's first D-1 offer.
Im still in disbelief that we let APK off the hook but we gon see them next year. Hear are my first year varsity highlights‼️Check out my highlight – https://t.co/whkM8SUD8c

— michael key (@michaelkey711) December 6, 2021
Update (3:03 PM)-
Aliquippa's Dravon Askew-Henry headed to the New Jersey Generals of the new USFL #HSSN https://t.co/3NnKOVZmmi

— Chris Harlan (@CHarlan_Trib) February 23, 2022
Update (12:38 PM)-
**Frank Cignetti Jr. and Pitt extend an offer to 2023 3-star quarterback Kenny Minchey from Pope John Paul II High School in Hendersonville, Tennessee. Minchey (6'1″, 205) also holds offers from Michigan State, Vanderbilt, Marshall, Memphis, Tennessee, Virginia, Virginia Tech and West Virginia.
'23 Pope John Paul II HS (TN) QB Kenny Minchey 6'3 205 @kenny_minchey
Brains 🧠 X Rising Star ⭐️
Offers: Tennessee, Eastern Kentucky https://t.co/7MAFmmBNtb

— ELITE 3 FOUNDATION (@_Elite3) January 20, 2021
Update (9:57 AM)-
**This morning, Charlie Partridge and Pitt extend an offer to 2023 4-star defensive end Daniel Harris from Palm Bay High School in Melbourne, Florida. Harris is rated by Rivals as one of the Top 200 players in the Class of 2023. Harris. holds offers from Arizona State, Arkansas, Auburn, Cincinnati, Florida, Florida State, Georgia, Indiana, Kentucky, Miami, Michigan, Mississippi State, Nebraska, NC State, Rutgers, Penn State, South Carolina, Tennessee, Texas A&M, Central Florida, USC, Virginia Tech and West Virginia.
Full Season Highlights 🦅 https://t.co/UsRmLMoi7i

— Daniel Harris (@h9rrisdaniel) November 29, 2021
Update (7:28 AM)-
**Avonworth 2023 WR/TE/OLB Peyton Faulkner received an offer last night from Kent State. This was Faulkner's 4th D-1 offer with the other three coming from Eastern Michigan, Bowling Green and Austin Peay.
https://t.co/nIi6zfvxK6 Jr. Year Season Tape (12 games) TE/OLB/DE – 6'4 – 225lbs – @wpialsportsnews @WPIAL_Blitz @Cover3_ATH @AvonworthFB @EddieKurtzAHS @kubdog5 @PaFootballNews @WPIAL_Insider

— Peyton Faulkner (@Peyton4Faulkner) November 24, 2021
AROUND THE NETWORK
Steelers Now: NFL loosening COVID-19 restrictions at the combine. There was talk of a potential walkout, but it looks like that crisis has been avoided. Here are the Pitt players taking part.
WV Sports Now: Things aren't going great down in Morgantown. Bob Huggins is not happy with discipline.
Nittany Sports Now: The Nittany Lions are struggling as well under new coach Micah Shrewsberry.
Pittsburgh Soccer Now: The Pitt men's soccer to Riverhounds pipeline is very real.
Pittsburgh Baseball Now: Former Pirate Oliver Perez retires after 19 years.
Pittsburgh Hockey Now: After a red hot stretch, the Penguins are now just treading water.