The Frank Walker Law/PSN Daily Notebook- February 25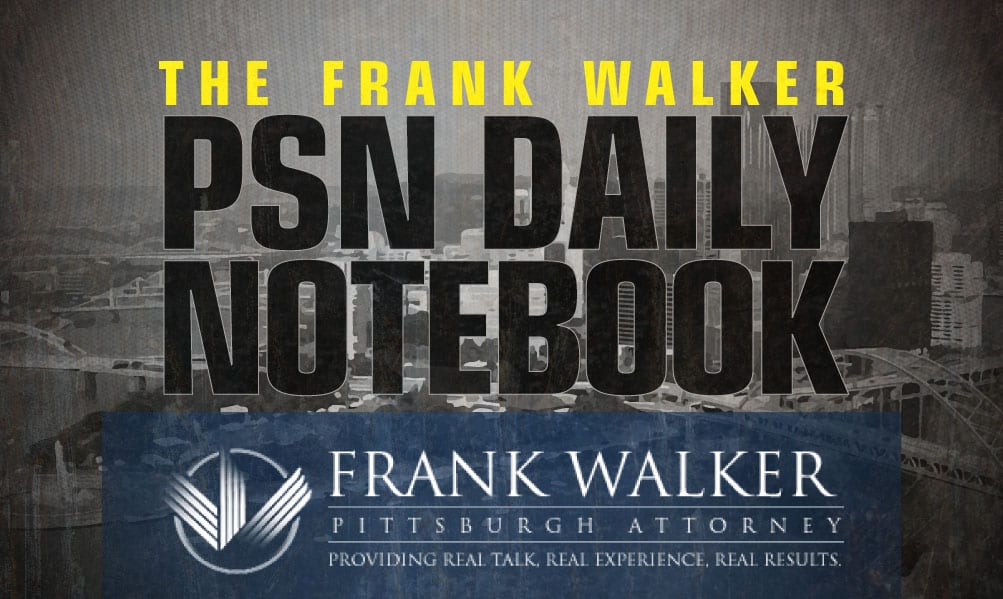 The PSN Daily Notebook is sponsored by Frank Walker, one of Pittsburgh and West Virginia's most respected criminal defense and injury lawyers. Mr. Walker has offices in Pittsburgh and Morgantown and has been named one of Top 100 National Trial Lawyers and is rated a perfect 10.0 Superb by Avvo for ethics, experience and results. To reach Mr. Walker, you can call 412-532-6805 or go to his website frankwalkerlaw.com. For real talk, real experience and real results, contact Frank Walker Law.
Update (8:39 PM)-
Great meal with the new Pitt men at Sarafino's Resturant in Crafton!!! Wow. Outstanding!!! Thanks Joey and Dean! pic.twitter.com/kduq8jlkuf

— Pat Narduzzi (@CoachDuzzPittFB) February 25, 2022
Update (5:46 PM)-
**Pitt extends an offer to 2023 6'4″ wide receiver Jayvontay Conner from East Forsyth High School in Kernersville, North Carolina. Conner received the offer from Tim Salem and holds others from West Virginia, Vanderbilt, Central Florida, UAB, Toledo, South Florida, Oklahoma State, Memphis, Minnesota, Marshall, Louisville, Duke, Coastal Carolina, Charlotte and Arkansas State.
Junior Year Highlights ! https://t.co/T1fRyypWhz

— Jayvontay Conner🎬 (@ConnerJayvontay) November 24, 2021
Update (5:16 PM)-
**Pitt extends an offer today to 2023 3-star wide receiver/linebacker Collin Dixon from Tallmadge, Ohio. Dixon (6'2″, 205 pounds) holds previous offers from Akron, Ball State, Central Michigan, Duke, Eastern Michigan, Illinois, Indiana, Kent State, Marshall, Miami (OH) and Purdue. Dixon received the offer from Archie Collins.
https://t.co/eNfYi3UiuZ
Junior Year C/O 2023 (WR/ATH)
1st Team All Ohio
1st Team District
1st Team League
69 catches
1,461 Receiving Yards
20 Touchdowns
63 Tackles
3 Sacks
8 Forced Fumbles
1 Interception
11 Games

— Collin Dixon (@CollinDixon_) December 8, 2021
Update (12:39 PM)-
**2023 running back Desean Butler from Wellington High School in West Palm Beach, Florida says that he will make an unofficial visit to Pitt on March 15. Butler (5'10", 170-pounds) also holds offers from Pitt, West Virginia, Toledo, Old Dominion and Western Kentucky.
Here's my junior season, check it out! https://t.co/KZWskw2Auu @CoachTTrickett @WKURecruiting @CoachPartridge @BrennanMarion4 @CoachRyanBecker @RyanBartow @johnlhunter1 @CoachFrankPonce @CoachC_Collins @Mike_Stoops41 @CoachTee34 @ArmyFB_Recruit RB,special teams,defense etc.

— Desean Butler (@butler_desean) February 5, 2022
Update (9:56 AM)-
**Cory Sanders and Pitt extend an offer to 2023 3-star offensive lineman Jordan Church from IMG Academy in Florida. Church (6'4″, 310) has also received offers from Florida State, Louisville, Missouri, Ole Miss, Tennessee and South Florida.
Check out my highlight – https://t.co/XLDXLZwW5w Full Junior season. It's worth watching.🔥🔥🔥

— Jordan(Big J)Church ✪ (@B1GJay77) November 16, 2021
Update (9:37 AM)-
**Robert Morris basketball extends an offer to Angelo Stuart from Hutchinson C.C. and is from Lincoln Academy in New York, New York. The 6'1″, 185-pound PG is averaging 20.9 points and shooting 43.3% from the field and 41.0% from 3-point range in 27 games this season. This is Stuart's first season at Hutchinson.
⭐️ 2022 JUCO ⭐️

Angelo Stuart
🏆Ball Guard🏆
Hutchinson ~Via~ Mineral Area
**3 Years of Eligibility Remaining**

2019-'20 at Mineral Area:
18 PPG | 3 APG | 3 RPG | 55 FG% | 40 3P%@Realjello_ @Hutchmbb @JUCOadvocate pic.twitter.com/S3rvOhEc3v

— Transfer Tapes (@TransferTapes) November 10, 2021
Hutchinson sophomore guard Angelo Stuart and the 2021-22 Blue Dragons both break single-season 3-point records on Wednesday vs. Seward County at the Sports Arena. Stuart surpassed Josh Gonner as the season 3-point record holder with 83 3-pointers.#BreatheFire pic.twitter.com/JcpgXqTqgy

— Blue Dragon Sports (@bluedragonsport) February 18, 2022
Angelo Stuart nails a buzzer-beater from beyond halfcourt right before halftime during the Blue Dragons 120-113 overtime victory at Garden City. pic.twitter.com/kC48tEzvlX

— Blue Dragon Sports (@bluedragonsport) February 24, 2022
Update (9:20 AM)- 
**Some Duquesne basketball recruiting news as the Dukes extend an offer to 6'7" freshman wing EJ Walker from Lloyd Memorial High School in Erlanger, Kentucky. This becomes Walker's 2nd D-1 offer (Youngstown State).
https://t.co/d5ocqqfoKk 21pts/7rebs/2ast/3blks

— EJ Walker (@ejwalker_) February 9, 2022
— EJ Walker (@ejwalker_) January 19, 2022