The Frank Walker Law/PSN Daily Notebook- February 26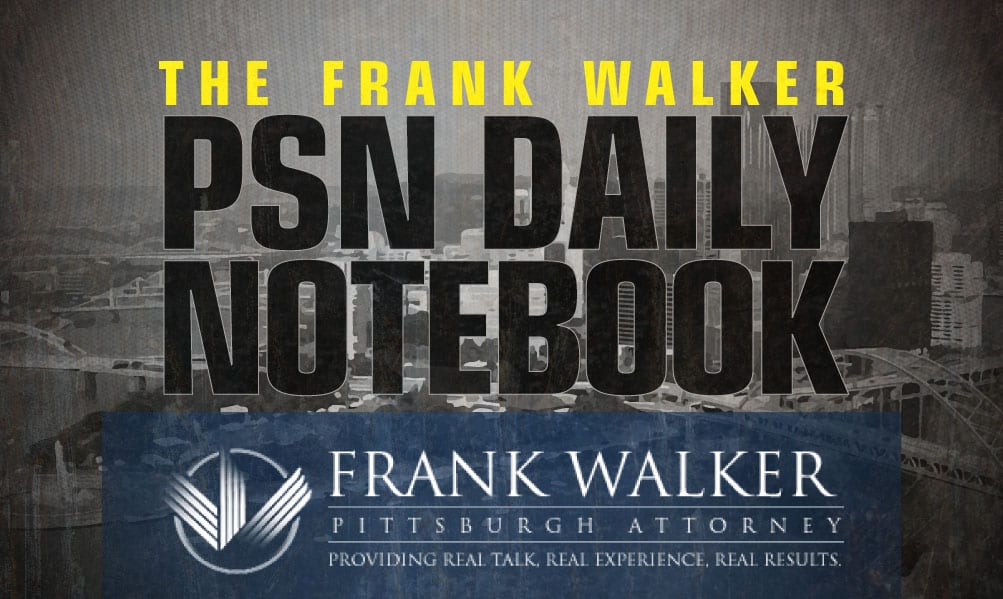 The PSN Daily Notebook is sponsored by Frank Walker, one of Pittsburgh and West Virginia's most respected criminal defense and injury lawyers. Mr. Walker has offices in Pittsburgh and Morgantown and has been named one of Top 100 National Trial Lawyers and is rated a perfect 10.0 Superb by Avvo for ethics, experience and results. To reach Mr. Walker, you can call 412-532-6805 or go to his website frankwalkerlaw.com. For real talk, real experience and real results, contact Frank Walker Law.
Update (5:38 PM)-
RMU to play Purdue Fort Wayne Tuesday night in the first round of the horizon league tournament. https://t.co/8MSCTkv8YV

— Ethan Morrison (@EthanMorrison26) February 26, 2022
Update (3:19 PM)-
Final — Upper St. Clair 48, North Allegheny 44. Panthers advance to the WPIAL Class 6A final. Freshman Rylee Kalocay was the star. She scored USC's final nine points, including the go-ahead bucket with five seconds left.

— Brad Everett (@BREAL412) February 26, 2022
Rylee Kalocay again! The freshman gives USC a 46-44 lead with three seconds left. pic.twitter.com/jVJHk974rt

— Brad Everett (@BREAL412) February 26, 2022
Update (3:12 PM)-
FINAL SCORE: North Catholic 58, Waynesburg 29.

The Trojanettes advance to the WPIAL championship game for the eighth year in a row. They'll face section rival Freedom, making its first trip to the title game in school history.

Alayna Rocco: 22 points
Anna Waskiewicz: 15 points

— Steve Rotstein (@SteveRotstein) February 26, 2022
Update (1:40 PM)- 
Final: Montour 64, Belle Vernon 53. Spartans head to the WPIAL championship for the first time since 2013. @TribLiveHSSN #MVIsports

— MVI Sports (@MVI_sports) February 26, 2022
Capel has an offer out to Lincoln Park's Meleek Thomas.

Other standouts in this game include DUQ commit LA Pratt and QV's Adou Thiero.

Thiero told me last week that Indiana, RMU, Cincy, Akron are recruiting him now https://t.co/AlSCERCSYE

— George Michalowski (@MichalowskiCBB) February 26, 2022
Update (1:34 PM)-
Today, we recognize our seniors for all of their hard work and commitment to this program.

𝗧𝗛𝗔𝗡𝗞 𝗬𝗢𝗨!#GoDukes pic.twitter.com/7sXgKhIjji

— Duquesne Women's Basketball (@DuqWBB) February 26, 2022
Final score:

Quaker Valley – 74

Lincoln Park – 63

The Quakers are heading to the WPIAL Class 4A final. Frank and Theiro led the way scoring 27 & 25 respectively. Cummings and Moye each had 17 for LP. @timesscores pic.twitter.com/7IBL3piSjC

— Noah Hiles (@_NoahHiles) February 26, 2022
Update (1:30 PM)-
For those asking why he would be here:

Adou Theiro (QV) 2022 PG prospect. Visited Indiana last week.

Meleek Thomas (LP) 2025 G holds a Pitt offer.

Brandin Cummings (LP) 2024 G. Holds an offer from South Carolina.

Big time game for Pittsburgh hoops. https://t.co/1Iei1IOYZ7

— The Loyal Sons (@TheLoyalSons) February 26, 2022
Update (9:51 AM)-
**Archie Collins and Pitt extend an offer to 2024 wide receiver/cornerback Caleb Williams from Canton High School in Canton, Michigan. This becomes Williams second D-1 offer, with the first coming from Tennessee.
Varsity Season Highlights 2021 (sophomore season) @TheD_Zone @PrepRedzoneMI @AllenTrieu @Rivals_Clint @247recruiting @247Sports @Bryan_Ault @SMSBFootball @footballcanton https://t.co/nKEpVPXwMX

— CalebWilliams (@CalebCWilliams5) November 7, 2021
Update (9:38 AM)-
**Robert Morris basketball extends an offer to 2022 3-star center Lual Manyang from Blair Academy in Blairstown, New Jersey. Manyang (6'11", 215-pounds) holds offers from Bryant, Charlotte, George Mason, Hofstra, LaSalle, Manhattan, UMass, Saint Louis, Seton Hall, Siena, UC Santa-Barbara and VCU.
Blair 6-11 senior @LManyang getting healthier by the day! End to end impact for the big fella! 🏴‍☠️ 🇸🇸 pic.twitter.com/ovhqgzPg0J

— Coach Joe Mantegna (@CoachMantegna) February 11, 2022