The Frank Walker Law/PSN Daily Notebook- March 3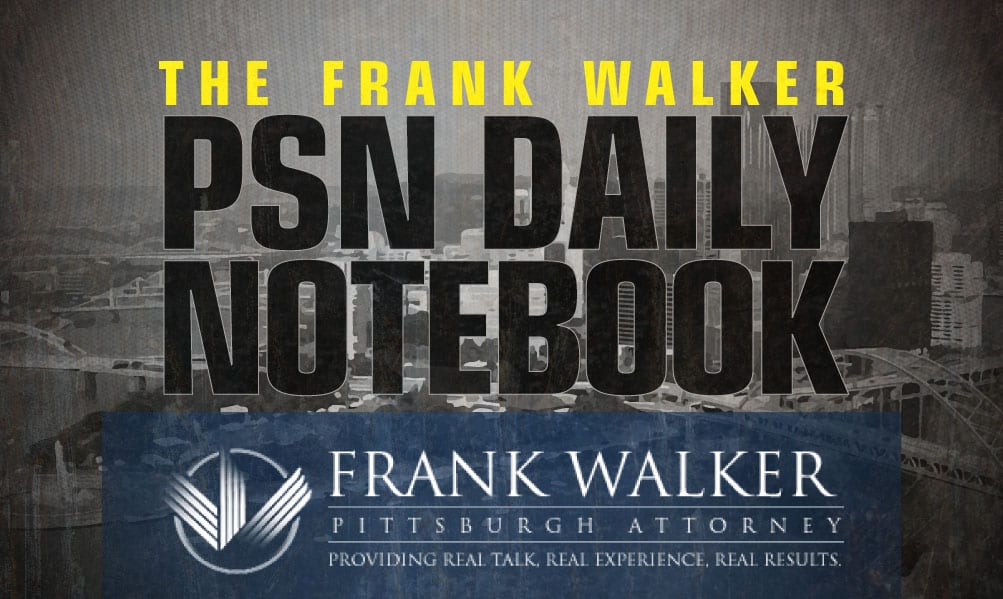 The PSN Daily Notebook is sponsored by Frank Walker, one of Pittsburgh and West Virginia's most respected criminal defense and injury lawyers. Mr. Walker has offices in Pittsburgh and Morgantown and has been named one of Top 100 National Trial Lawyers and is rated a perfect 10.0 Superb by Avvo for ethics, experience and results. To reach Mr. Walker, you can call 412-532-6805 or go to his website frankwalkerlaw.com. For real talk, real experience and real results, contact Frank Walker Law.
Update (8:49 PM)-
The season comes to an end. #BobbyMo | 🔵🏀🔴 pic.twitter.com/QnjQJfDXG0

— RMU Basketball (@RMUWBasketball) March 4, 2022
Update (8:21 PM)-
Kenny Pickett can run. He can read the hell out of a defense. He's accurate. Oh wait. He has small hands. Never mind. pic.twitter.com/ahivjxKsGJ

— Andrew Fillipponi (@ThePoniExpress) March 4, 2022

Update (7:15 PM)- 
**Charlie Partridge and Pitt with birthday wishes to 2023 4-star cornerback Antonio Robinson from Florida Christian in Miami, Florida. Robinson holds offers from Pitt, Arkansas, Florida, Miami, Michigan, Ole Miss, North Carolina, Penn State, Texas, Virginia Tech, West Virginia and Tennessee.
Thankful!!! @CoachPartridge @CoachDuzzPittFB pic.twitter.com/OyvrWDMed0

— Antonio C/O 2023 אנטוניו (@itoniorobinson2) March 3, 2022

Update (6:27 PM)- 
**Pitt will be getting an unofficial visit tomorrow from 2023 running back Chad Alexander II from Lawrenceville, Georgia.
9 Rushes- 173 yards & 3 touchdowns in Round 1 of the playoffs @coachchoice @JayBrinson70 @KashifMoore @BrianHainesb @GBL3_ @AppFBRecruiting @247Sports @Mansell247 @ChadSimmons_ @GDPsports @RecruitGeorgia @BigFaceSportss pic.twitter.com/AfesWyR6Wk

— Chad Alexander ll (@ChadAlexanderJr) November 14, 2021
Update (8:50 AM)-
Practice 2 in the books ✅

Ready for the pads to pop 💥#H2P 🏈 pic.twitter.com/kB2pHsNqIA

— Pitt Football (@Pitt_FB) March 3, 2022
Update (7:40 AM)-
Future #Pitt wide receiver…"Air" Zion Fowler ✈️ ✈️. #PittGoodHandsClub #H2P 🔵🟡 https://t.co/Z6NRLp2fpi

— Harry G. Psaros (@PittGuru) March 3, 2022

Update (7:26 AM)-
**A few offers to report on for some WPIAL players in the Class of 2023- Navy extends offers to Thomas Jefferson 2023 defensive end Jordan Mayer and Aliquippa defensive back Donovan Walker, while Kent State offers Steel Valley 2023 safety Cruce Brookins.