The Frank Walker Law/PSN Daily Notebook- March 7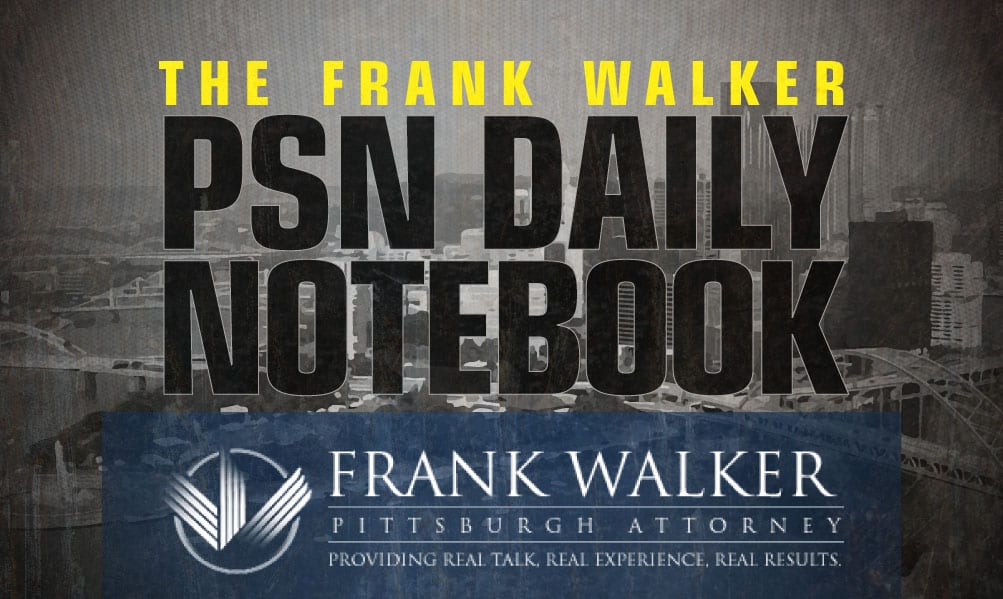 The PSN Daily Notebook is sponsored by Frank Walker, one of Pittsburgh and West Virginia's most respected criminal defense and injury lawyers. Mr. Walker has offices in Pittsburgh and Morgantown and has been named one of Top 100 National Trial Lawyers and is rated a perfect 10.0 Superb by Avvo for ethics, experience and results. To reach Mr. Walker, you can call 412-532-6805 or go to his website frankwalkerlaw.com. For real talk, real experience and real results, contact Frank Walker Law.
Update (3:27 PM)-
Texans signed center Jimmy Morrissey to a one-year contract, per a league source. Morrissey, a former Las Vegas Raiders seventh-round draft pick from Pitt and Burlsworth Trophy winner started four of five games played as a rookie after being signed off Raiders' practice squad

— Aaron Wilson (@AaronWilson_NFL) March 7, 2022
Update (2:50 PM)-
I like the stuff that Pickett does… pic.twitter.com/Y3FcfoPbIj

— Dan Orlovsky (@danorlovsky7) March 7, 2022
Update (2:32 PM)-
Top 5 next week!! Stay tuned 👀 @wpialsportsnews @210ths @Evolve2tenths @PaFootballNews @PghSportsNow

— Jordan Mayer (@Jordanmayer33) March 7, 2022
Update (2:27 PM)-
Nobody has more Biletnikoff Awards than the University of Pittsburgh.

Jordan Addison accepted Pitt's third this weekend in Tallahassee.

🏆 @Espn_Jordan #H2P » @BiletnikoffAwrd pic.twitter.com/D7CKAnR9Mw

— Pitt Football (@Pitt_FB) March 7, 2022

Update (7:34 AM)-
**Avonworth 2023 WR/TE/DE Peyton Faulkner received an offer on Sunday from Navy. Faulkner also holds offers from Monmouth, Kent State, Bowling Green, Austin Peay and Eastern Michigan.
https://t.co/nIi6zfvxK6 Jr. Year Season Tape (12 games) TE/OLB/DE – 6'4 – 225lbs – @wpialsportsnews @WPIAL_Blitz @Cover3_ATH @AvonworthFB @EddieKurtzAHS @kubdog5 @PaFootballNews @WPIAL_Insider

— Peyton Faulkner (@Peyton4Faulkner) November 24, 2021