The Frank Walker Law/PSN Daily Notebook- March 10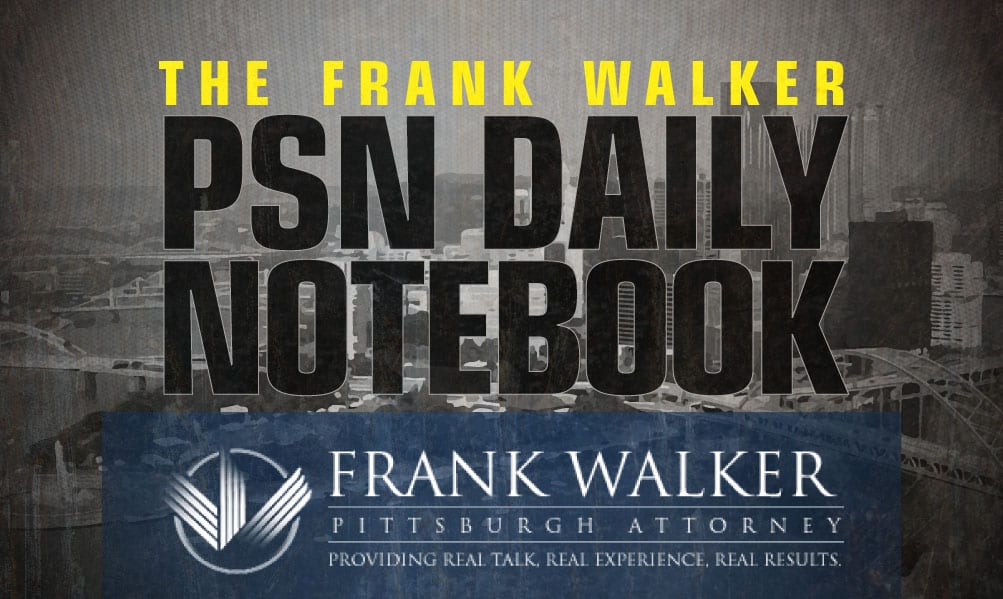 The PSN Daily Notebook is sponsored by Frank Walker, one of Pittsburgh and West Virginia's most respected criminal defense and injury lawyers. Mr. Walker has offices in Pittsburgh and Morgantown and has been named one of Top 100 National Trial Lawyers and is rated a perfect 10.0 Superb by Avvo for ethics, experience and results. To reach Mr. Walker, you can call 412-532-6805 or go to his website frankwalkerlaw.com. For real talk, real experience and real results, contact Frank Walker Law.
Update (6:18 PM)-
**Pitt extends an offer to 2024 wide receiver Jamar Taylor Jr. from Lake Gibson High School in Lakeland, Florida. Taylor (6'2″, 195) received the offer from Tiquan Underwood and holds other offers from West Virginia, South Florida and Rhode Island.
Check out this highlight! https://t.co/1sPAGl0gBy

— Jamar Taylor Jr (@JamarTaylorJr1) January 18, 2022
Bless to recieve another D1 offer to the University of Pittsburgh@Pitt_FB @CoachDuzzPittFB@TiUnderwood@rkbarefield @coachNmoody@Blake_Alderman @MohrRecruiting@andrew_ivins @demetricdwarren@swiltfong247 @jason_higdon#AGTG #BOE pic.twitter.com/Ar30XN4TvK

— Jamar Taylor Jr (@JamarTaylorJr1) March 10, 2022
Update (5:40 PM)- 
**A fourth Power 5 offer (Boston College, Duke, West Virginia) for Thomas Jefferson 2023 DE Jordan Mayer.
After an amazing visit, I am very thankful to receive an offer from @RFootball @GregSchiano @coachharasymiak @RUCoachFraser @CoachMWatson @CoachNunz @Coach_Hewitt86 @210ths @Evolve2tenths @PghSportsNow pic.twitter.com/MF9BEwwmEl

— Jordan Mayer (@Jordanmayer33) March 10, 2022
Update (1:55 PM)-
@Rodney_G3 made 16 1st graders day today at Hutchinson Elementary! One thing he LOVES are kids and being a role model to them. He put a smile on every single one of their faces today! I love what he's doing he's #MoreThanAnAthlete ❤️💙 pic.twitter.com/UN0BmkN6cD

— Alyssa Gallagher (@gallagher120) March 10, 2022
Update (11:54 AM)-
Best landing spot for QB Kenny Pickett is #Steelers followed by #Panthers to me.

— Mike Farrell (@rivalsmike) March 10, 2022
Update (11:51 AM)-
Hail 2 Pitt! pic.twitter.com/lCoq2qzZzF

— Jonathan DiBiaso (@Coach_JDiBiaso) March 10, 2022
Damarri Mathis 4.39 last week! Damn! And plays with an attitude.. I'll take this guy on my team! https://t.co/RIMaRTWnQV

— Ben Fennell (@BenFennell_NFL) March 9, 2022

Update (11:41 AM)-
**This morning, Tim Salem and Pitt extend an offer to 2023 offensive tackle Logan Howland from the Hun School in Princeton, New Jersey. Howland (6'7″, 265) holds offers from Boston College, UConn, Duke, Kent State, Kentucky, Marshall, Maryland, Miami, Michigan State, Syracuse, Vanderbilt and Virginia.
Class of 23 @LoganHowland

✅PSR score of 7.54 = FBS prospect
✅converting from TE to Tackle
✅Size 606/265
✅Length: 80" wingspan
✅Athletic OL who runs a 5.2 40 and a 4.8 shuttle. pic.twitter.com/yDBkDFT6YS

— PSR Combine Series (@ScoutNickP) March 10, 2022