The Frank Walker Law/PSN Daily Notebook- March 17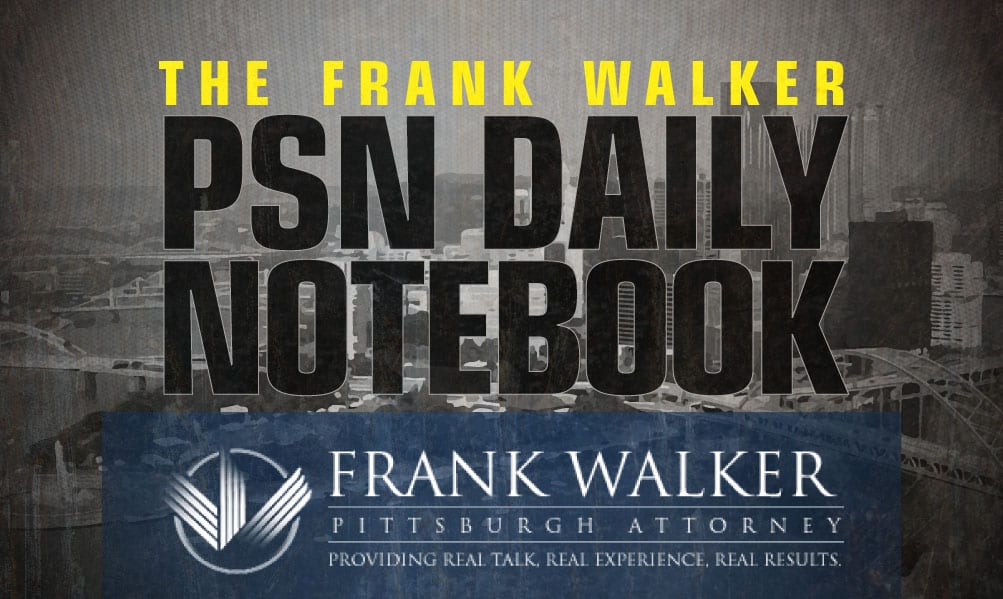 The PSN Daily Notebook is sponsored by Frank Walker, one of Pittsburgh and West Virginia's most respected criminal defense and injury lawyers. Mr. Walker has offices in Pittsburgh and Morgantown and has been named one of Top 100 National Trial Lawyers and is rated a perfect 10.0 Superb by Avvo for ethics, experience and results. To reach Mr. Walker, you can call 412-532-6805 or go to his website frankwalkerlaw.com. For real talk, real experience and real results, contact Frank Walker Law.
Update (3:23 PM)-
Special thank you to @jeffcapel and @Pitt_MBB for allowing us to use the Petersen Events Center for practice today pic.twitter.com/eUK9OP6cQI

— Jay Wright (@VUCoachJWright) March 17, 2022

Update (10:10 AM)-
**Pitt is receiving an unofficial visit today from 2023-star safety/linebacker Collin Dunn from Tuscaloosa, Alabama. Dunn holds offers from Pitt, Kansas State, Maryland, Coastal Carolina, Toledo and West Virginia. Dunn received his offer from Pitt on February 27 from Ryan Manalac.
2023 3-Star LB Collin Dunn's Physicality and Speed Highlight Potential Fit at Pitt https://t.co/fI0VfLOklx via @pghsportsnow pic.twitter.com/3iNy1hEZzt

— Pittsburgh Sports Now (@PghSportsNow) March 1, 2022
https://t.co/zCFjCZc1B7 @freddierch8 @CoachDerekMason @RyanTrichel @CoachVillagrana @CamLemons_UGA @mickeel_stewart @ChuckLillie @crob45 @CoachAFierbaugh @ericponio @Blake_Shrader13 @G_miller11 @ErnieSims34 @Coach_Northcott @ColemanMinnis @CJheinz34 @CoachPatke @vkehres

— CDunn04 (@Dunn04C) December 3, 2021
Update (9:40 AM)-
**Pitt has extended an offer to 2023 OL/DL DJ Chester (6'5″, 305 lbs.) from Conyers, Georgia. Chester received the offer from Ryan Manalac and holds others from Auburn, Boston College, Colorado, Duke, Kentucky, Louisville, LSU, Miami, Michigan State, Mississippi, Missouri, Nebraska, Ole Miss, South Carolina, Tennessee, Central Florida and USC.
Junior season highlights https://t.co/AQYlrzPHdc @Mansell247 @ELCAFootball @RecruitGeorgia

— DJ Chester (@DJChester6) December 5, 2021
Update (9:29 AM)-
**On Wednesday, Andre Powell and Pitt extended an offer to 2023 running back Dontavius Braswell from Washington Country High School in Sandersville, Georgia. Braswell (5'11", 195) holds other offers from Alabama, Boston College, Florida State, Georgia Tech, Kansas State, Louisville, Minnesota, Nebraska and Oregon.
How to make something out of nothing ⚡️@CoachRHeld @KyleYoung_NU @247recruiting pic.twitter.com/4mFYobe278

— djaybraswell (@djaybraswell) November 6, 2021
AROUND THE NETWORK
Steelers Now: Steelers pickup new linebacker in free agency.
Pittsburgh Baseball Now: Do the Pirates have… power?
WV Sports Now: Pitt and WVU have strong interest in an ETSU transfer.
Nittany Sports Now: Sam Sessoms enters transfer portal for the Nittany Lions
Pittsburgh Hockey Now: It's trade szn!