The Frank Walker Law/PSN Daily Notebook- March 19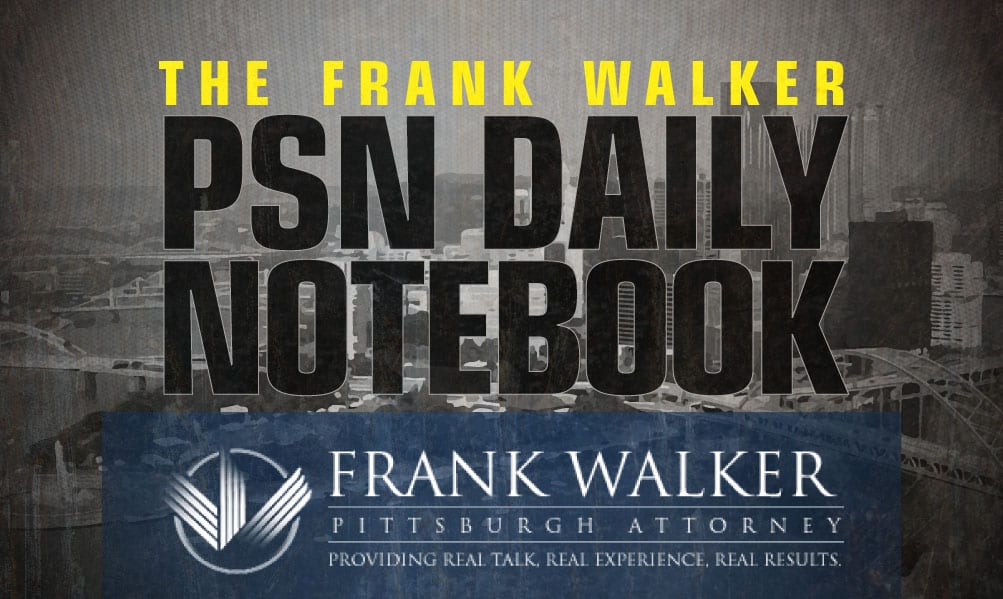 The PSN Daily Notebook is sponsored by Frank Walker, one of Pittsburgh and West Virginia's most respected criminal defense and injury lawyers. Mr. Walker has offices in Pittsburgh and Morgantown and has been named one of Top 100 National Trial Lawyers and is rated a perfect 10.0 Superb by Avvo for ethics, experience and results. To reach Mr. Walker, you can call 412-532-6805 or go to his website frankwalkerlaw.com. For real talk, real experience and real results, contact Frank Walker Law.
Update (9:14 PM)-
Freshman #Pitt receiver Che Nwabuko can flat out fly! 🚀 🚀 https://t.co/NDYUYHnzk9

— Harry G. Psaros (@PittGuru) March 20, 2022
Update (8:51 AM)-
#H2P 🔥 🔥 https://t.co/uvPStfgAE1

— Harry G. Psaros (@PittGuru) March 20, 2022
Update (8:48 PM)-
O'Neal is a phenomenal 2023 offensive line prospect out of powerhouse Middletown HS in Middletown, DE. #H2P 🔵🟡 https://t.co/Fafe8NdQJB

— Harry G. Psaros (@PittGuru) March 19, 2022
Update (8:38 PM)- 
**Thomas Jefferson 2023 3-star DE Jordan Mayer made an unofficial visit today to Boston College and decided to commit to Jeff Hafley and Eagles.
— Jordan Mayer (@Jordanmayer33) March 20, 2022
Update (7:13 PM)- 
**Tonight, Central Catholic 2024 middle linebacker Anthony Speca.
Beyond Blessed to receive an offer from Vanderbilt University #AnchorDown 💛🖤 @Coach_Lezynski @Coach_Lea @VandyFootball @210ths @flem021 pic.twitter.com/Vc2IaibF2s

— Anthony Speca (@aspeca6) March 19, 2022
Update (7:08 PM)-
We can tell you that one of the 4-star recruits is having a really good time on his @Pitt_FB unofficial visit. In fact, he's now staying an extra night because he's hanging out with some of the players. That's always a good sign. pic.twitter.com/Y5ZQDj2b3L

— Pittsburgh Sports Now (@PghSportsNow) March 19, 2022
Update (6:58 PM)- 
**Cory Sanders extends an offer today to 2023 3-star CB Nate Johnson from Clearwater, Florida. Johnson holds offers from Boston College, Central Michigan, Indiana, Iowa State, Minnesota, Temple, West Virginia and Wisconsin.
wr/db 2023 🔥🔥 @CCCMaraudersFB https://t.co/LDGqNh7r26

— Nate Johnson lll (@shiftteamnate) November 30, 2021

Update (6:00 PM)-
Full schedule for next week's PIAA championships pic.twitter.com/S0CxdswCcx

— Brad Everett (@BREAL412) March 19, 2022
Wow! Nine teams from the WPIAL will play for state titles next week: New Castle, Quaker Valley, Aliquippa, OLSH and Bishop Canevin boys; Mt. Lebanon, Chartiers Valley, Freedom and Neshannock girls. Impressive!

— Brad Everett (@BREAL412) March 19, 2022
Update (4:48 PM)- 
**Pitt gets a visit today from 2024 quarterback Ethan Grunkemeyer from Lewis Center, Ohio. Grunkemeyer is currently waiting for his first D1 offer.
Update (2:03 PM)-
**Pitt will receive an unofficial visit next Saturday from 2023 3-star wide receiver Jesse Anderson (6'2″, 180) from Cardinal Gibbons High School in Fort Lauderdale, Florida. Anderson hold offers from Pitt, Illinois, Indiana, Louisville, Maryland, NC State, South Florida and Wake Forest. Anderson is getting recruited to Pitt by Charlie Partridge.
Check out my regular season highlights 🔥Wr/S/Special teams on to the playoffs… #ringchasing💍 @larryblustein @PrepRedzoneFL @Redskins32 @5manfree @ConroyWhyte @TheCribSouthFLA https://t.co/34LV8jIA0e

— Jesse Anderson 🦁🃏 (@JesseAnderson05) November 7, 2021
Update (1:29 PM)-
THIS ONE IS OVER! Aliquippa heads to the state championship game with a 57-55 win over South Allegheny. @bctimes @timesscores pic.twitter.com/e14rwZQL0I

— Josh Carney (@ByJoshCarney) March 19, 2022
Update (12:06 PM)-
Sources: Xavier is targeting Sean Miller to return as the school's next head basketball coach.

The two sides met on Friday.

Miller has also been prioritized by South Carolina to fill its head coaching vacancy.

— Jon Rothstein (@JonRothstein) March 19, 2022
Update (8:51 AM)-
2023 4-star @Mason42Robinson is in Pittsburgh tonight. Visiting @Pitt_FB tomorrow. He's asking for suggestions! https://t.co/oytZBpCxFT

— Pittsburgh Sports Now (@PghSportsNow) March 19, 2022
2023 4-star WR @tha_boikeem at @Pitt_FB for an unofficial visit. Elite player. https://t.co/gLGi6RJI3x

— Pittsburgh Sports Now (@PghSportsNow) March 19, 2022
Update (8:43 AM)-
The Quakers boys' basketball team stormed back from a 21-point deficit in the state semis to head to Hershey for the first time since 1999. https://t.co/3CjA57Ru9Y

— Timesonline.com (@bctimes) March 19, 2022
Freedom stuns WPIAL champion North Catholic to earn trip to PIAA basketball finals https://t.co/P9UagZvHIk #HSSN

— TribLive HSSN (@TribLiveHSSN) March 19, 2022