The Frank Walker Law/PSN Daily Notebook- March 22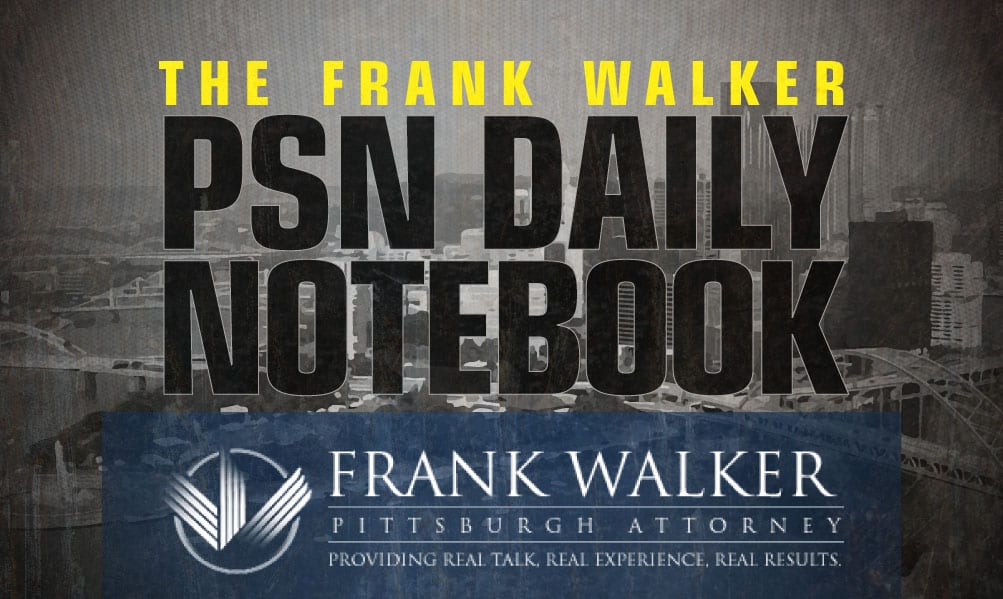 The PSN Daily Notebook is sponsored by Frank Walker, one of Pittsburgh and West Virginia's most respected criminal defense and injury lawyers. Mr. Walker has offices in Pittsburgh and Morgantown and has been named one of Top 100 National Trial Lawyers and is rated a perfect 10.0 Superb by Avvo for ethics, experience and results. To reach Mr. Walker, you can call 412-532-6805 or go to his website frankwalkerlaw.com. For real talk, real experience and real results, contact Frank Walker Law.
Update (8:38 PM)- 
**Robert Morris basketball extends an offer to 2023 point guard Evan Ipsaro from Crestview Heights, Kentucky. Ipsaro holds offers from Furman, Stetson, Radford, Youngstown State and Cleveland State.
Hard not to pay attention to @EvanIpsaro, kids unreal. One of the best point guards I've seen this week pic.twitter.com/Ip4aISs8DD

— cam anderson (@camganderson) March 19, 2022
Update (12:05 PM)-
New Pro Day-centric episode of Locked On Pitt!

– Kenny Pickett's impressive day
– Which teams are really interested in Pickett
– Damarri Mathis wows everyone in attendance
– Lucas Krull boosts stock

Watch: https://t.co/nIWgNlTitj
Listen: https://t.co/0vSHDB4sUU pic.twitter.com/ubz0UytNpo

— Nick Farabaugh (@Nick_Farabaugh) March 22, 2022
Update (9:40 AM)-
RT .@Pitt_FB: "I thought he did a great job today!" – ESPN's Todd McShay

The eyes of the NFL today were on Pitt Pro Day and Kenny Pickettpic.twitter.com/6SyQp77W2z

— Bill Porter (@BMack764) March 21, 2022
Update (8:45 AM)-
**Pitt has extended an offer to 2024 4-star cornerback Braydon Lee (6'1″, 162) from Flowers High School in Springdale, Maryland. Lee is rated as the No. 166 player in the Class of 2024. Along with Pitt, Lee holds offers from Alabama, Boston College, Maryland, Notre Dame, Ohio State, Penn State, South Carolina, Texas A&M, Virginia Tech, West Virginia and Wisconsin.
Blessed to be rated a 🌟🌟🌟🌟, and the 52nd overall recruit in the nation by @On3Recruits ! pic.twitter.com/LSU3UOzXvp

— Braydon Lee (@_brayofficial) March 21, 2022
Update (8:10 AM)-
Just spoke with an NFC assistant GM, discussing Pitt QB Kenny Pickett's Pro Day: "He showed it all. Huge arm, athletic, quick strike ability. No way he gets out of the top 10. Maybe sooner. We love him." @kennypickett10

— Jordan Schultz (@Schultz_Report) March 21, 2022
Update (8:08 AM)-
Blue-chip 2024 offensive line prospect Liam Andrews from Dexter School in Brookline, MA visited #Pitt. 🔵🟡 https://t.co/unYqAaaV1S

— Harry G. Psaros (@PittGuru) March 21, 2022
Update (7:56 AM)-
**Monday night, Pitt extended an offer to 2023 3-star athlete Demitrius Bell from Murfreeboro, Tennessee. Bell received the offer from Archie Collins and holds other ones from Penn State, Vanderbilt and Toledo.
Quick clip from Rocky Top! @DzikNoah @recruit4TN @CSmithScout @ELammers_Rivals @LoyaltyPerform pic.twitter.com/g4wPk5t8GQ

— Demitrius Bell (@db1_1o) February 27, 2022
Around the Network
Steelers Now: Steelers Brass, Including Rooney, Colbert, and Tomlin Attend Pitt Pro Day
Pittsburgh Hockey Now: Trade Deadline Grades & Metro Reaction: Do the Penguins Stack Up?
Pittsburgh Baseball Now: Oneil Cruz absolutely destroys a ball.
WVU Sports Now: Kansas State Hires Baylor Assistant Jerome Tange to Become Next Head Coach
Nittany Sports Now: Penn State FB's Season Opener Against Purdue Will Be Televised On Fox
Pittsburgh Soccer Now: Takeaways & Player Grades: Kenardo Forbes Adds to His Impressive Hounds' Legacy