The Frank Walker Law/PSN Daily Notebook- March 27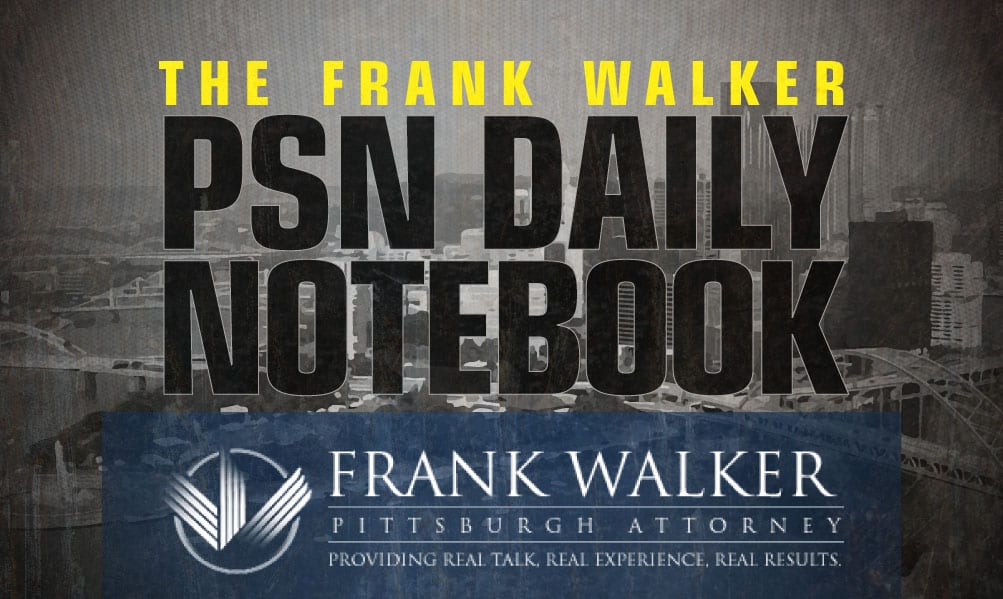 The PSN Daily Notebook is sponsored by Frank Walker, one of Pittsburgh and West Virginia's most respected criminal defense and injury lawyers. Mr. Walker has offices in Pittsburgh and Morgantown and has been named one of Top 100 National Trial Lawyers and is rated a perfect 10.0 Superb by Avvo for ethics, experience and results. To reach Mr. Walker, you can call 412-532-6805 or go to his website frankwalkerlaw.com. For real talk, real experience and real results, contact Frank Walker Law.
Update (7:47 PM)-
**Last season for Evansville, guard Shamar Givance averaged 13.7 points, 4.1 rebounds and 3.9 assists. He almost duplicated those statistics the year prior as he averaged 13.3 points, 4.0 rebounds and 4.0 assists per game. Givance finished his Evansville career as a 1,000 point scorer.
Evansville transfer Shamar Givance (@ShamzG23) tells me that he's heard from Iona, Buffalo, Western Kentucky, Duquesne, Rhode Island, Cal State Fullerton, UTEP, Maryland, Vanderbilt, among others.

Givance averaged 13.7 points, 4.1 rebounds, and 3.9 assists.

— jake lieberman (@jakelieberman2) March 27, 2022
Update (5:28 PM)-
Maryland just offered 2022 late-bloomer Adou Theiro, sources told @Stockrisers. Kentucky and John Calipari recently met with and offered Theiro. Kevin Willard and staff now join the pursuit, in attempt for a late period grab.

— Jake (@jakeweingarten) March 27, 2022
Update (2:05 PM)- 
**Last season for Valparaiso, Edwards (6'4" guard) averaged 11.4 points, 4.2 rebounds and shot 41.4% from the field.
Valpo transfer Sheldon Edwards (@sheldonnn13) tells us he has heard from Loyola Chicago, BYU, Santa Clara, FAU, FIU, USF, Georgia State, Weber State, Duquesne, Jacksonville State, Pacific, LMU, GCU, Portland State, SIU, App State, Indiana State and others in the portal.

— Hoop Scoop Media™️ (@HoopScoopMedia) March 27, 2022
Update (1:00 PM)-
Guillermo Diaz-Graham told @PghSportsNow that he and his brother Jorge, two '22 prospects that just picked up offers from Pitt, want to visit soon. Still working on dates.https://t.co/jA98zp5CWu

— George Michalowski (@MichalowskiCBB) March 27, 2022
Update (11:22 AM)-
**Florida 2023 3-star athlete Jesse Anderson made an unofficial Saturday to Pitt. Anderson holds an offer from the Panthers.
Had a amazing time at The University of Pittsburgh‼️ @CoachDuzzPittFB @CoachPartridge @coachcsanders @wiliamsisland14 @ARCHIECOLLINS_ @Pitt_FB @PittPanthers247 pic.twitter.com/0ksbk6GE4L

— Jesse Anderson (@JesseAnderson05) March 27, 2022
Update (10:52 AM)- 
**Mississippi 2023 4-star quarterback Mack Howard makes a commitment to Utah while on an unofficial visit. Howard was supposed to visit Pitt this coming Thursday.
COMMITTED. #GOUTES @UtahCoachWhitt @Coach_Ludwig pic.twitter.com/HWCwJjZUHE

— Mack Howard (@MackHoward_) March 26, 2022
Update (9:59 AM)-
**2023 3-star running back Jamari Ford (Northwestern High School in Miami, Florida) will make an unofficial visit to Pitt on April 9 for their Blue/Gold Spring Game. Ford holds offers from Pitt, Syracuse, Ole Miss, Marshall, Louisville, Florida International, Florida Atlantic and Coastal Carolina.
— Jamari Ford (@day1mari) February 11, 2022