The Frank Walker Law/PSN Daily Notebook- March 30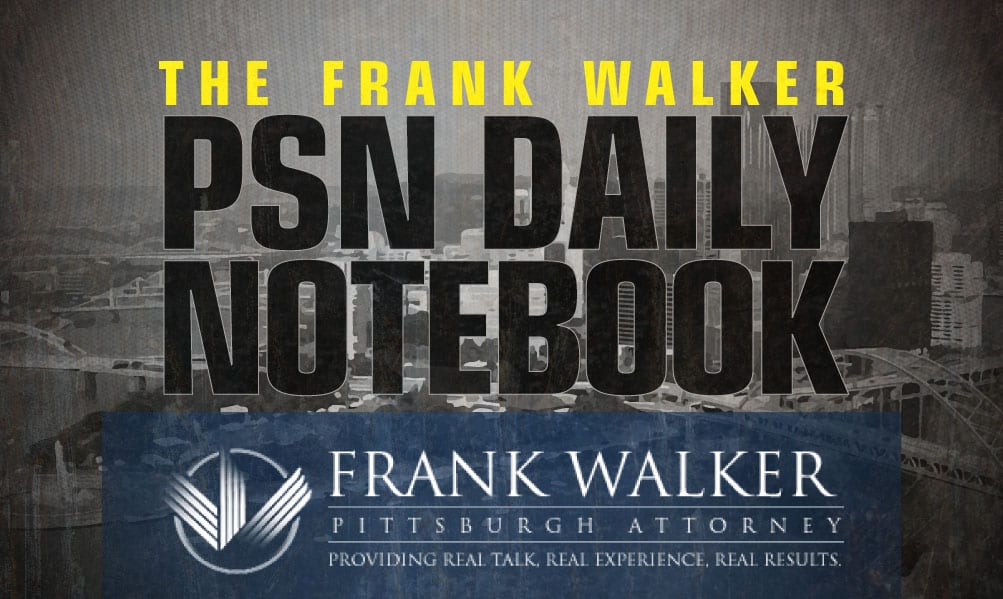 The PSN Daily Notebook is sponsored by Frank Walker, one of Pittsburgh and West Virginia's most respected criminal defense and injury lawyers. Mr. Walker has offices in Pittsburgh and Morgantown and has been named one of Top 100 National Trial Lawyers and is rated a perfect 10.0 Superb by Avvo for ethics, experience and results. To reach Mr. Walker, you can call 412-532-6805 or go to his website frankwalkerlaw.com. For real talk, real experience and real results, contact Frank Walker Law.
Update (8:50 PM)-
Didn't produce much in 2 years at Iona but is a 6'10 and 240 center. RMU is looking for that true big man to play at the 5 and James could get some minutes too. https://t.co/vFuumd4djU

— Tristan Freeman (@hoopsnut351) March 30, 2022
Update (2:17 PM)-
Mic'd Up 🔊 @TiUnderwood

Pitt's new pass game coordinator and wide receivers coach brings the energy at practice every day 🎙️#H2P 🏈 pic.twitter.com/GDWYklcXrE

— Pitt Football (@Pitt_FB) March 30, 2022
Update (9:28 AM)-
**On Tuesday, 2023 tight end Julien Randolph (Ashburn, Virginia) made an unofficial visit to Pitt. Randolph (6'5″, 210) holds offers from Vanderbilt, Army, Air Force, Howard, Richmond, Coastal Carolina, William & Mary and Penn.
Skills camp 🏈 #BeUnrivaled @CoachP_eterson @MaxRandolph12 pic.twitter.com/2LlMVhCD2f

— Julien Randolph (@JulienRandolph) March 2, 2022
Update (9:05 AM)-
**Per @Inside Portal, the Duquesne Dukes are one of the teams that have reached out to UIC transfer Zion Griffin. Last season for Illinois-Chicago, Griffin averaged 11.1 points and 3.6 rebounds per game, while shooting 50.7 from the field. Griffin is a 6'6″, 215-pound forward from Chicago, Illinois.
Update (8:05 AM)-
**Quaker Valley's Adou Thiero and Markus Frank were the top scoring duo in the WPIAL as they lead QV to a WPIAL championship and an appearance in the PIAA title game. Thiero's recruitment has started to take off since then and last night was a big night for Frank. The dynamic scorer (28.1 points per game) received a PWO offer from Andy Toole and Robert Morris. Frank also holds an offer from D2 Shippensburg.
I would like to thank my coaches and teammates for an amazing season! Here are some of the moments @QVBasketball #US #mostpointsinaseasonever760
THANK YOU!https://t.co/kN1VAjC5Xa

— Markus Frank (@Markus_Frank13) March 29, 2022
Update (7:55 AM)-
**The offer from John Calipari and Kentucky have really jump started the recruitment of Quaker Valley senior guard Adou Thiero. Following the offer from the Wildcats, the emerging guard received offers from Maryland and then Jeff Capel and Pitt. Tuesday night, Thiero received a fourth offer from a major program as he adds Cincinnati to his list. Keith Dambrot and Duquesne were the first D-1 team to extend Thiero an offer.
Update (7:43 AM)-
**Belle Vernon's Quinton Martin and Central Catholic's Anthony Speca are two of the top sophomores not only in the country but in the country. Both are rated as 4-star recruits and listed as Top 200 players in the Class of 2024. Today, Martin and Speca are together making an unofficial visit to check out the Michigan Wolverines. This past week, Speca received new offers from Ohio State and Wisconsin.
AROUND THE NETWORK
Steelers Now: New cornerback Levi Wallace coming to Pittsburgh with a chip on his shoulder.
Pittsburgh Baseball Now: Future superstar Oneil Cruz sent down to Triple-A.
Pittsburgh Hockey Now: Pens comeback falls short against New York Rangers.
Pittsburgh Soccer Now: What's more important: college soccer or a college education?
WV Sports Now: WVU's pro day numbers.
Nittany Sports Now: Penn State loses a wide receiver to the transfer portal.