The Frank Walker Law/PSN Daily Notebook- March 31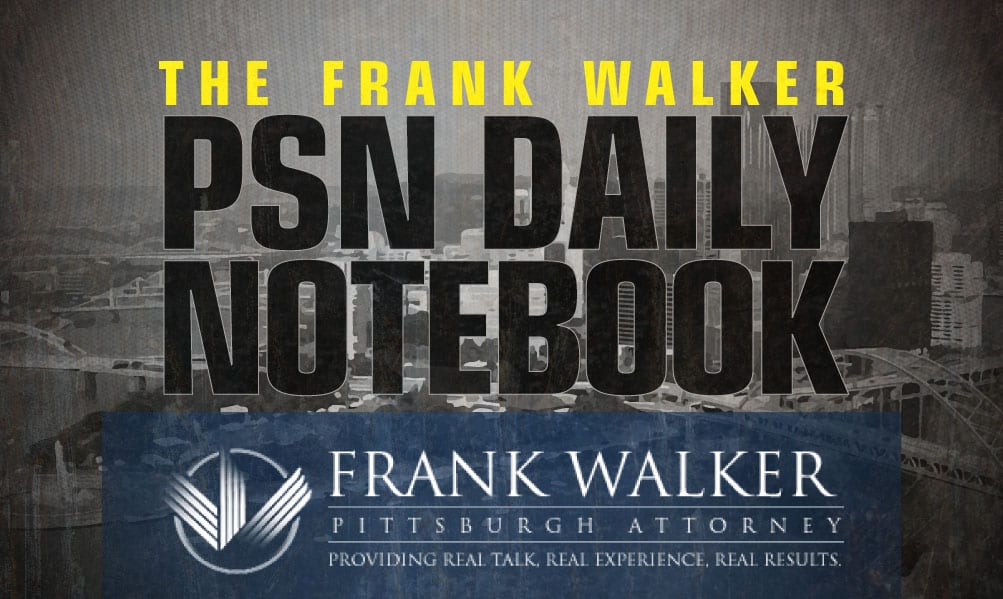 The PSN Daily Notebook is sponsored by Frank Walker, one of Pittsburgh and West Virginia's most respected criminal defense and injury lawyers. Mr. Walker has offices in Pittsburgh and Morgantown and has been named one of Top 100 National Trial Lawyers and is rated a perfect 10.0 Superb by Avvo for ethics, experience and results. To reach Mr. Walker, you can call 412-532-6805 or go to his website frankwalkerlaw.com. For real talk, real experience and real results, contact Frank Walker Law.
Update (6:53 PM)-
FIU transfer Tevin Brewer tells Portal Updates that he has heard from Pepperdine,Pacific , Marshall, UTEP, Duquesne, Georgia Southern, and App State.

Brewer averaged 15.2 points on 42% shooting, 3.5 rebounds, and 5.6 assists per game. Earned All-Third team CUSA honors.

— PortalUpdates (@portal_updates) March 31, 2022
Update (2:52 PM)-
2026 Rising Star Ath/DB/WR Great visit, @Pitt_FB Pittsburgh. Family atmosphere and 🔥facilities. @steelers @AllenTrieu @TheD_Zone @Sportsinthed_ @247Sports @TiUnderwood @SMSBFootball @JavidJames8 @CoachBlackwell_ @CoachFlare pic.twitter.com/BliTVVJmUK

— Ron'Dre Austion (@RondreAustion22) March 31, 2022
Update (10:32 AM)- 
**Sam Ayomide Onu was a 2021 4-star center from Phelps School in Malvern, Pennsylvania. Onu (6'11", 255 pounds) was a Top 100 recruit that held offers from Memphis, Illinois, Kansas, LSU, Providence, Seton Hall, TCU, Temple, Texas A&M, VCU, Virginia Tech and Wake Forest.
Pittsburgh, Butler, among the first few programs to inquire and show interest in Memphis transfer Sam Onu Ayomide, sources told @Stockrisers. Redshirted this year. Physical specimen at 6'11, 255-pounds.

— Jake (@jakeweingarten) March 30, 2022

Update (10:02 AM)-
**Wednesday night, Pitt assistant quarterback coach Jonathan DiBiaso extended an offer to 2024 quarterback Judd Anderson (6'6″, 210-pounds) from Jones County High School in Gray, Georgia. This becomes Anderson's second D-1 offer with the other coming from Ole Miss.
Always love spinning it with @6pointsjax @j_pearce7 @denny_thompson! https://t.co/yapZDOtEGN

— Judd Anderson (@JuddAnderson22) March 8, 2022
Update (9:27 AM)-
**Pitt received a visit last night from 2025 athlete Elisha Durham from West Bloomfield High School in Detroit, Michigan. Durham is waiting for his D-1 offer.
Had a great visit at PITT🐆 University got to meet their wide receiver coach @TiUnderwood great experience and facility can't wait to be back … WILL BE BACK @JavidJames8 @coach_grice @SMSBFootball @WBLakerFootball #SMSBtakeover pic.twitter.com/t0oJ0u8gVz

— Elisha Durham (@elishadurham_) March 31, 2022
Update (9:16 AM)-
**2023 wide receiver Javen Sewell from Cass Tech in Detroit, Michigan, was in Pittsburgh for an unofficial visit. Sewell (5'10", 175) is looking for his first Power Five offer.
Great visit at The Univeristy of Pittsburgh. GREAT ATMOSPHERE AND COACHING STAFF.#H2P @ARCHIECOLLINS_ 🔵🟡🔵 pic.twitter.com/Ili3qm5ZZE

— JJ (@JavenSewell) March 31, 2022
Update (8:52 AM)-
**A big night for sophomore Bryce Rowe as he received his first D-1 offer from Archie Collins. The 5'11", native of West Bloomfield High School in Detroit, Michigan was part of a large group of players from The Motor City to visit Pitt.
Check out this highlight! https://t.co/870T2Im6iu

— Bryce BLAZE Rowe ✞ (@BryceDRowe1) October 26, 2021
Update (8:41 AM)-
**A second player from Michigan to earn a Pitt offer freshman quarterback Bryce Jay Underwood. The 6'2″, 200-pound native of Belleville, Michigan received the offer from offensive coordinator Frank Cignetti Jr. Along with Pitt, this freshman talent also holds offers from Akron, Bowling Green, Kentucky, Marshall, Michigan, Michigan State, Notre Dame, Tennessee and Toledo.
— Bryce Jay Underwood (@BryceUnderwoo16) February 28, 2022
Update (8:20 AM)-
**Last night, the Pitt football staff hosted a group of players that traveled to Pittsburgh from Michigan, which is a top recruiting territory for Pitt secondary coach Archie Collins. Throughout the morning, we'll show you the players that visited and the players that picked up offers from Pitt while on the visit.
One player that earned an offer from the ACC Champions was 2024 athlete Jeremiah Beasley from Belleville, Michigan. Beasley (6'1″, 200) also holds offers from Boston College, Kansas, Kentucky, Louisville, Maryland, Michigan, Michigan State, Syracuse, Tennessee and Toledo.
Rising 2024 Michigan LB target Jeremiah Beasley (@JBeasley_2024) has really impressed me this offseason #GoBlue pic.twitter.com/bEyKESVAid

— "EJ Holland" (@EJHollandOn3) March 20, 2022