The Frank Walker Law/PSN Daily Notebook- April 1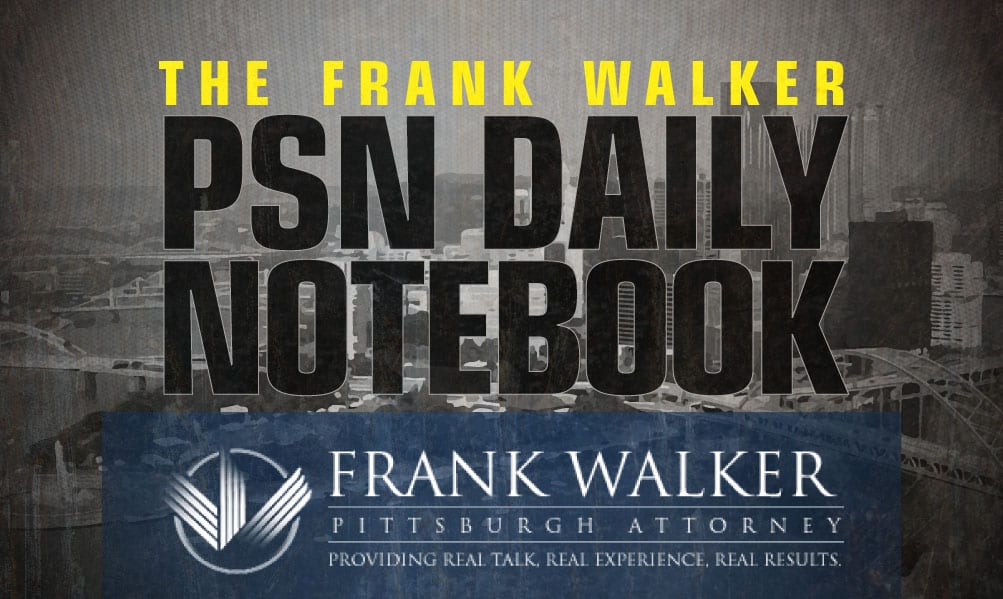 The PSN Daily Notebook is sponsored by Frank Walker, one of Pittsburgh and West Virginia's most respected criminal defense and injury lawyers. Mr. Walker has offices in Pittsburgh and Morgantown and has been named one of Top 100 National Trial Lawyers and is rated a perfect 10.0 Superb by Avvo for ethics, experience and results. To reach Mr. Walker, you can call 412-532-6805 or go to his website frankwalkerlaw.com. For real talk, real experience and real results, contact Frank Walker Law.
Update (12:10 PM)-
Georgia, Marquette, Pittsburgh, Ohio State, NC State, Georgia Tech, Florida, Virginia Tech, Saint Louis, Memphis, among the newest schools to reach out to Akron transfer Ali Ali, he told @Stockrisers. https://t.co/FYkuntUtG8

— Jake (@jakeweingarten) April 1, 2022
Update (11:58 AM)-
Illinois transfer Andre Curbelo is receiving interest from the following schools:

St. Johns
Texas
DePaul
Notre Dame
St. Mary's
Clemson
Texas A&M
Georgia Tech
Pitt
Gonzaga
UConn
Kansas State
Ohio

Curbelo is one of the top transfers available. Averaged 7.5PPG, 3.1RPG, and 3.2APG. pic.twitter.com/gzlRewCSMi

— 24/7 High School Hoops (@247HSHoops) April 1, 2022
Update (11:49 AM)-
TCU basketball reportedly extends head coach Jamie Dixon through 2027-28 season: https://t.co/hkXwatHJtk pic.twitter.com/gx4UeKtw2E

— 247Sports (@247Sports) April 1, 2022
Update (10:07 AM)-
**Laurel Highland 2023 4-star wide receiver Rodney Gallagher announces a big unofficial visit for later this month. Gallagher has also announced these visits: West Virginia on Saturday, Virginia Tech on April 9, Ohio State on April 16 and Penn State on April 30,
I will be visiting The University of Notre Dame April 23rd for the Spring Game. @NDFootball @Marcus_Freeman1 @GeradParker1 @ChansiStuckey

— Rodney Gallagher 3rd (LLC💕) (@Rodney_G3) April 1, 2022
Update (9:08 AM)-
**This morning, Pitt extended an offer to another player from Michigan as this offer goes to 2024 3-star cornerback Jamir Benjamin from West Bloomfield High School in West Bloomfield, Michigan. Benjamin received the offer from Archie Collins. Along with Pitt, Benjamin also holds offers from Boston College, Duke, Louisville, Marshall, Michigan, Michigan State, Purdue, Tennessee, Toledo and West Virginia.
Sophomore Szn.2️⃣0️⃣ https://t.co/NuIODLlOWf

— Jamir Benjamin (@JamirB6) November 13, 2021