The Frank Walker Law/PSN Daily Notebook- April 2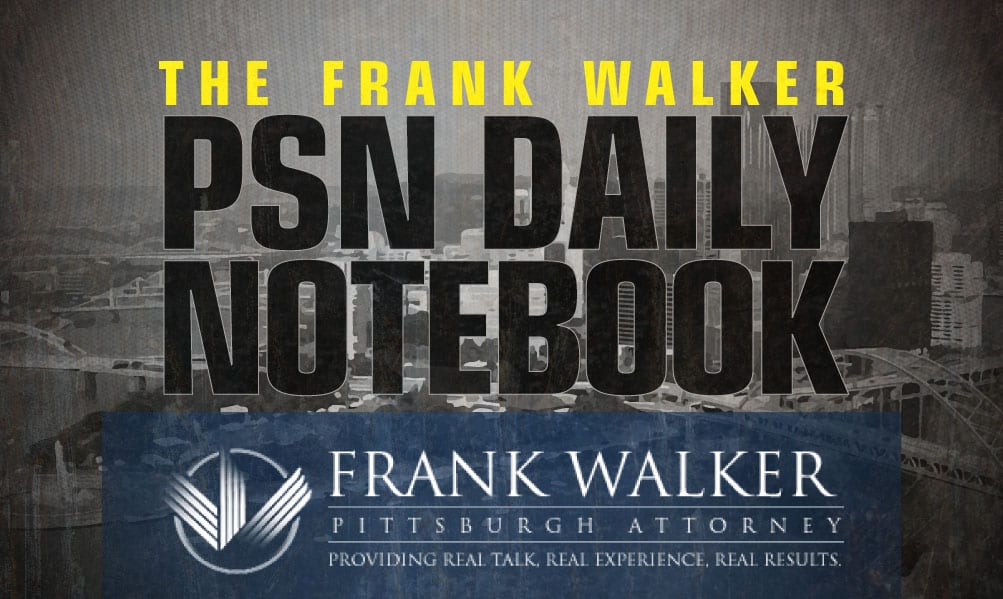 The PSN Daily Notebook is sponsored by Frank Walker, one of Pittsburgh and West Virginia's most respected criminal defense and injury lawyers. Mr. Walker has offices in Pittsburgh and Morgantown and has been named one of Top 100 National Trial Lawyers and is rated a perfect 10.0 Superb by Avvo for ethics, experience and results. To reach Mr. Walker, you can call 412-532-6805 or go to his website frankwalkerlaw.com. For real talk, real experience and real results, contact Frank Walker Law.
Update (9:36 PM)-
Future Panther Zion Fowler is a true athlete. Standout receiver. Basketball player with 'mad ups'. Speed to kill. #Pitt landed a baller. 🔵🟡 https://t.co/GwzLwAmeZP

— Harry G. Psaros (@PittGuru) April 3, 2022
Update (7:41 PM)- 
**Central Catholic 2024 wide receiver Peter Gonzalez picked up an offer today from Miami, Fla.
Sophomore Season‼️
6'2 185lb -WR
6A 2nd team all conference @PCC_FOOTBALL @210ths @thelab_sp @alex_christo_ @PRZPAvic @wpialsportsnews @PrepRedzonePA @RivalsFriedman @Rivalsfbcamps
👇👇👇👇👇https://t.co/M0Go7HPmVc

— Peter Gonzalez (@Petergonzalez70) November 24, 2021
Update (7:18 PM)-
He was dropping 3⃣s left and right!!

28PTS💥15REB💥7 3PM

Justin Champagnie posted a huge stat line for the @Raptors905 and helped lead the team to the W. pic.twitter.com/f7O8eYQnlX

— NBA G League (@nbagleague) April 2, 2022
Update (7:01 PM)- 
**Pitt will receive an unofficial visit on Tuesday (April 5) from 2023 3-star center Connor Lew from Kennesaw, Georgia. Lew holds offers from Pitt, Auburn, Boston College, Duke, Kentucky, Miami, NC State, Penn State, Tennessee, Vanderbilt, Virginia, Virginia Tech and West Virginia.
Connor Lew

2023 Center

6'4 285 📏
4.4 GPA 📚
1st Team GA All-State 🏈
355 Clean 🏋️

🎥: https://t.co/bCymXlm8Dg@CoachCarmean @KMHS_FootballGa @RecruitGeorgia @Mansell247

— Connor Lew (@ConnorLew1) March 3, 2022
Update (6:38 PM)-
Iona transfer Trey James (@Trey50James) tells me that he's heard from the following.

Southern Illinois
Robert Morris
UCI
SIUE
Chattanooga

— jake lieberman (@jakelieberman2) April 2, 2022
Update (6:24 PM)-
Bentley transfer Colton Lawrence (@clawrence1558) has heard from Winthrop, Marshall, Loyola Chicago, Delaware, New Hampshire, Binghamton, UMKC, & Robert Morris recently, he's told me.

Lawrence averaged 15.7 points & 4.2 rebounds.

6'3 guard who's a graduate transfer.

— jake lieberman (@jakelieberman2) April 2, 2022
(Update 5:31 PM)-
UAlbany transfer Jamel Horton (@HortonMel5) tells me that he's heard from Iona, Minnesota, VCU, Duquesne, Charleston, CSUF, Hofstra, Norfolk State, Fairfield, UMass, Towson, Jacksonville State, Charlotte, App State, Morgan State, & Niagara.

12.8 PPG this season.

— jake lieberman (@jakelieberman2) April 2, 2022
Update (4:55 PM)-
Tarleton State transfer Tahj Small (@tmoneyyy___) tells me that he's heard from Towson, Pacific, Duquesne, Eastern Michigan, Jacksonville, UNCG, Louisiana Monroe, and Montana State.

13.8 points, 5.6 rebounds, and 1.3 assists for the 6'5 guard.

— jake lieberman (@jakelieberman2) April 2, 2022
Update (3:48 PM)-
Central Catholic (Pa.) LB Anthony Speca (@aspeca6) was back at Notre Dame for Saturday's practice. Speca was Notre Dame's first 2024 offer. pic.twitter.com/YnRjBmU7Pk

— Matt Freeman (@mattfreemanISD) April 2, 2022
Update (3:30 PM)-
**Pitt transfer Max Amadasun is receiving some early interest per Adam Zagoria.
UMass, Hofstra, Binghamton and Quinnipiac have reached out to 6-foot-10 Pitt transfer @milli_smoove , he tells me

— Adam Zagoria (@AdamZagoria) April 2, 2022
Update (2:44 PM)-
Pitt Volleyball and Ohio State volleyball played a spring scrimmage today. 4 total sets.

Pitt swept all sets, winning 4-0.

— Nick Farabaugh (@Nick_Farabaugh) April 2, 2022
Update (11:47 AM)- 
**Pitt is mourning the loss of Julius Pegues, the first black player in the history of Pitt Men's basketball history.
Remembering a trailblazer, an icon and an exceptional man.

🔗 https://t.co/TxygMVjkl1 pic.twitter.com/pAqlG9cVl6

— Pitt Basketball (@Pitt_MBB) April 2, 2022
Update (11:18 AM)- 
**Pitt is receiving an unofficial visit today from 2023 athlete Kylon Wilson from Farrell High School.
Check out my Junior Season Highlights 🖤 @peguesAmp @farrellfootball @BobGreenburg @PaFootballNews @PaBackyard @jjwilson_7 @GoMVB
235 Rushing Yards
661 Receiving Yards
1,254 All Purpose Yards
138 Interception Yards
896 Total Yards
24 Tackles
23 Tdshttps://t.co/JEvGgCrNmV

— Kylon "Flash 4" Wilson⚡️🖤 (@KylonWilson_) December 6, 2021
Update (11:10 AM)-
Lets Go! #H2P pic.twitter.com/ijiDAgVXDH

— Frank Cignetti Jr. (@FrankCignetti) April 2, 2022
Update (10:05 AM)-
**This coming Tuesday, 2023 3-star cornerback Kaleb Cost will make an unofficial visit to Pitt. Cost (5'11", 185-pounds), who is from Sandy Creek High School in Tyrone, Georgia, holds offers from Boston College, Florida State, Georgia Tech, Kansas, Miami, Mississippi State, Tennessee, Central Florida and Virginia Tech. Cost is getting recruit by Archie Collins and received his Pitt offer back on December 9.
Jr. Regular Szn Highlights
4 Interceptions
1000+ All Purpose Yards
8 Touchdownshttps://t.co/soBUNsSzOL@SCHSPatriots @athletics_creek

— Kaleb Cost (@kaleb22cost) November 12, 2021
Update (9:46 AM)-
**Pitt will receive an unofficial visit one week from today from one of the top freshmen in the country. 2025 defensive end Armondo Blount (Dillard High School in Fort Lauderdale, Florida) holds early offers from Arkansas, Florida State, Georgia Tech, Indiana, Iowa State, Miami (FL), Ohio State, South Florida, Syracuse, Texas A&M, Toledo and West Virginia. Blount has a big week of visits scheduled for the next week- visiting Miami today, Ohio State on April 7, Penn State on April 8 and then Pitt on April 9.
What more can I say about this young man. Grades and more. The best is yet to come….@ArmondoBlount WHAT'S NEXT ? pic.twitter.com/h3m6p30xul

— CoachJT9 (@Maine_Event99) February 12, 2022
Update (9:02 AM)-
**As they take their practice/scrimmage this morning to Heinz Field, Pitt will be receiving an out-of-town visitor. 2023 3-star tight end Ben Marshall (6'5″, 220-pounds) is in town for an unofficial visit. Marshall (Murfreesboro, Tennessee) holds offers from Pitt, West Virginia, Vanderbilt, NC State, Ole Miss, Memphis, Liberty, Indiana and Coastal Carolina.
Check out this highlight – https://t.co/zqxnyxoIRv @ChandlerTygard @Coach_C_Ren @NCEC_Recruiting @CSmithScout

— Ben Marshall (@_Ben_Marshall_) September 19, 2021