The Frank Walker Law/PSN Daily Notebook- April 4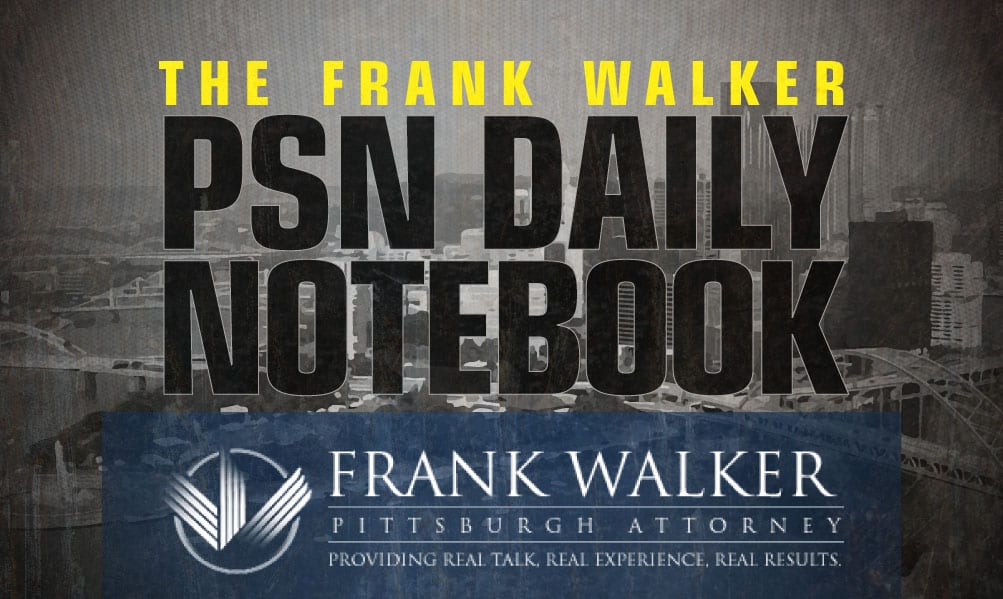 The PSN Daily Notebook is sponsored by Frank Walker, one of Pittsburgh and West Virginia's most respected criminal defense and injury lawyers. Mr. Walker has offices in Pittsburgh and Morgantown and has been named one of Top 100 National Trial Lawyers and is rated a perfect 10.0 Superb by Avvo for ethics, experience and results. To reach Mr. Walker, you can call 412-532-6805 or go to his website frankwalkerlaw.com. For real talk, real experience and real results, contact Frank Walker Law.
Update (7:59 PM)-
Former Pitt QB Bill Stull joins Jon LeDonne's staff at Pine-Richland. https://t.co/qHaCgUHr8a

— Brad Everett (@BREAL412) April 4, 2022
Update (4:14 PM)-
**Avonworth 2023 tight end Peyton Faulkner (6'4″, 220) picks up an offer from Coastal Carolina. Faulkner also holds offers from Bowling Green, Eastern Michigan, Monmouth and Navy.
https://t.co/nIi6zfvxK6 Jr. Year Season Tape (12 games) TE/OLB/DE – 6'4 – 225lbs – @wpialsportsnews @WPIAL_Blitz @Cover3_ATH @AvonworthFB @EddieKurtzAHS @kubdog5 @PaFootballNews @WPIAL_Insider

— Peyton Faulkner (@Peyton4Faulkner) November 24, 2021
Update (3:42 PM)-
Freshman guard from Kansas State Maximus Edwards (@maxgotgame2) is in the transfer portal.

Edwards held offers from Hofstra, Robert Morris, Fairfield, Towson, Cleveland State, UMass, Seton Hall, + in HS.

— jake lieberman (@jakelieberman2) April 4, 2022
Update (3:24 PM)- 
**Gateway 2023 athlete Dallas Harper makes an unofficial visit to Navy.
Had a great time at navy and thank you for having me!! @NavyCoachYo @NAVYCoachKen @NavyFBrecruit @CoachDonHoll1 pic.twitter.com/ezp6K6iD3w

— Dallas Harper (@dharper_2) April 4, 2022
Update (3:11 PM)-
Aaron Donald is winning in football and most importantly…life. Look at that footwork. Let me make a prediction: Aaron will one day win 'Dancing with the Stars'. Mark it down. #LARams #H2P 🟡🔵 https://t.co/LJB6e38a71

— Harry G. Psaros (@PittGuru) April 4, 2022
Update (3:09 PM)-
Very proud of @_Deslin for stopping by Sacred Heart Elementary for their Haiti Day! Give more than you take! #H2P pic.twitter.com/78W9ZCeX15

— Pat Narduzzi (@CoachDuzzPittFB) April 4, 2022
Update (12:36 PM)- 
**Despite being verbally committed to Penn State, Chartiers Valley 2023 4-star cornerback Lamont Payne received an offer today from Luke Fickell and Cincinnati. Payne gave his commitment to Penn State back on September 18.
Beyond blessed to receive an offer from the University of Cincinnati @210ths @Evolve2tenths @DC5StarAthlete @CoachHitsch pic.twitter.com/nvkouQq1t9

— Mont Payne🏴‍☠️🦋 (@Lamontpayne18) April 4, 2022
Update (8:00 AM)-
**On Sunday, Tim Salem and Pitt extended an offer to 2024 3-star cornerback Jaylen McLain from Seton Hall Prep in West Orange, New Jersey. McLain (6'0″, 175) holds other offers from Akron, Boston College, Duke, Georgia, Maryland, Nebraska, Ole Miss, Penn State, Rutgers, South Carolina, Syracuse, Temple and Texas A&M.
https://t.co/x3B5zH0CDP full sophomore season highlights. Had a good season with my brothers 7-4. #thankyouseniors @Coach_Smitty @CoachTimSalem @TimFalatoRU @CoachSHuggins @CoachNJ_Monroe @Coach_MWoodson @CoachTFisher @CoachChadScott @CoachCaprice @CoachMattBarnes @MoMcClain1

— 𝖩𝖺𝗒𝗅𝖾𝗇⁸ (@Jaylenmcclain08) November 16, 2021
Update (7:50 AM)-
**Pitt will receive unofficial visits tomorrow from two defensive backs with offers:  3-star Shelton Lewis from Stockbridge, Georgia and 3-star cornerback Kaleb Cost from Tyrone, Georgia. Cost's offer list includes Boston College, Florida State, Georgia Tech, Kansas, Miami, Mississippi State, Tennessee, Central Florida and Virginia Tech. Lewis holds offers from Akron, Boston College, Georgia Tech, Indiana, Memphis and Vanderbilt. Both players are being recruited by Archie Collins.
Around the Network
Steelers Now: Steelers DL Cam Heyward Named Best 31st Draft Pick of All Time
Pittsburgh Hockey Now: PHN Blog: What the Penguins Proved, What Fans are Missing with Zegras 
Pittsburgh Baseball Now: Mitch Keller looking good this spring
WVU Sports Now: WVU Baseball Records First Ever Road Series Victory Over No. 12 TCU With 5-2 Finale
Nittany Sports Now: Three Star Tight End Andrew Rappleya Flips From Michigan, Commits to Penn State
Pittsburgh Soccer Now: Riverhounds Reaction: 'Super Sub' Dane Kelly's Brace Keeps Hounds Unbeaten