The Frank Walker Law/PSN Daily Notebook- April 5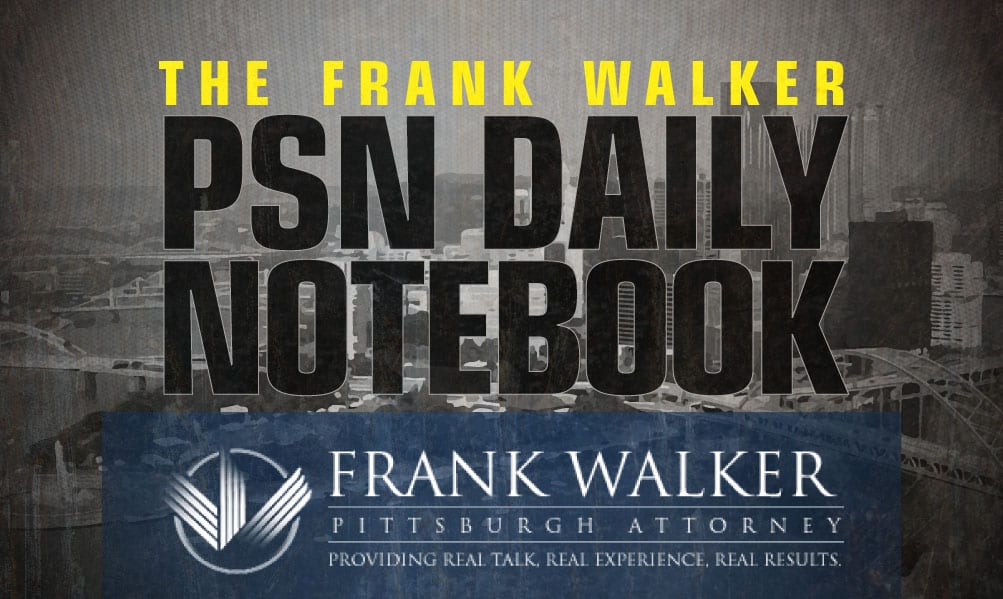 The PSN Daily Notebook is sponsored by Frank Walker, one of Pittsburgh and West Virginia's most respected criminal defense and injury lawyers. Mr. Walker has offices in Pittsburgh and Morgantown and has been named one of Top 100 National Trial Lawyers and is rated a perfect 10.0 Superb by Avvo for ethics, experience and results. To reach Mr. Walker, you can call 412-532-6805 or go to his website frankwalkerlaw.com. For real talk, real experience and real results, contact Frank Walker Law.
Around the Network
Steelers Now: Matt Corral is the Favorite to be the Steelers' 1st Round Pick
Pittsburgh Hockey Now: Sullivan Encouraging, Says Zucker in Better Spirits
Pittsburgh Baseball Now: Jose Quintana Gets the Call for the Pirates Home Opener
WVU Sports Now: Morehead State Transfer Johni Broome Hears From West Virginia
Nittany Sports Now: Report: Penn State, Florida Frontrunners For 2023 4-Star Treyaun Webb
Update (8:17 PM)- 
**Brashear 2023 3-star DE Kameron Cheatom Makes a Visit Today to Akron.
Had a great time up Akron today !! Aye Zips i'll be be back up soon #GoZips🦘 @w_d_iii @CoachFess @BallCoachJoeMo @ZipsFB pic.twitter.com/sfq7S75PQO

— WOPP ② (@KameronCheatom_) April 5, 2022
6'3 223 Outside Backer
Class of 2023 Brashear Highschool
All-City 1st Team
cell:412-610-4686 https://t.co/XT7qSbhiAm pic.twitter.com/qXssuaOqWm

— WOPP ② (@KameronCheatom_) January 17, 2022

Update (5:55 PM)-
Saints signed TE JP Holtz

— Nick Underhill (@nick_underhill) April 5, 2022
Update (1:43 PM)-
.@Pitt_FB WR Taysir Mack is visiting the #Jets next week, per source. Mack played in 40 games w/2,059 receiving yards and nine touchdowns. He also caught the game-winning touchdown in Pitt's 34-30 Quick Lane Bowl win over Eastern Michigan.

— Jordan Schultz (@Schultz_Report) April 5, 2022
Update (1:26 PM)-
🚨 𝗦𝗖𝗛𝗘𝗗𝗨𝗟𝗘 𝗖𝗛𝗔𝗡𝗚𝗘

Our homestand has come to an end as today's game vs. Kent State is PPD. Back in action tomorrow at Youngstown State.

📚: https://t.co/nQkbYrydqB#H2P pic.twitter.com/nFqszG50wa

— Pitt Baseball (@Pitt_BASE) April 5, 2022
Update (1:14 PM)-
Indiana transfer Michael Durr tells me that he's receiving interest from NC State, Arizona State, UCF, Boston College and Pitt.

— Jon Rothstein (@JonRothstein) April 5, 2022
Update (10:36 AM)-
Thank you @Pitt_FB @dayonhayes00 @DorienFord_21 @NahkiJohnson for the hospitality! #H2P pic.twitter.com/46x5JvA9NB

— Garfield Youth Sports (@GatorsGarfield) April 5, 2022
Update (10:10 AM)-
**Luis Rodriguez is a guard/forward that is entering the transfer portal but at the same time he's also considering the NBA Draft. Rodriguez played in 31 games last season and averaged 6.4 points and 5.4 rebounds per game. Rodriguez is the 5th player from Ole Miss to enter the transfer portal.
Ole Miss transfer Luis Rodriguez tells me he has heard from Georgia, Oregon, Washington St, Nevada, UNLV, Marquette, NC State, Kansas State, Pitt, Indiana, Rutgers, Louisville, West Virginia and Texas.

— Justin Byerly (@JustinByerly) April 5, 2022
Update (9:57 AM)- 
**Dwon Odom is a 6'2" sophomore guard from Alpharetta, Georgia. Last season, Odom played in 36 games and averaged 6.3 points, 2 rebounds and 2.2 assists in 20.7 minutes per game. Odom is a former Top 50 recruit and will have three seasons of eligibility remaining.
Xavier transfer Dwon Odom has heard from Iona, Georgia Southern, South Carolina, Duquesne and Loyola Marymount since entering the transfer portal.

— Justin Byerly (@JustinByerly) April 5, 2022