The Frank Walker Law/PSN Daily Notebook- April 6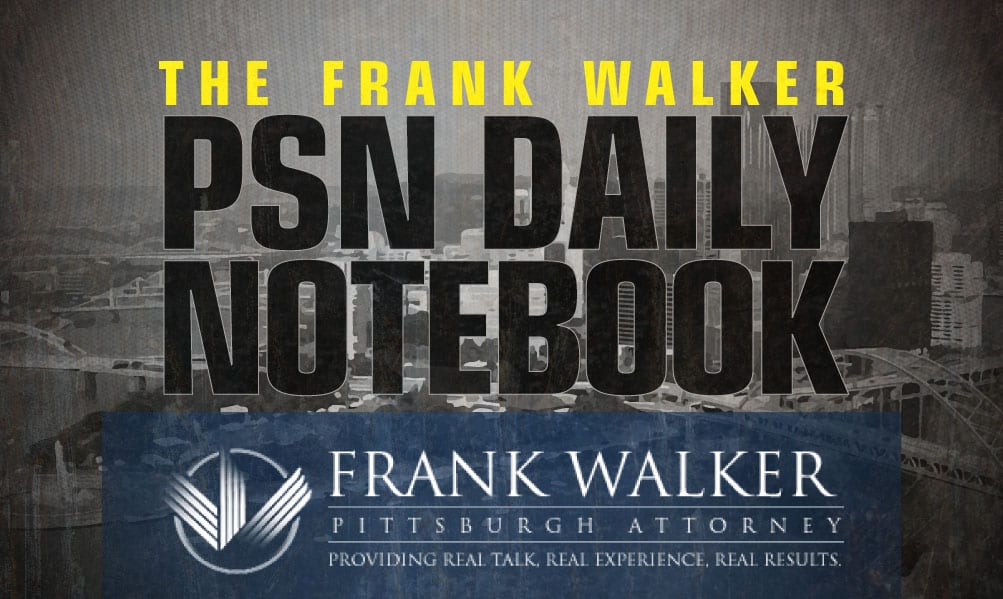 The PSN Daily Notebook is sponsored by Frank Walker, one of Pittsburgh and West Virginia's most respected criminal defense and injury lawyers. Mr. Walker has offices in Pittsburgh and Morgantown and has been named one of Top 100 National Trial Lawyers and is rated a perfect 10.0 Superb by Avvo for ethics, experience and results. To reach Mr. Walker, you can call 412-532-6805 or go to his website frankwalkerlaw.com. For real talk, real experience and real results, contact Frank Walker Law.
Update (8:16 PM)- 
**Today, Pitt extends an offer to 2023 4-star OT Joe Crocker (6'7", 310) from Franklin Road Academy In Nashville, Tennessee. Crocker is rated as one of the Top 30 tackles in the country and holds offers from Arkansas, Boston College, Cincinnati, Florida State, Georgia, Michigan, Michigan State, Ole Miss, Mississippi State, TCU, Tennessee, Virginia, Virginia Tech and Wisconsin. Crocker received the offer from Dave Borbely.
Update (5:44 PM)-
Nolley II has heard from Iona, SMU, Marquette, Arkansas, Texas A&M, NC State, South Carolina, Tulane, BYU, JMU, Pittsburgh, and plenty more this entering the portal this weekend, source told @Stockrisers.

That list will continue to grow. https://t.co/efoQcSq05X

— Jake (@jakeweingarten) April 6, 2022

Update (12:40 PM)- 
**Cross sharpshooter Noah Batchelor as a possible transfer for Pitt.
'22 sniper Noah Batchelor names a top two and talks visits @noah_batchelor_

READ | https://t.co/l1NtmNUsqE pic.twitter.com/4jSnt3WnIy

— Jamie Shaw (@JamieShaw5) April 6, 2022
Update (12:25 PM)-
There are moments in time that we know represent something special, something truly meaningful. This is and will be one of those. I can not wait!!! 🙏🏾 #H2P https://t.co/bv6deaWToD

— Louis Riddick (@LRiddickESPN) April 6, 2022
Update (11:20 AM)- 
**A year after leaving Pitt, forward Karim Coulibaly has decided to transfer from St. Bonaventure.
St. Bonaventure F Abdoul Karim Coulibaly has entered the transfer portal. https://t.co/1K6UkyU6nl

— Verbal Commits (@VerbalCommits) April 6, 2022
Update (10:06 AM)-
Bill Barton, a former assistant college basketball coach at Pitt and Duquesne, is returning to Western Pennsylvania as athletic director at North Catholic. #WPIAL #HSSN https://t.co/23T4RXuQY7

— TribLive HSSN (@TribLiveHSSN) April 6, 2022
Update (9:41 AM)- 
**Aliquippa 2023 defensive back Donovan Walker will make an unofficial visit tomorrow to Akron. Walker holds offers from Akron, Albany, Austin Peay, Central Michigan, Eastern Michigan, Fordham and Navy.
Akron tomorrow 📍@Coach_TBell @BallCoachJoeMo @CoachRenoFerri @ZipsFB pic.twitter.com/1x9rgLEsFp

— Donovan Walker (@DonovanWalkerr) April 6, 2022