The Frank Walker Law/PSN Daily Notebook- April 9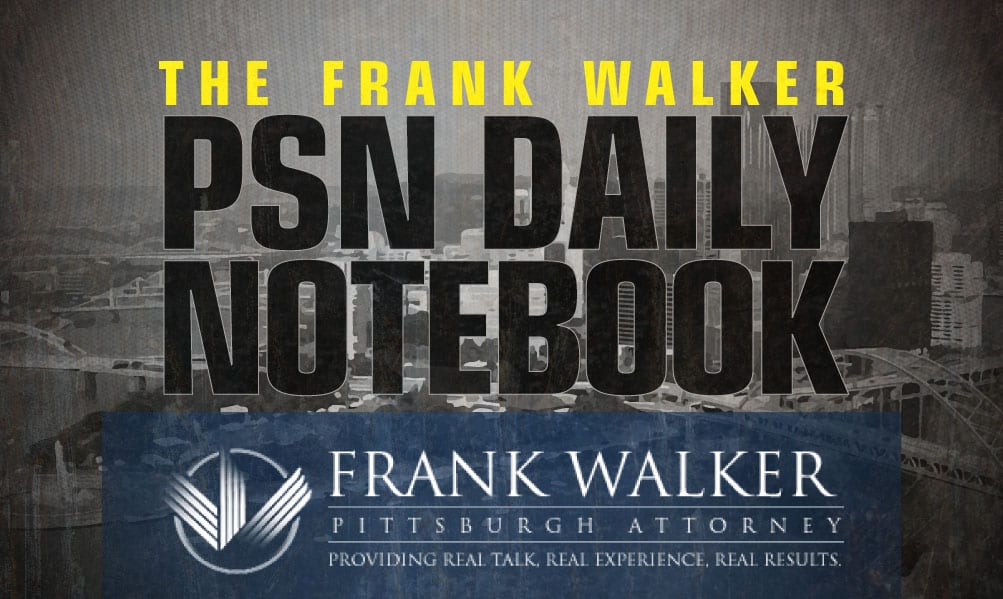 The PSN Daily Notebook is sponsored by Frank Walker, one of Pittsburgh and West Virginia's most respected criminal defense and injury lawyers. Mr. Walker has offices in Pittsburgh and Morgantown and has been named one of Top 100 National Trial Lawyers and is rated a perfect 10.0 Superb by Avvo for ethics, experience and results. To reach Mr. Walker, you can call 412-532-6805 or go to his website frankwalkerlaw.com. For real talk, real experience and real results, contact Frank Walker Law.
Update (2:15 PM)- 
**Congrats to South Allegheny 2023 DE Dashawn Carter for picking up his first D-1 offer: Youngstown State.
Dashawn Carter 🚨
South Allegheny Highschool
Class Of 2023
6'4 225lbs
Defensive End
1st Team All Conference DL
2021 Defensive Stats – 14 Sacks , 17 TFLs , 60 Total Tackles
Head Coach – @CoachCortazzo https://t.co/FHv0XASnV0

— Dashawn Carter (@dashawncarter21) December 3, 2021

Update (10:48 AM)- 
All Glory to God🙇🏽 pic.twitter.com/A0FG1uW0lX

— Rashad Battle (@RashadBattle15) April 9, 2022
Best feeling ever, My first ring 💍 ❌#H2P pic.twitter.com/6wmPrRsPE5

— DayonHayes (@dayonhayes00) April 9, 2022
ACC CHAMPIONSHIP TROPHY LOOKS GOOD ON THE FRONT ! NOW I NEED THAT NATIONAL CHAMPIONSHIP RING 🔥 #H2P pic.twitter.com/ZR5NDqAq2X

— John D Morgan III ™ (@JohnMorgan6__) April 9, 2022
Update (10:47 AM)-
🚨 𝗦𝗖𝗛𝗘𝗗𝗨𝗟𝗘 𝗖𝗛𝗔𝗡𝗚𝗘

Our chance to win another @ACCBaseball series today will be two hours later than scheduled.

🆚: Boston College
⏰: 4️⃣ PM
📍: Brighton, Mass.
🏟️: Harrington Athletics Village
📊: https://t.co/xGDDq5hIk8
💻: https://t.co/nDP0uWTzV8
#H2P pic.twitter.com/UNzuMZl1LT

— Pitt Baseball (@Pitt_BASE) April 9, 2022
Update (10:38 AM)-
Private workouts for Pitt All-American long snapper Cal Adomitis include the Atlanta Falcons and Cincinnati Bengals among several other workouts, according to league sources. #Falcons #Bengals https://t.co/boPZbvpr2Q

— Aaron Wilson (@AaronWilson_NFL) April 9, 2022
Update (10:14 AM)- 
**Pitt received an unofficial visit recently from 2023 3-star defensive end Zakaih Saez (6'4", 225) from St. Thomas Aquinas in Fort Lauderdale, Florida. Saez holds offers from Pitt, Florida State, Georgia Tech, Iowa State, Louisville, Maryland, Mississippi State, Oregon State and Wake Forest. Saez is being recruited to Pitt by Charlie Partridge.
My junior season highlights!! @CoachHarriott @JasonTaylor @ZBlostein247 @Andrew_Ivins @Rivalsfbcamps @ABLichtenstein @EraPrep @JerryRecruiting @STA_Football @6starfootballFL https://t.co/96Dezb9MQT

— Zakaih Saez (@Zakaih_15) December 26, 2021
Update (7:44 AM)-
**On Friday, Pitt extended an offer to 2024 4-star offensive back Guerby Lambert Catholic Memorial High School in West Roxbury, Massachusetts. 247 Sports ranks Lambert as the top sophomore prospect in the state and the No. 133 overall player in the Class of 2024. Lambert received the offer from Pitt assistant Jonathan DiBiaso. Along with Pitt, Lambert (6'7″, 280) holds offers from Notre Dame, Ohio State, Boston College and Kentucky.
Check out my Sophomore Season highlights https://t.co/2s4ewYWjMB

— Guerby Lambert (@GuerbyLambert) December 20, 2021