The Frank Walker Law/PSN Daily Notebook- April 15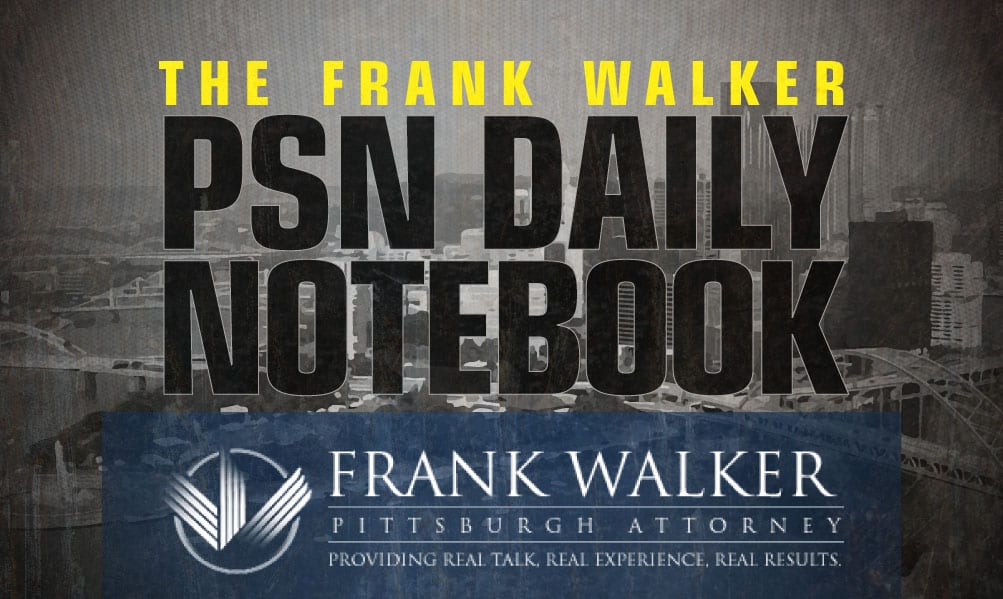 The PSN Daily Notebook is sponsored by Frank Walker, one of Pittsburgh and West Virginia's most respected criminal defense and injury lawyers. Mr. Walker has offices in Pittsburgh and Morgantown and has been named one of Top 100 National Trial Lawyers and is rated a perfect 10.0 Superb by Avvo for ethics, experience and results. To reach Mr. Walker, you can call 412-532-6805 or go to his website frankwalkerlaw.com. For real talk, real experience and real results, contact Frank Walker Law.
Update (7:05 PM)- 
**Former Pitt forward Daniel Oladapo has decided to transfer to North Carolina Central.
🗣🗣Eagle Nation,

Join Us In Welcoming Daniel Oladapo @d4poo To The Eagle Family. Show Our New Eagle Some Love!! #EarnedNotGiven #WelcomeToTheNest 🏀🦅 pic.twitter.com/fQdmDk7IXG

— NCCU Men's Basketball (@NCCU_MBB) April 15, 2022
Update (4:12 PM)- 
**Pitt extends an offer to freshman defensive back Dylan Lewis from Milton High School in Alpharetta, Georgia. Lewis, who also has an offer from Louisville, received the news from Archie Collins.
Thank you for the invite to the ESPN 300 Elite Underclassmen Camp! @TheUCReport @UANextFootball @CoachBenReaves @CoachNaldo @CoachWillyMath @TWithJay @MiltonEagles_FB @Mansell247 @ChadSimmons_ @RecruitGeorgia pic.twitter.com/tlHFFaM6TU

— DYLAN LEWIS (@DylanlLewis) March 16, 2022
Update (4:00 PM)- 
**Today, Pitt extends an offer to sophomore offensive tackle Colin Cubberly (6'6", 300) from LaGrangeville, New York. This becomes the first Power Five for Cubberly, who received the news from Tim Salem.
"Im super excited to get that offer, coming off a great 11 and 3 season last year. Pitt is a powerhouse football team and it was just awesome to talk with coach Salem! Im super excited right now and I can't wait to come down and see the school!"
check out my full sophomore season highlights! https://t.co/vKrgLj3Q7T

— Colin Cubberly (@colin_cubberly) November 27, 2021

Update (12:38 PM)- 
**Brashear 2023 4-Star Linebacker Ta'Mere Robinson locks in his first of five official visits.
1st OV locked in ⏳ #TrustTheClimb pic.twitter.com/xlE2MN96qi

— ᴛᴀᴅᴅᴇʀ ③ (@TaMereRobinson3) April 15, 2022
Update (11:43 AM)-
Quaker Valley has hired Jason Cappa as its new football coach, the school announced Thursday. #WPIAL #HSSN @quakervalleyhttps://t.co/8MTRyNGCYK

— TribLive HSSN (@TribLiveHSSN) April 15, 2022
Update (9:10 AM)- 
**On Thursday, 2023 3-star linebacker Caleb LaVallee (Mableton, Georgia) received an offer from Ryan Manalac, Archie Collins and Pitt. LaVallee (6'1", 215) also holds offers from Duke, Florida State, Georgia Tech, Indiana, Louisville, Maryland, Miami, Minnesota, North Carolina, Northwestern, Purdue, Syracuse, Vanderbilt, Virginia Tech, Wake Forest and West Virginia.
Junior Year (10 Games)

118 tackles (75 solo)
6 sacks
16 TFL's
1 fumble recovery
1 forced fumble
1 interception

Offensively
104 carries for 695 yards
11 Rushing TD's
8 receptions for 90 yds
1 Receiving TD@Mansell247 @RivalsFriedman @adamgorneyhttps://t.co/7cGCPSK7vq

— Caleb LaVallee (@CalebLaVallee1) November 29, 2021

Update (9:00 AM)-
One of the #Lions' final pre-draft visits next week will be with Pitt quarterback Kenny Pickett, per sources.

It's the only known QB visit for Detroit, which owns three of the top 34 picks, including No. 2 overall. Continuing due diligence on top prospects.

— Tom Pelissero (@TomPelissero) April 15, 2022
Update (8:00 AM)- 
**While on an unofficial visit Thursday, 2024 4-star wide receiver Willy Love (Camden, New Jersey) received an offer from Cory Sanders and Pitt. Love (6'2", 200) also holds offers from Boston College, Georgia, Ole Miss, Penn State, Rutgers, Texas A&M and UConn.
Beyond blessed to receive a scholarship offer from the university of PITT #H2P @coachcsanders @KoorWoodson @mccarthy_report @Beastupacademy @nadjacydney @RivalsFriedman @ShawnB_247 @SchrieksWillem pic.twitter.com/mZ3SGYqlfx

— willy love (@iiiamwilly_) April 14, 2022