The Frank Walker Law/PSN Daily Notebook- April 16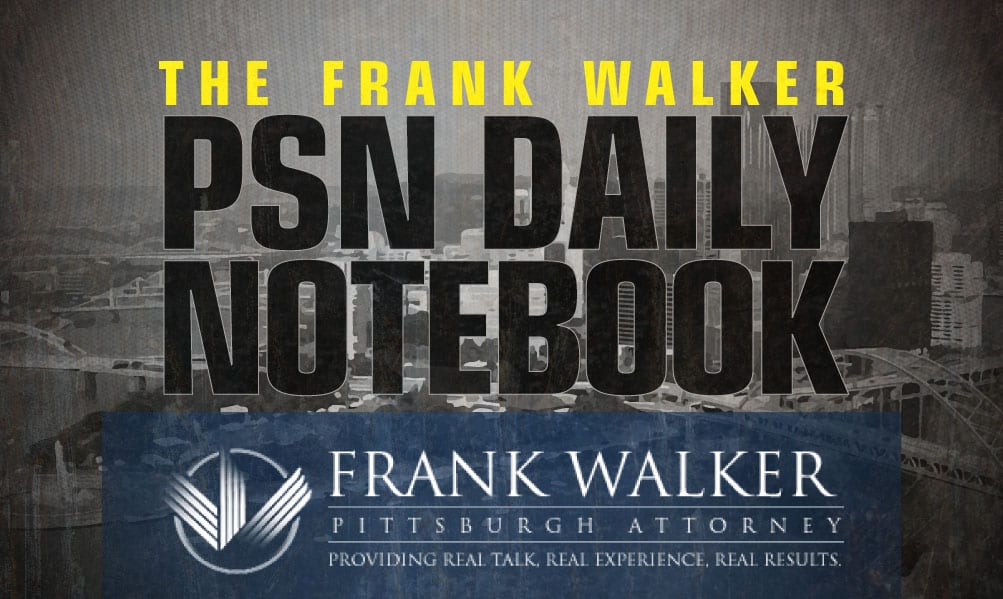 The PSN Daily Notebook is sponsored by Frank Walker, one of Pittsburgh and West Virginia's most respected criminal defense and injury lawyers. Mr. Walker has offices in Pittsburgh and Morgantown and has been named one of Top 100 National Trial Lawyers and is rated a perfect 10.0 Superb by Avvo for ethics, experience and results. To reach Mr. Walker, you can call 412-532-6805 or go to his website frankwalkerlaw.com. For real talk, real experience and real results, contact Frank Walker Law.
Update (7:41 PM)- 
**Today while on an unofficial visit, Washington 2023 athlete Davoun Fuse (6'4", 190) received an offer from Rutgers, which is his first Power 5 offer. Fuse also holds offers from Akron and Toledo.
https://t.co/3MbzznjyGj @Cover3_ATH @MaxPreps @vkehres @CoachMakrinos @RickyCicconeUT

— Davoun Fuse🦋✨ (@davoun_fuse) November 23, 2021
Update (5:47 PM)- 
**A new offer today for Central Valley 2023 athlete Jayvin Thompson.
After a great junior day and a talk with @CoachJeffMonken I am blessed to announce that I have received an offer from the United States Military Academy! @CoachLyonsCVfb @Coach__Reda @CoachSaturino @tuckerWaugh @MikeViti pic.twitter.com/Gq0OO6x8mp

— JayvinThompson (@JayvinThompson) April 16, 2022
Junior year Season Highlights!! Back to back State champions!! All state DB across all classifications!!

31 receptions
767 receiving yards
11 touchdowns
11 interceptions
69 tackles
1268 All Purpose Yards https://t.co/7O2o89hAjl

— JayvinThompson (@JayvinThompson) January 2, 2022
Update (10:13 AM)-
Lots of work to do but, Preseason Top 10 ✅. Good sign of what's being built!! #H2P pic.twitter.com/7xbMvnkuZk

— Charlie Partridge (@CoachPartridge) April 16, 2022
Update (8:03 AM)-
Mike Bell is 74-72 overall (32-49 in the #acc) – that's very good for @Pitt_BASE in 4 seasons. Outstanding job. https://t.co/6mWnuTJKeT

— DreamBackfield.com (@IntoPitt) April 16, 2022
Update (7:56 AM)-
For those counting, that's 5⃣ wins in six home games against ranked @ACCBaseball squads.

📰: https://t.co/2iYsjpkiqI#H2P pic.twitter.com/zX0huRGqje

— Pitt Baseball (@Pitt_BASE) April 16, 2022