The Frank Walker Law/PSN Daily Notebook- April 20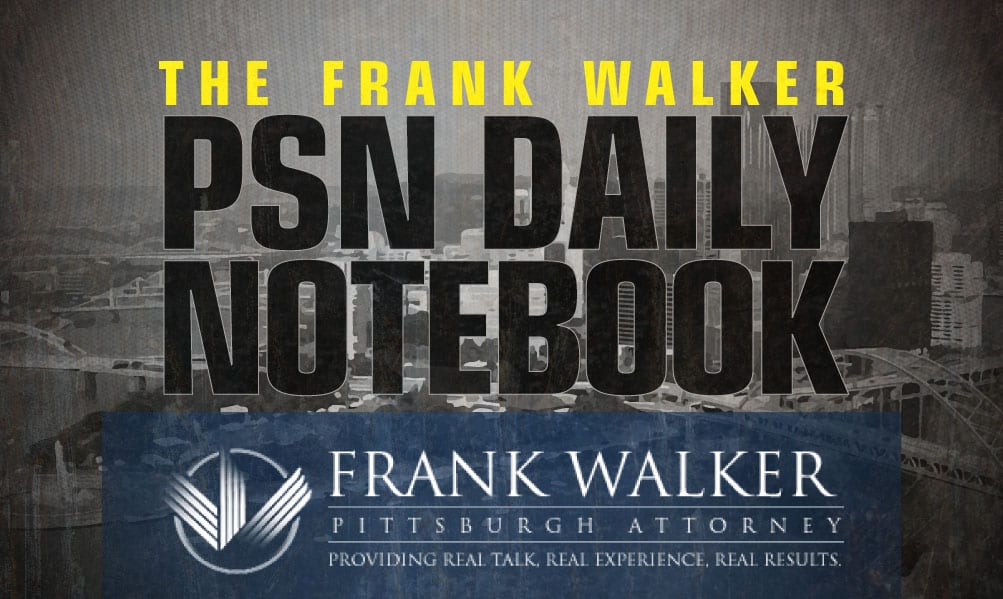 The PSN Daily Notebook is sponsored by Frank Walker, one of Pittsburgh and West Virginia's most respected criminal defense and injury lawyers. Mr. Walker has offices in Pittsburgh and Morgantown and has been named one of Top 100 National Trial Lawyers and is rated a perfect 10.0 Superb by Avvo for ethics, experience and results. To reach Mr. Walker, you can call 412-532-6805 or go to his website frankwalkerlaw.com. For real talk, real experience and real results, contact Frank Walker Law.
Update (2:45 PM)-
2022 guard Devin Carney has now been offered by Chattanooga. Miami (OH) offered last night.

Others to contact: UCSB, UCF, Temple, Duquesne, San Diego, Tulsa, St. Bonaventure, Dayton, Davidson, Colgate, William & Mary, Saint Mary's, +.

Elon decommit. https://t.co/RXBO0Yu7bD

— jake lieberman (@jakelieberman2) April 20, 2022
Update (1:22 PM)-
😈 yup https://t.co/3jP5Bq8lp4

— Nelly Cummings (@Ambition___0) April 20, 2022
Update (1:18 PM)-
Thank you @coachcsanders for making this happening. Truly an eye opening experience @CoachDuzzPittFB pic.twitter.com/HG1D7XqQyC

— Evolve (@Evolve2tenths) April 20, 2022
Update (1:15 PM)-
From NFL Now: Today is the final day for draft prospect visits, with several big-name QBs at facilities right now. pic.twitter.com/UEmMaOHt2l

— Ian Rapoport (@RapSheet) April 20, 2022
Update (10:02 AM)-
In the new Baseball America tournament projections, Pitt Baseball earns an at large bid to the Stillwater, Oklahoma, where Oklahoma State would be the host. Pitt is listed as the 3 seed there. https://t.co/P1MFNJbpKl

— Nick Farabaugh (@Nick_Farabaugh) April 20, 2022
Update (9:22 AM)- 
**The latest offer for Belle Vernon 2024 4-star athlete Quinton Martin.
After being informed by @BVAFootball i am extremely blessed to receive an offer from the University of Louisville 🔴⚪️ pic.twitter.com/fDnhWxJVjI

— Quinton Martin (@QuintonMartin25) April 20, 2022
Update (7:38 AM)-
**Tuesday evening, Charlie Partridge and Pitt extended an offer to freshman cornerback Chris Ewald Jr. from Hollywood, Florida. The 6'0″, 160-pound defensive back also holds early offers from Georgia, Georgia Tech, Indiana, Louisville, Miami, Michigan, South Carolina, Syracuse and Texas A&M.
Check out my freshman season highlight – https://t.co/vWijQKFIUo @ChadSimmons_ @DemetricDWarren @Andrew_Ivins @TheCribSouthFLA @larryblustein

— Chris Ewald Jr (@ChrisEwaldjr) December 18, 2021