The Frank Walker Law/PSN Daily Notebook- April 25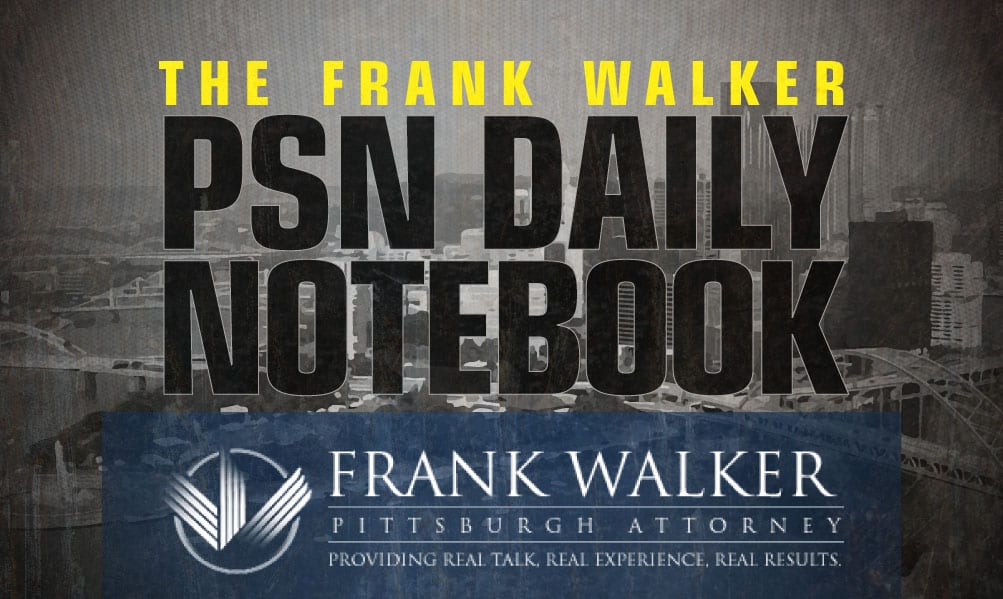 The PSN Daily Notebook is sponsored by Frank Walker, one of Pittsburgh and West Virginia's most respected criminal defense and injury lawyers. Mr. Walker has offices in Pittsburgh and Morgantown and has been named one of Top 100 National Trial Lawyers and is rated a perfect 10.0 Superb by Avvo for ethics, experience and results. To reach Mr. Walker, you can call 412-532-6805 or go to his website frankwalkerlaw.com. For real talk, real experience and real results, contact Frank Walker Law.
Update (3:22 PM)-
Former Ohio State guard Meechie Johnson has committed to South Carolina!

Johnson is a former 4-star prospect out of Cleveland, Ohio.https://t.co/rVIcPJG5j7 pic.twitter.com/y5HDqZxnUG

— The Portal Report (@ThePortalReport) April 25, 2022
Update (1:05 PM)-
**One of Tiquan Underwood's recruiting trips today was to Salem High School in Salem, New Jersey. Head coach Montrey Wright tells Pittsburgh Sports Now that Underwood stopped by the school to check on 2023 linebacker Amare Smith, his brother 2025 linebacker Cameron Smith and 2023 quarterback Jahki Coates.
Update (12:51 PM)-
**This morning, Thomas Jefferson 2023 3-star defensive end Jordan Mayer adds another school to his ever-growing list of offers. Last week, Mayer announced that he was opening back up his recruitment after de-committing from Boston College.
Thankful to receive an offer from @Temple_FB @StanDraytonTU @DLpride1 @Evolve2tenths @210ths @wpialsportsnews @PaFootballNews pic.twitter.com/wTakPmIroV

— Jordan Mayer (@Jordanmayer33) April 25, 2022
Update (11:52 AM)-
**Congrats to Aliquippa 2023 safety/outside linebacker Nate Lindsey as received an offer today from Toledo, his first D-1 offer. Last season, despite missing the last 4 games, Lindsey collected 60 tackles, 2 sacks, 3 interceptions and 7 tackles for loss.
Jr year highlights
3 ints (1 returned for touchdowns)
60 tackles (didn't play last 4 games)
2 sacks
7TFl@CoachTerryPSU @DC5StarAthlete @Tswan_2 @CoachLynch @210ths @wpialsportsnews @BrennanMarion4 https://t.co/OGL1zwg6M4

— nate lindsey (@lindsey7_nate) January 5, 2022
Update (11:48 AM)-
Welcome to @NFLDraft Week ✨

All three Pitt Panthers taken Top 15 in this century will be enshrined in the @ProFootballHOF in the future.

2014 » @AaronDonald97 » 13th
2007 » @Revis24 » 14th
2004 » @LarryFitzgerald » 3rd

Where will Kenny Pickett go? 🤔#H2P » @NFL pic.twitter.com/gZFh2A8yyk

— Pitt Football (@Pitt_FB) April 25, 2022
(Update 7:37 AM)-
Swinging by to check on the most dangerous weapon in PA! #H2P #WeNotMe pic.twitter.com/8HuXv68mD8

— Cory Sanders (@coachcsanders) April 25, 2022
Update (6:36 AM)- 
Ivan Thomas, Bruiser Flint, Brandin Knight and Jared Grasso are interviewing at @FordhamMBB , per source https://t.co/MdbpPZpM7O

— Adam Zagoria (@AdamZagoria) April 24, 2022