The Frank Walker Law/PSN Daily Notebook- May 1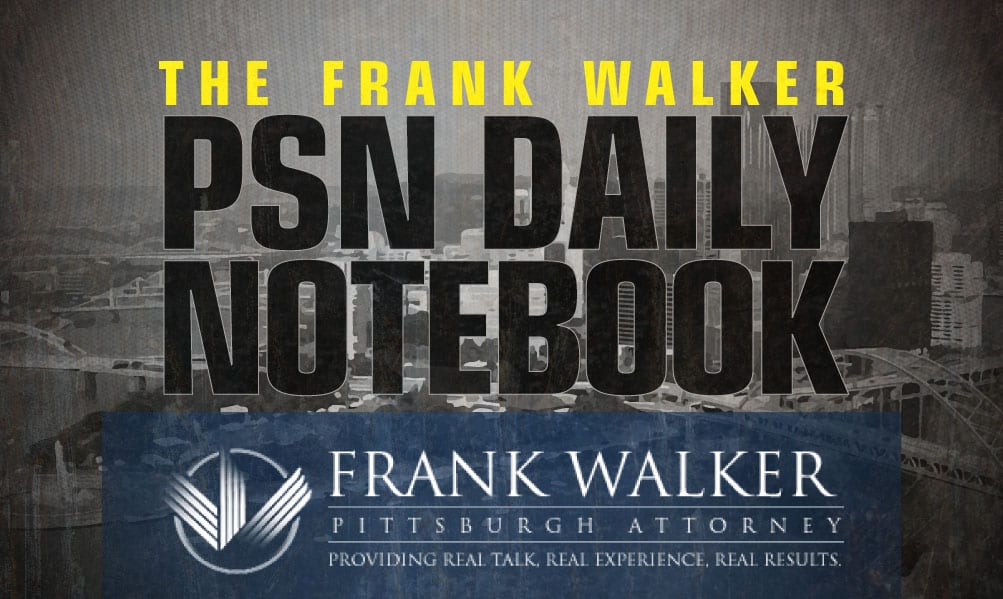 The PSN Daily Notebook is sponsored by Frank Walker, one of Pittsburgh and West Virginia's most respected criminal defense and injury lawyers. Mr. Walker has offices in Pittsburgh and Morgantown and has been named one of Top 100 National Trial Lawyers and is rated a perfect 10.0 Superb by Avvo for ethics, experience and results. To reach Mr. Walker, you can call 412-532-6805 or go to his website frankwalkerlaw.com. For real talk, real experience and real results, contact Frank Walker Law.
Update (6:52 PM)-
Our guy Jamarius Burton walked today🎓🙏🏾@PittTweet . So proud to be JB's coach. I can't wait to 👀the great things he will accomplish in the future… starting with the '22-'23 @Pitt_MBB season! Let's work💪🏽 #H2P pic.twitter.com/UJa3w3QR9X

— Milan Brown (@coachmbrown) May 1, 2022
Update (6:41 PM)- 
**A change in plans for Brashear 2023 4-star linebacker Ta'Mere Robinson.
I will no longer be taking an official to WVU anymore. First weekend of June open👀 @RivalsFriedman @BrianDohn247

— ᴛᴀᴅᴅᴇʀ ③ (@TaMereRobinson3) May 1, 2022
Update (3:55 PM)-
A memorable @PittTweet commencement day and an impactful speaker and proud Pitt man! Thank you @LRiddickESPN for sharing your journey and lessons with the Class of 2022! #H2P pic.twitter.com/BTIrraJ2EP

— Heather Lyke (@Pitt_LykeAD) May 1, 2022
Update (1:47 PM)-
#H2🅿️ #WeNotMe pic.twitter.com/TzSHfr4Yca

— Brandon George (@B_George06) May 1, 2022
Culture wins. #H2P pic.twitter.com/SBIymDck1n

— Kedon Slovis (@Kedonslovis) May 1, 2022

Update (10:01 AM)-
**Steel Valley 2023 safety Cruce Brookins announces that he will be taking one of his official visits to West Virginia on June 10-12. Brookins (6'1″, 180) holds offers from West Virginia, Akron and Kent State.
Junior Season Defense Highlights !https://t.co/gmyBAlJKDn

6 interceptions 33 tackles 2 forced fumbles, 5 PBD@sharkomartin @OneWayWo @DulinOlando @SportsByBLinder @Cover3_ATH @PrepRedzonePA @PAPrepsRivals @wpialsportsnews @WPIAL_Insider @AJWPIAL @PRZPAvic @PaFootballNews pic.twitter.com/yNGBOuQX8I

— Cruce Brookins (@BrookinsCruce) November 21, 2021
Update (9:51 AM)- 
**A big morning for Imani Christian Academy 2025 athlete Dayshaun Burnett (6'2", 200) as he receives his fist D-1 offer from Akron.
After a great talk with @CoachFess I am happy say that I received my first D1 offer from the University of Akron @ZipsFB @Chise89 @210ths @Evolve2tenths pic.twitter.com/w3eFQqc1cN

— Dayshaun Burnett ( LB/ATH ) (@dburnett_10) May 1, 2022
Update (8:12 AM)-
**Brashear 2023 4-star linebacker Ta'Mere Robinson has decided on a second of his five official visits. Robinson announced on Saturday that he will make an official visit to Penn State on June 17-19. Previously, Robinson decided to take his first official visit to West Virginia from June 3-5.
Junior Szn Tape Two games canceled and I was injured the last game and missed playoffs…. Oh yea I play everywhere ‼️‼️ (this is my season highlights it only says week 0-4 because I edited that highlight) https://t.co/ppvOZYu2bH @210ths @EdOBrienCFB @RivalsFriedman

— ᴛᴀᴅᴅᴇʀ ③ (@TaMereRobinson3) November 14, 2021
Update (7:56 AM)-
**Over the weekend, Pitt basketball extended an offer to 2023 4-star forward Mouhamed Dioubate from Putnam Science Academy in Putnam, Connecticut. Dioubate (6'7″, 200) is rated by Rivals.com as the No. 88 overall prospect in the Class of 2023 and holds offers from Georgia Tech, George Washington, Rhode Island, St. Bonaventure, St. John's, Texas A&M, VCU and Duquesne.
@MoDioubate of @PSACardinals having a great start to the EYBL season‼️ High Major 4 man that's giving you the highest level production from day 1‼️ Top 2 rebounders to ever wear a Putnam uniform. Not many dudes in the country go get it at this clip 💯💯💯 pic.twitter.com/0nf8z1Zh5f

— Putnam Science MBB (@PSAhoops) April 26, 2022