The Frank Walker Law/PSN Daily Notebook- May 3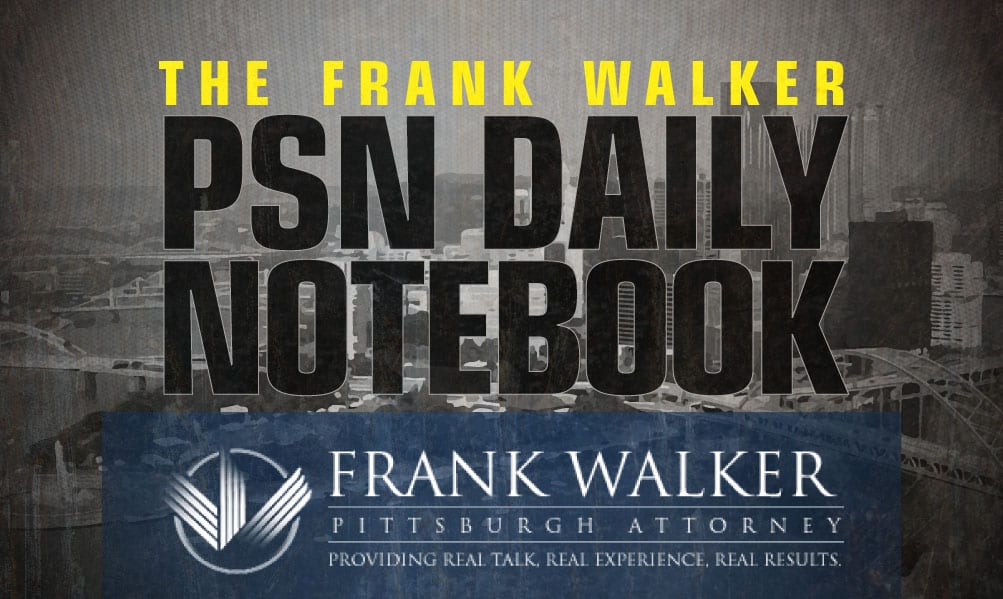 The PSN Daily Notebook is sponsored by Frank Walker, one of Pittsburgh and West Virginia's most respected criminal defense and injury lawyers. Mr. Walker has offices in Pittsburgh and Morgantown and has been named one of Top 100 National Trial Lawyers and is rated a perfect 10.0 Superb by Avvo for ethics, experience and results. To reach Mr. Walker, you can call 412-532-6805 or go to his website frankwalkerlaw.com. For real talk, real experience and real results, contact Frank Walker Law.
Update (9:22 PM)- 
**Tonight, Cory Sanders and Pitt extend an offer to 2023 4-star athlete Kylen Webb from Sumner High School in Riverview, Florida. Webb (6'1", 185) holds offers from Clemson, Coastal Carolina, Florida State, Georgia Tech, Indiana, Iowa State, Liberty, South Florida, Syracuse, Central Florida, Utah and Wake Forest.
Kylon Webb has been showcasing the hips and burst @WebbKylen pic.twitter.com/CFuVbpPQ6m

— Ryan Wright (@RWrightRivals) April 3, 2022
Update (7:40 PM)-
**Another offer tonight from the Pitt staff as 2024 3-star wide receiver Noah Jenkins receives an offer from the ACC Champions. The 6'2″, 185-pound wideout from Highland Springs, Virginia also holds offers from Penn State, West Virginia, Virginia Tech, Boston College, Duke, Syracuse, Indiana, Marshall, Miami (OH), Coastal Carolina and East Carolina.
Gotta talk dat talk to get in my mode😈 pic.twitter.com/OTv4G1qYJd

— Noah Jenkins (@2hottynoah) August 31, 2020
Update (7:20 PM)-
**Pine-Richland offensive lineman Ryan Cory quietly continues to receive D-1 offers. The 6'4″, 290 sophomore offensive guard latest offer arrived today from UConn. The Huskies offer goes along with other ones from Cincinnati, Kansas State, Oregon and Akron.
Extremely blessed to have received my 5th Division 1 offer from the University of Connecticut #GoHuskies @CoachSpanos @UConnFootball pic.twitter.com/aG3OPMDKtO

— Ryan Cory (@RyanCory15) May 3, 2022
Update (7:10 PM)-
**Thomas Jefferson 2023 3-star defensive end Jordan Mayer's recruitment continues to skyrocket. Tuesday night, Mayer (6'5″, 235) picked up his sixth Power Five offer with an offer from Vanderbilt. Mayer offer list includes Akron, Boston College, Bowling Green, Buffalo, Central Michigan, Duke, Miami (OH), Rutgers, West Virginia and Wisconsin.
I am very thankful to receive an offer from @VandyFootball @jovanhaye @Coach_Lea @Evolve2tenths @210ths @wpialsportsnews @PaFootballNews @BrianDohn247 pic.twitter.com/b9rK3YDEa0

— Jordan Mayer (@Jordanmayer33) May 3, 2022
Update (7:00 PM)-
**Today, Tiquan Underwood and Pitt extend an offer to 2024 wide receiver Emanuel Ross from Red Bank Catholic HS in Red Bank, New Jersey. Ross (6'2″, 190) currently holds a list of offers from West Virginia, Temple, Coastal Carolina, UConn, Penn State and UMass.
Just the beginning… pic.twitter.com/cOeb041itq

— Emanuel Ross (@EmanuelRoss13) February 3, 2022
Update (6:44 PM)-
**A couple WPIAL players received D-1 offers today:
–South Allegheny 2023 DE Dashawn Carter, who committed earlier in the week to Youngstown State, received an offer from Maine.
–Penn-Trafford 2023 DE/TE Conlan Greene (6'4″, 250) received an offer today from Central Michigan and Maine. This was Greene's second and third offers with the other coming from Saint Francis University.
Update (6:33 PM)-
**Tim Salem and Pitt extend an offer today to freshman running back John Forster from St. Joseph Regional HS in Montvale, New Jersey. Forster (5'11", 180) holds other offers from Boston College, Maryland, Nebraska, Penn State, Rutgers and Syracuse.
https://t.co/eFuwwagTxT Freshman year highlights ✈️💨

— John Forster (@johnforsterr) November 11, 2021
Update (11:48 AM)- 
**Steel Valley 2023 offensive tackle Gregory Smith Jr. picked up an offer today from Miami (Ohio). Smith (6'5", 315) also holds offers from Duquesne, Maine, Richmond, East Tennessee State, Kent State and William & Mary.
Blessed to receive another Division 1 🅾️ffer from Miami (OH) university‼️🔴⚪️@Martin_Miami_HC @Coach_JoeBowen @Coachjpatton @210ths pic.twitter.com/j2H6Nswyy4

— Gregory Smith Jr. (@Gregsmith689) May 3, 2022
Update (9:06 AM)- 
**The latest Power 5 offers for Aliquippa freshman running back Tiqwai Hayes and Aliquippa 2024 4-star linebacker Cam Lindsey comes from Syracuse. Hayes also holds offers from Pitt, Penn State, Michigan, Maryland, Cincinnati and Louisville. Lindsey's recruitment continues to skyrocket with offers from Pitt, Penn State, West Virginia, Kent State, Toledo and Cincinnati.
FULL DEFENSIVE HIGHLIGHTS FROM SOPHOMORE YEAR
86 Tackles!!
22 For loss!!
2 Sacks!!
2 Fumble Recoveries!!
2 Fumbles Forced!!
2 INTS!!
2 Returned for touchdowns!!
Check out my highlight – https://t.co/UjXO49DsLu

— Cameron (@cx_lindsey) December 11, 2021
Freshman year stats
Rushing Yards:1,720
Touchdowns:23
Carries:220
Receptions:4
Rec yards:124
https://t.co/IWD1HrXTNv

— ✊🏽tikey✊🏽 (@Tiqwaihayes) March 16, 2022
Update (8:42 AM)- 
**Tuesday morning, Pitt extends an offer to 2024 4-star athlete Jarvis Boatwright Jr., from Clearwater, Florida. Boatwright is ranked by Rivals as the No. 176 overall sophomore in the country. Boatwright (6'2", 170) received the Pitt offer from Cory Sanders and has others from West Virginia, South Florida, Central Florida, Tennessee, Kentucky, Houston, Georgia and Duke.
Blessed to receive a(n) offer from the
University of Pittsburgh! @CHS_Tornadoes @Pitt_FB #defendingACCchamps 🏆 pic.twitter.com/XDpNImbgYf

— 4 ⭐️ Jarvis "BOATWRIGHT" Jr (@J_BoatwrightJr) May 3, 2022

Update (7:03 AM)-
**Monday evening, Pitt extended an offer to 2024 3-star running back Arkese Parks from Wharton High School in Tampa, Florida. Parks (6'2″, 175) received the offer from Cory Sanders and holds others from Arizona, Boston College, Central Florida, Louisville, Florida State, Michigan, Ole Miss Mississippi State and South Florida.
Congrats to Sophomore RB Arkese Parks (@Arkese_Parks1) for earning Offensive MVP for the 2021 Season‼️

Check out Kese's highlights: https://t.co/h8FOVvZMFS#GetMore I @RecruittheW @CoachLikeMike @Coach_Baham @WhartonBoosters pic.twitter.com/SNhb0jGNxC

— Wharton Wildcats Football (@WhartonHighFB) February 22, 2022