The Frank Walker Law/PSN Daily Notebook- May 6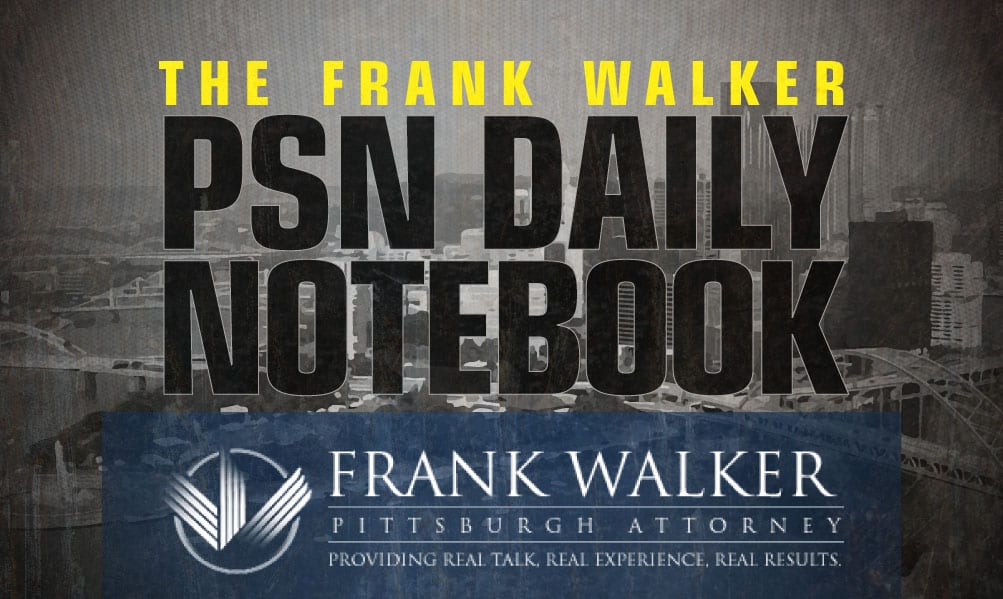 The PSN Daily Notebook is sponsored by Frank Walker, one of Pittsburgh and West Virginia's most respected criminal defense and injury lawyers. Mr. Walker has offices in Pittsburgh and Morgantown and has been named one of Top 100 National Trial Lawyers and is rated a perfect 10.0 Superb by Avvo for ethics, experience and results. To reach Mr. Walker, you can call 412-532-6805 or go to his website frankwalkerlaw.com. For real talk, real experience and real results, contact Frank Walker Law.
Update (6:24 PM)-
**Pitt extended an offer today to freshman quarterback Tramell Jones Jr. from Mandarin High School in Jacksonville, Florida. Jones (6'1″, 180) also has early offers from Maryland, Georgia Tech and Florida A&M.
https://t.co/K4I1TrDiCz
Updated version to 2021 varsity highlights!!@6pointsjax @Mansell247 @adamgorney @QBCollective @DuvalSports @Mandarin_hs_fb
@AABonNBC

— Tramell Jones Jr. (@TramellJonesJr) November 26, 2021
Update (4:01 PM)-
It's been a journey for Marley Washenitz, but the paper is SIGNED for Pitt Women'a Basketball, so grateful to have had the chance this past year to cover your final high school achievements, Pitt is getting a great one! @mwashenitz @fairmont_girls @Pitt_WBB pic.twitter.com/TEOOo2KNgi

— Casey Kay (@caseykaytv) May 6, 2022
Update (2:32 PM)-
**Today, Pitt assistant QB coach Jonathan DiBiaso extended an offer to freshman quarterback Max Gerlich from Del Valle, Texas. This is the first Power Five offer for Gerlich (6'3″, 185), who also holds an offer from UT-San Antonio.
🚨Del Valle Football Player Profile: QB Action
🔹Name: Max Gerlich
🔹Position: QB
🔹Year: 2025
🔹6'3 – 185
🔹Hometown: Austin, TX
🔹GPA: 5.13
🔹Tw: @max_gerlich
🔹5 ⭐️⭐️⭐️⭐️⭐️ Character
🔹@DVCardinalsFB MVP
🔹2025 5 Top QB in Texas
📽 pic.twitter.com/h4HYLx7Hvb

— 𝒞𝑜𝒶𝒸𝒽 𝐵𝑜𝒷𝒷𝓎 𝒜𝒸𝑜𝓈𝓉𝒶 (@CoachBA1010) April 29, 2022
Update (12:23 PM)-
**While recruiting in Ohio today, Ryan Manalac and Pitt extend an offer to 2023 3-star running back Jaquez Keyes (6'1″, 205) from Ironton, Ohio. Keyes holds an offer list of Akron, Bowling Green, Central Michigan, Coastal Carolina, Eastern Michigan, Iowa, Kent State, Marshall, UMass, UConn, Memphis and Wisconsin.
Check out this highlight! https://t.co/PfWc82g5tN

— Jaquez keyes (@KeyesJaquez) November 24, 2021
Update (12:17 PM)-
**Archie Collins and Pitt recruiting today in Ohio.
Thanks to Coach @ARCHIECOLLINS_ & @Pitt_FB for stopping by Niles McKinley this morning. Always great to have the reigning ACC Champs come check out the Red Dragons! pic.twitter.com/NRxgUwyOHl

— Niles Mckinley Football (@NilesMckinleyFB) May 6, 2022
Update (12:11 PM)-
Always great to show up and the coach knows how to take care of me…! pic.twitter.com/mBBbseBv6d

— Tim Salem (@CoachTimSalem) May 6, 2022
Update (11:38 AM)-
@CoachDuzzPittFB finished 2nd, earning $20,000 for his charity Stanley M. Marks Blood Cancer Research Fund pic.twitter.com/pPKXxCvJsK

— Chick-fil-A Peach Bowl (@CFAPeachBowl) May 6, 2022
Update (11:31 AM)-
**Ryan Manalac and Pitt are recruiting in Ohio today.
Thanks @Coach_Manalac from Pitt Football for coming to school to check out our guys!!!!#Leavealegacy pic.twitter.com/r8cPfbEQp8

— Todd Gilliland (@todd_gilliland) May 6, 2022
Update (11:07 AM)- 
**While recruiting in Florida today, Charlie Partridge extended an offer to 2024 wide receiver Kevin Levy, from Palm Beach Gardens, Florida. Levy (5'11", 155) is also an accomplished track runner.
11.19 100m against wind🔥🔥 @coachseider @CoachRod_McD @CoachORourke @Coach_BSamuels @jokerphillips @rivals_clint @coachmcriner @coachconn @dlinekp @im_mikeb @coachgncdonald @tony_tdub @coachkhiggins @coach_tbell @coach_mwoodson @r81dugans @coachadamfuller @rwrightrivals pic.twitter.com/Hi1BM96jBu

— Kevin levy 👻 (@KevinLevy_7) March 12, 2022
21.64 200m at districts🥇🔥. @CoachEHickson2 @CoachConn @DLineKP @coachseider @jokerphillips @coach_bsamuels @rivals_clint @chrismahon_ @CoachKelseyPope @heard88 @coachchadsavage @coachwilliams_7 pic.twitter.com/scbR9hQ6wI

— Kevin levy 👻 (@KevinLevy_7) April 20, 2022
Update (10:55 AM)-
🚨 𝗦𝗖𝗛𝗘𝗗𝗨𝗟𝗘 𝗖𝗛𝗔𝗡𝗚𝗘

No game today 🌧. We'll begin our home series vs. Duke tomorrow at 3️⃣ PM.

📕: https://t.co/FszOazH3bN#H2P pic.twitter.com/7RPQwmkXKg

— Pitt Baseball (@Pitt_BASE) May 6, 2022
Update (8:31 AM)- 
**Tim Salem was out early recruiting today and extended an offer to 2024 lineman Elijah Kinsler from Bergen Catholic in Somerset, New Jersey. This was Kinsler's first D-1 offer.
sophomore year highlights https://t.co/HuD2Yb7WoQ

— Elijah Kinsler (@KinslerElijah) December 3, 2021