The Frank Walker Law/PSN Daily Notebook- May 9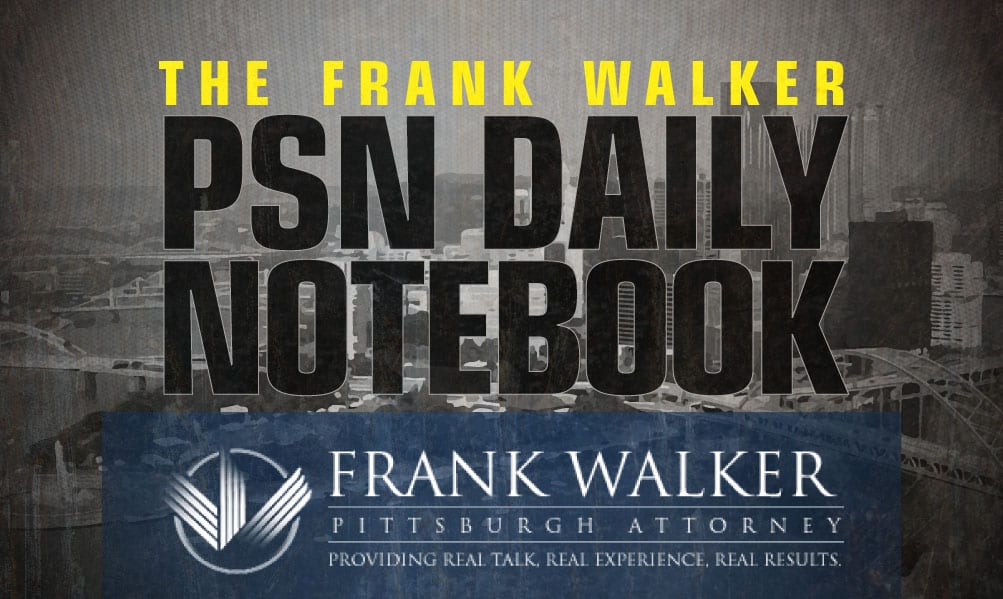 The PSN Daily Notebook is sponsored by Frank Walker, one of Pittsburgh and West Virginia's most respected criminal defense and injury lawyers. Mr. Walker has offices in Pittsburgh and Morgantown and has been named one of Top 100 National Trial Lawyers and is rated a perfect 10.0 Superb by Avvo for ethics, experience and results. To reach Mr. Walker, you can call 412-532-6805 or go to his website frankwalkerlaw.com. For real talk, real experience and real results, contact Frank Walker Law.
Update (3:45 PM)- 
**Jon DiBiaso extended an offer to 2025 quarterback Davi Belfort from Dillard High School in Fort Lauderdale, Florida. Belfort (5-foot-11, 175 pounds) also holds offers from Alabama, Arizona State, Arkansas, Colorado State, FAU, Florida State, Georgia, Georgia Tech, Grambling State, Iowa State, Louisville, Miami, Minnesota, Ole Miss, Oregon, Penn State, TCU, Tennessee, Texas A&M, UCF and Incarnate Word.
After a great conversation with @Coach_JDiBiaso I am beyond blessed and grateful to have earned an offer from the University of Pitt! All glory to God 🙏🙏 pic.twitter.com/k2PonypxX9

— Davi Belfort (@DaviBelfort) May 9, 2022
Update (3:46 PM)-
**Central Catholic 2024 3-star wide receiver Peter Gonzalez received an offer today from Syracuse, which is now his 8th Power Five offer. Joining Syracuse in the pursuit of Gonzalez are Pitt, Penn State, West Virginia, Wisconsin, Miami, Maryland, and Cincinnati.
Sophomore Season‼️
6'2 185lb -WR
6A 2nd team all conference @PCC_FOOTBALL @210ths @thelab_sp @alex_christo_ @PRZPAvic @wpialsportsnews @PrepRedzonePA @RivalsFriedman @Rivalsfbcamps
👇👇👇👇👇https://t.co/M0Go7HPmVc

— Peter Gonzalez (@Petergonzalez70) November 24, 2021
Update (3:35 PM)-
**Andre Powell extends an offer to 2024 3-star defensive end Dominic Nichols from Oakdale High School in Ijamsville, Maryland. Nichols (6'4″, 235) is rated by 247 Sports as one of the Top 20 sophomore defensive ends with offers from Penn State, Boston College, Maryland, Ole Miss, Rutgers, Toledo and Virginia Tech.
🚨24" DE/OLB 👀 🚨

🎓: 2️⃣0️⃣2️⃣4️⃣
🏈: DE/OLB
🗣: Dominic Nichols
📏: 6'5" 235 lbs
📚: 3.5 Core GPA
🎥: Sophomore Highlights ⬇️https://t.co/4J0nMjDvQq
🔊: Dominics Contact Info:
📧: dnichols026@gmail.com
🐤: @DominicNichols0
🏫: Oakdale HS (MD) pic.twitter.com/TPnYyUWrMJ

— Fast Track Recruits (@FTRreport) January 3, 2022
Update (2:11 PM)- 
**A new offer comes in today for Central Valley 2023 athlete Jayvin Thompson. Bowling Green joins Army and Eastern Michigan as programs that have offered Thompson.
Junior year Season Highlights!! Back to back State champions!! All state DB across all classifications!!

31 receptions
767 receiving yards
11 touchdowns
11 interceptions
69 tackles
1268 All Purpose Yards https://t.co/7O2o89hAjl

— JayvinThompson (@JayvinThompson) January 2, 2022
Update (1:04 PM)-
**More offers from Pitt to young quarterbacks as today, Jonathan DiBiaso offers freshman Michael Tollefson from San Juan Capistrano, California. The 6'1″, 185-pounder also holds offers from Arizona, Florida State, Michigan State, Miami, Nevada, Oregon and San Jose St.
Freshman Season Varsity Highlights are up. Thank you to all my teammates, coaches and supporters for helping me and guiding me this year!@CoachDanny10 @FrithRobert @GregBiggins @adamgorney @ocvarsityguy @sjhhsfootball https://t.co/0FMQwnpSFD

— Michael "Butter" Tollefson (@m_tollefson2025) November 3, 2021
Pitt Extends Offers to Plethora of Future 2024, 2025 Quarterbacks
Update (12:53 PM)-
**This morning, Tiquan Underwood and Pitt extend an offer to 2023 athlete Quincy Gillins from Viera High School in Viera, Florida. This is the first D-1 offer for Gillins. Last season, Gillins caught 29 passes for 560 yards and 6 touchdowns.
https://t.co/DlHSUCWzMm
📝 Name: Quincy Gillins
🏈Wr/Ath
🎓'23
📏 6'0, 17Olbs
🎥 29 Receptions
🎥 560+ Receiving Yds
🎥 6 Touchdowns
🐦 Twitter: @QuincyGillins
📧 Email: quincygillins1@gmail.com
☎️ Phone: 352-225-8516
🎥Film:

— Quincy "Q" Gillins (@QuincyGillins) February 19, 2022
Update (11:13 AM)-
**Today, Ryan Manalac and Pitt extend an offer to 2024 offensive lineman Marcus Mascoll (6'5″, 295) from South Gwinnett High School in Atlanta, Georgia.This is Mascoll's first D-1 offer.
Check out my highlight! https://t.co/lHp8ddJA1o

— Marcus Mascoll (@MarcusMascoll1) December 5, 2021
Update (9:53 AM)- 
**On Sunday, Thomas Jefferson 2023 3-star DE Jordan Mayer picked up two ACC offers: Georgia Tech and Virginia Tech. Mayer also holds Power 5 offers from Boston College, Cincinnati, Duke, Rutgers, Syracuse, Vanderbilt, West Virginia and Wisconsin.
I am very thankful to receive an offer from @HokiesFB @CoachPryVT @CoachJoeRudolph @210ths @Evolve2tenths @wpialsportsnews @PaFootballNews @BrianDohn247 @RivalsFriedman pic.twitter.com/ifUpK7WswH

— Jordan Mayer (@Jordanmayer33) May 9, 2022
Update (9:27 AM)- 
**On Sunday, Pitt football offered highly ranked freshman quarterback Austin Simmons, from Pahokee, Florida. Simmons (6'2", 180) is already developing into a national recruit holding early offers from Florida State, Louisville, Ole Miss, Penn State, Tennessee, Purdue, Texas A&M and Vanderbilt. Last season, Simmons completed 117 of 171 passes for 1,913 yards, 15 touchdowns and a QB rating of 128.6 in just 7 games.
After a Great Conversation with Coach Charlie Partridge, I'm blessed to receive an Offer from The University of Pittsburgh! 🔵🟡#AGTG #H2P @Pitt_FB @247Sports @RivalsJohnson @CSS_TRAINING @adamgorney @JerryRecruiting @CoachPartridge @FrankCignetti pic.twitter.com/jJG2yDosW5

— Austin Simmons (@austnsimmons) May 9, 2022

Update (9:05 AM)- 
**Over the weekend, Charlie Partridge and Pitt extended an offer to 2024 athlete Jacory Barney, Jr. from Miami Palmetto High School in Miami, Florida. Barney (5'11", 160) holds other offers from Georgia Tech, Indiana, Michigan, Nebraska, Syracuse, Utah, West Virginia, Bowling Green, Toledo and Rhode Island.
2024 athlete Jacory barney 5'11" 162 Miami Palmetto HS is as versatile as they come. He can play QB, WR, CB and FS. I like him as a CB. Explosive speed and excellent vision. 4.5 speed. Dynamic ballplayer.@jbarney21_ pic.twitter.com/zqcIJAty3l

— Tom Lemming (@LemmingReport) February 19, 2022