The Frank Walker Law/PSN Daily Notebook- May 11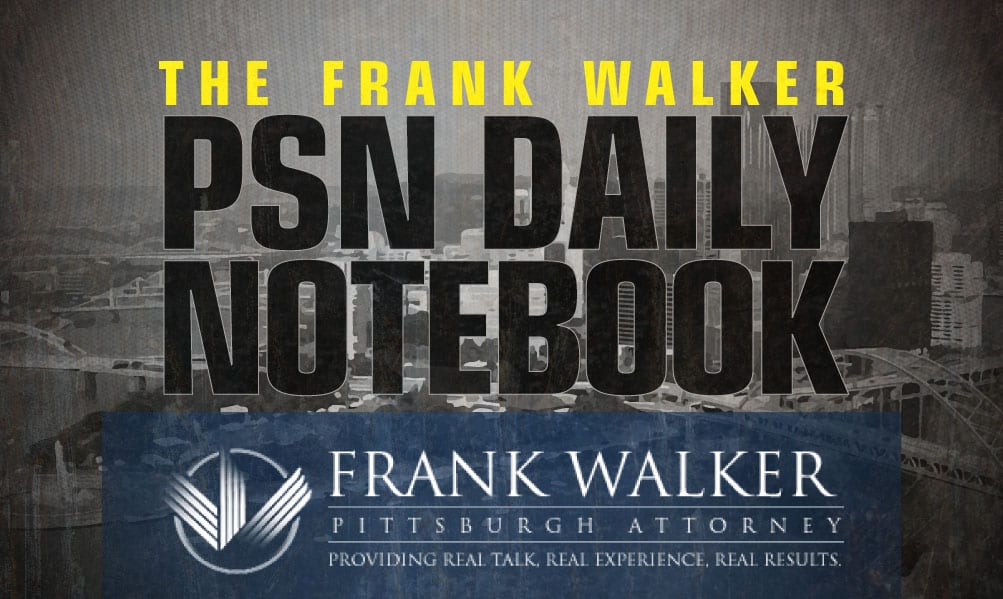 The PSN Daily Notebook is sponsored by Frank Walker, one of Pittsburgh and West Virginia's most respected criminal defense and injury lawyers. Mr. Walker has offices in Pittsburgh and Morgantown and has been named one of Top 100 National Trial Lawyers and is rated a perfect 10.0 Superb by Avvo for ethics, experience and results. To reach Mr. Walker, you can call 412-532-6805 or go to his website frankwalkerlaw.com. For real talk, real experience and real results, contact Frank Walker Law.
Update (4 PM)-
**Former Pitt quarterback Nathan Peterman is joining the Chicago Bears on a one-year contract, per NFL Network. He will battle Trevor Siemian to back up Justin Fields in Chicago. Peterman spent the last four seasons with the Raiders.
Free-agent QB Nathan Peterman is signing a one-year contract with the #Bears, per source.

Peterman — who opened the 2018 season as the #Bills' starter ahead of Josh Allen — spent the last few seasons with the #Raiders. Now, he joins Justin Fields and Trevor Siemian in Chicago.

— Tom Pelissero (@TomPelissero) May 11, 2022
Update (3:50 PM)-
**2024 athlete Jackson Pons from Norwin High School in Pittsburgh, Pennsylvania picked up his second Division I scholarship from Bowling Green Wednesday. Pons (6-foot-1, 165 pounds) received his first offer from Mississippi State in April.
After a great conversation with @CoachBayer_ , I am blessed to receive an offer to from Bowling Green University!🟤🟠#AyZiggy @BG_Football @NKnightsFBall @coachwil_412 @EdOBrienCFB@RivalsFriedman @PrepRedzonePA @PRZPAvic pic.twitter.com/NFDOEWZre3

— Jackson Pons (@jackson_pons) May 11, 2022
Update (3:03 PM)- 
**Charlie Partridge extends an offer to 2023 defensive end Toddrick Brewton from Miami, Florida. Brewton (6'3", 225) holds other offers from Tulane a and Florida International. This is Brewton's first Power 5 offer.
Toddrick Brewton 6'4" 218 linebacker from Miami northwestern high school really impressed me with his size, production and attitude. No doubt shows all American skills. Class of 2023 can also grow into a rush end. 3.3 GPA. Brother of Calvin Brewton.@BrewtonToddrick pic.twitter.com/BsCbOIL7bZ

— Tom Lemming (@LemmingReport) February 21, 2022
Update (2:46 Pm)-
**Randy Bates and Pitt extend an offer 2023 3-star offensive lineman Mysta Moore from Taft High School in Cincinnati, Ohio. Moore (6'4", 300) holds other offers from Purdue, Toledo, UMass, Buffalo and Akron.
MVP of the All Ohio Showcase.
Thank you for the opportunity! @AllOhioFB pic.twitter.com/FBBSgtZvJM

— Mysta Moore (@513Mysta) April 4, 2022

Update (1:32 PM)-
**Andre Powell extends an offer to 2023 3-star wide receiver Paul Billups from Western Branch High School in Chesapeake, Virginia. Billups (6'2″, 185) has previous offers from West Virginia, Florida State, Boston College, South Carolina, Duke, Wake Forest, Virginia Tech, Virginia, Syracuse, Penn State, North Carolina, Michigan State, Maryland and Liberty.
Here's my updated highlight tape from this past season!! https://t.co/3Z678iWEl2

— Paul Billups Jr (@PaulBillupss2) January 10, 2022
Update (1:16 PM)-
**On Wednesday, Randy Bates and Pitt extend an offer to 2024 cornerback Terhyon Nichols from Withrow High School in Cincinnati, Ohio. Nichols (5'11", 175) has also received offers from Utah State, Tennessee, Notre Dame, Minnesota, Miami (OH), Kent State, Georgia Tech, Eastern Michigan, Cincinnati, Central Michigan and Akron.
Terhyon Nichols
2024 DB🌟🥷🏽
Full Varsity, Playoffs and Regular season highlights
ENJOY 🎬
Check out my highlight – https://t.co/ApHX22niJ8

— ᴛᴇʀʜʏᴏɴ ɴɪᴄʜᴏʟꜱ (@NicholsT24) November 15, 2021
Update (11:37 AM)-
**Robert Morris basketball extends an offer to 6'3″, combo guard Caleb Donaldson from St. Cloud State. Last season, Donaldson averaged 16.7 points and 3.8 assists, while playing over 35 minutes per game. Donaldson also shot an impressive 57.9% from the field and 52% from 3-point range. Two seasons ago as a freshman, Donaldson appeared in all 29 games and made 18 starts. He went on to average 8.9 points per game. Donaldson has also pulled in offers from Eastern Illinois, Radford, UW-Green Bay, Drexel, UMBC, Central Connecticut,
Update (11:11 AM)-
**On Tuesday night, Pitt assistant quarterbacks coach Jonathan DiBiaso extended an offer to freshman quarterback Ashton Beierly from Chaparral High School in Temecula, California. This is the first D-1 offer for this young quarterback.
2021 Freshman Yr. Varsity Highlights. Started last 5 games + playoffs. Thank you for watching.@chaparralpumafb @Coach_Ramer @MaxPreps @GregBiggins @K12Elite @247Sports @247recruiting @Rivals @BrandonHuffman @adamgorney @BrandonJacobs27 @PrepRedzoneCA
– https://t.co/atQS563n46

— Ashton "Dash" Beierly (@DashBeierly) November 25, 2021
Update (10:15 AM)-
**Freshman running back Byron Louis (American Heritage High School in Fort Lauderdale, Florida) picks up an offer from Pitt. The 5'10", 180-pound back also holds early offers from Georgia, Georgia Tech, Indiana, Miami, Syracuse, Texas A&M, Ole Miss, Toledo and South Florida.
The Crib South Florida 2025 Top 50 pic.twitter.com/AfmfzjOsRU

— The Crib South Florida (@TheCribSouthFLA) March 4, 2022
Around the Network
Steelers Now: Saunders: Steelers Offseason Offensive Focus Puts Pressure on Matt Canada
Pittsburgh Hockey Now: Penguins One-Timers: Physicality, Domingue, & Winning Formula in Game 5
Pittsburgh Baseball Now:  Is Oneil Cruz Destined for the Outfield?
WVU Sports Now: WVU Baseball Takes Backyard Brawl 9-1 Behind Major Six-Inning No-No and Scott, Barry Homers
Nittany Sports Now: Four-Star CB Braeden Marshall Has Penn State in His Top Ten