Kenny Pickett's Trainer Sees All-Pro Potential in NFL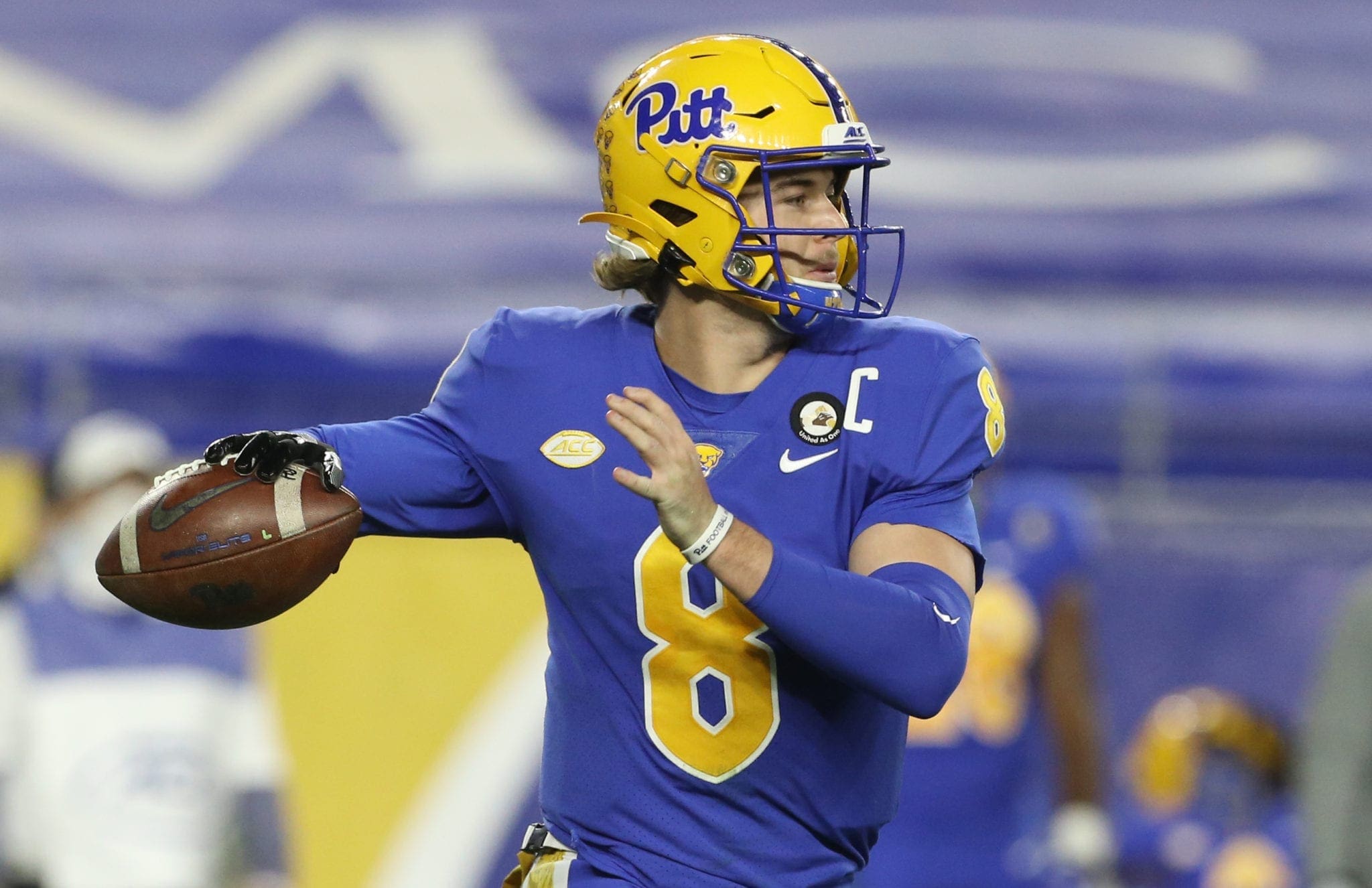 Much of the conversation surrounding Steelers quarterback Kenny Pickett through the pre-draft process focused on his overall upside and ceiling. Pickett had phenomenal results in his last year at Pitt, but of course that production does not always translate to the NFL level.
One of the things that talent evaluators do, both inside and outside the NFL, is measure the physical tools of players to attempt to gauge their ability to transfer their results to a higher level of football.
For Pickett, that included lengthy discussions — to probably an absurd level — about the size of his hands, but also much more tangible ones about the strength of his arm. Many evaluators preferred players like Liberty's Malik Willis because of his stronger arm and greater athleticism.
Even thought Pickett was the first quarterback picked in the draft, that perceived lack of arm strength is causing many to cast doubt on how good he can be at the NFL level.
Pickett was recently ranked 39th among NFL quarterbacks entering the 2022 season by NBC Sports analyst Chris Simms, and while that overall ranking is probably fine for a rookie that has yet to earn a starting job, Simms hit on a similar talking point that many others have with regards to Pickett's ceiling.
"It's the high-end talent that I question," Simms said, while also praising Pickett's mental processing and readiness to compete at the NFL level.
Of course, arm strength is far from the only thing that matters when it comes to how successful a quarterback can be. Plenty of laser-armed rookies have hit the NFL and been unable to find their way. Meanwhile, Tom Brady, who never had the strongest arm in the first place and is now 44 years old, has been the best quarterback in the league for almost two decades.
To find out what really matters when it comes to quarterback play transferring from college football to the NFL, and exactly what Pickett needs to improve upon in order to have that success, we talked to Tony Racioppi, Pickett's New Jersey-based personal quarterbacks coach.
For Racioppi, the knocks against Pickett are largely a result of people looking at recent trends among successful young NFL quarterbacks like Kyler Murry, Josh Allen, Patrick Mahomes and others, and not seeing the exact same kind of prospect in Pickett.
"People see Patrick Mahomes, they see Josh Allen and those guys were kind of raw coming out, but they had elite traits and they're obviously playing well, and winning a lot of games and I think people are like, 'OK, that's the new model, right?'" Racioppi said. "The NFL is all about traits."
And not all of Pickett's traits were bad ones.
"He's over 6-foot-3, 220 pounds," Racioppi said. "He ran in the high 4.6s. All his testing at the combine was better and faster than Dak Prescott. Dak Prescott's a really good athlete."
Furthermore, those athletic traits are far from the only key to unlocking success at the next level. In addition to not having the strongest arm, Brady was so slow and un-athletic looking coming out of Michigan that his combine performance has become a meme.
Not every slow, weaker-armed quarterback will become Brady, but it's important to focus on what Brady is good at and attempt to evaluate those traits in young quarterbacks, as well.
"You see a lot of those guys that are playing that are in their mid to late 30s. It's because of their brain," Racioppi said. "They get to see everything so much. I read a quote from Tom Brady, about two years ago, asking if he felt like it's gotten harder as he's gotten older. And he's like, 'No, it's kind of easier. Because in my mind I know what's going on out there. And it's so slow to me, from a visual standpoint, I just have to keep my body sharp enough to do the job.'"
Potential in that area is a lot more difficult to measure than speed or accuracy, but Racioppi pointed out that Pickett never seemed to hit a ceiling at Pitt. Outside of an ankle injury that set him back in 2020, his lengthy time as a starter showed persistent, if sometimes slow growth before taking a big jump forward in 2021.
Racioppi and Pickett have attributed that to his comfort level in his third year in Mark Whipple's offense at Pitt. With the Steelers, Pickett said that what Canada has installed is familiar to what he ran in the same system his first two years at Pitt, but he will obviously have work to do mentally to be ready this fall.
"I've got no shot if I don't know what I'm doing, so I'm just dedicating myself to the playbook, learning every detail I possibly can to operate out here," Pickett said last weekend at rookie minicamp. "It's studying here and then we get let out and taking it back to the hotel and having my iPad out. Just kind of like I said, doing as much as I can to feel good out here so I can play fast. That's the No. 1 key."
RELATED: Middle of the Field Passing Key for Kenny Pickett, Steelers 
Analysis: Middle of Field Passing Ability Key for Steelers, Kenny Pickett
So how good can Pickett be?
"I think he can be a multiple-year All-Pro," Racioppi said. "He's got all of it. … I think people don't understand how good his arm is. I think he won't understand how athletic he is and I think people don't understand how good he is  in the locker room and in the huddle."
Of course, Racioppi is not exactly an unbiased observer, having worked with Pickett closely for years. But he does know quarterback play and makes a strong point about there being more than one way to have NFL success as a quarterback, and it's not always about the player's physical traits.
If Pickett can be a winner because of his intangible abilities, he has more than enough physical tools to get the job done.