The Frank Walker Law/PSN Daily Notebook- May 20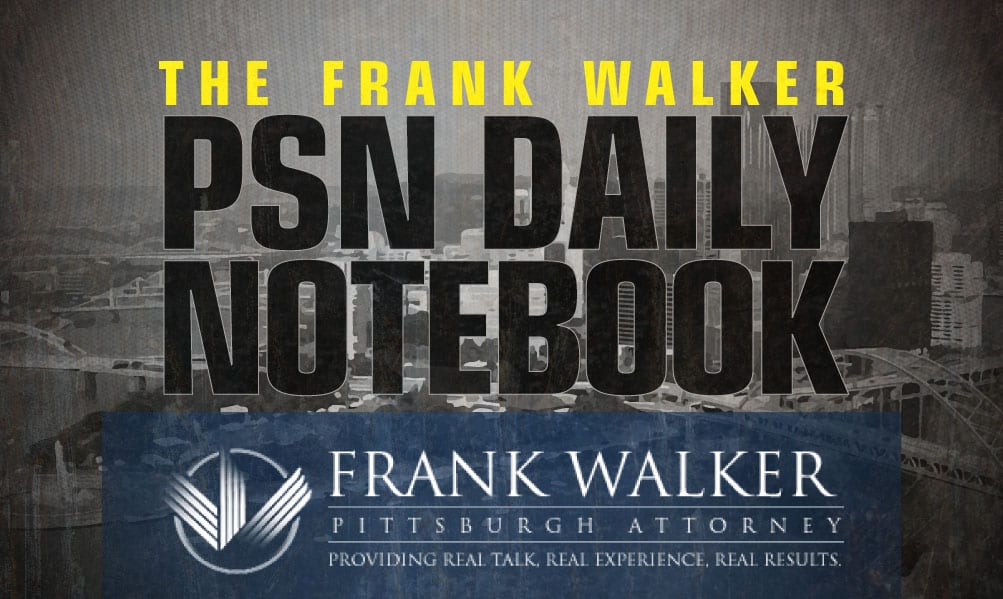 The PSN Daily Notebook is sponsored by Frank Walker, one of Pittsburgh and West Virginia's most respected criminal defense and injury lawyers. Mr. Walker has offices in Pittsburgh and Morgantown and has been named one of Top 100 National Trial Lawyers and is rated a perfect 10.0 Superb by Avvo for ethics, experience and results. To reach Mr. Walker, you can call 412-532-6805 or go to his website frankwalkerlaw.com. For real talk, real experience and real results, contact Frank Walker Law.
Update (5:19 PM)-
**2024 3-star athlete Daniel Coles received an offer today from Andre Powell and Pitt. Coles attends Brooke Point HS in Stafford, Virginia and has other offers from Penn State, Virginia Tech, Maryland, Louisville, Duke and West Virginia.
Update (5:00 PM)-
Love seeing our guys @kennypickett10 @Tipton_05 @PineStar11 right next door chasing their dreams at Steelers Mini Camp. Proud of them‼️ #H2P #WEnotME pic.twitter.com/XwzTBjTGlv

— Pat Narduzzi (@CoachDuzzPittFB) May 20, 2022
Update (1:48 PM)-
All the camps i will be going to as of right now ‼️ @Coach_Dougherty @coachhemp @coachcsanders @Kzovko @CoachBuffano @UKFootball @CoachStalker @CoachCox_GF pic.twitter.com/JbcgY6g5cL

— Donovan Walker (@DonovanWalkerr) May 20, 2022

Update (1:15 PM)-
**Pitt extends an offer today to 2024 linebacker/tight end Ashton Woods from Marietta, Georgia. Woods (6'3″, 205) received the news from Ryan Manalac and also holds offers from Kansas State, Tennessee, Boston College, Buffalo, Louisville, Vanderbilt, Wake Forest, Mississippi State and NC State.
Sophomore Year:
105 Total Tackles
42 solo
63 assisted
10 TFL
3 FF
3 Sacks
3 PBU
3 Interceptionshttps://t.co/xMjQLWy9RH @Mansell247 @ChadSimmons_ @WaltonRecruits @RecruitGeorgia @scoreatlanta @247Sports @tballardqbcoach @coachdbrunner

— Ashton Woods (@ashton_woods7) December 17, 2021
Update (11:56 AM)-
Former USC quarterback Kedon Slovis takes over for first-round pick Kenny Pickett at Pitt.

Here's a dive into Slovis' numbers from his junior year with the Trojans #cfbqbs22 pic.twitter.com/nkCkPtoqwR

— CFB Film Room (@CFBFilmRoom) May 20, 2022
Update (11:36 AM)-
Let's Welcome Bub Means to the Burgh. Champions Work Here! @TiUnderwood #H2P pic.twitter.com/QDpQxdlMx4

— Frank Cignetti Jr. (@FrankCignetti) May 20, 2022
Update (11:27 AM)-
**2024 4-star linebacker Wendell Gregory from Walton High School in Marietta, Georgia received an offer from Ryan Manalac and Pitt. Gregory (6'4″, 210) has also earned offers from Nebraska, Buffalo, Boston College, West Virginia, NC State, Tennessee, Mississippi State, Arkansas State, Vanderbilt, Louisville and South Carolina. On3 Sports rates Gregory as one of the Top 40 players in the Class of 2024.
sophomore year highlights hope you enjoy!@Mansell247 @ChadSimmons_ @RecruitGeorgia @WaltonRecruits https://t.co/2nxloTduhp

— Wendell Gregory (@wendellgregory3) December 30, 2021
Update (11:04 AM)- 
**Today, Tiquan Underwood extended an offer to 2023 offensive tackle Nick Oliveria from Mullica Hill, New Jersey. Oliveria (6'5", 280) holds other offers from Boston College, Vanderbilt, Duke, UConn, Oregon, Syracuse and Temple.
First 10 plays of my Junior Season Highlights https://t.co/1nk4xu8M32

37 Pancakes(New school Record)✅
2nd Team All State ✅
1st Team All South Jersey✅
1st Team All Conference✅
1st Team All Group 4✅ pic.twitter.com/9qrrF7Ynz2

— Nick Oliveira (@nickoliveira101) January 22, 2022
Update (10:43 AM)-
**This morning, Pitt extends an offer to 2025 offensive lineman Sandman Thompson from Melbourne, Florida. Thompson received the news from Dave Borbely and Tiquan Underwood. Along with Pitt, the freshman lineman also has offers from Florida State, UAB, Penn State, Middle Tennessee State, Troy, Toledo, Florida Atlantic, Louisville, Iowa State, South Florida, Indiana, West Virginia, Mississippi State, Maryland and Kentucky.
🦁👑 @EauGallieHC @CoachMiller53 @QNHall_Uno_JTG @jamari_crooms @1robertstafford @stanka_7 @rockout_dl @timajayhayes @Curlie_lee @Delvonte_Will7 @CoachCharlieW1 @cphat0421 @JTinor53 @DillonCooper123https://t.co/0MTntMjLMH

— Sandman Thompson (@Sandmanthompson) May 19, 2022
Update (9:24 AM)- 
**This morning, Tim Salem and Pitt extend an offer to 2025 safety Ethan Pritchard from Seminole High School in Sanford, Florida. Pritchard (6'1", 180) has also received early offers from Miami, Kentucky, Purdue, Iowa State, South Florida and Minnesota.
2025 Seminole HS (FL) DB Ethan Pritchard (@EthanPr74464069).

Pritchard has a natural feel for his position & a veteran-like presence on the backend when it comes to confidence/playmaking ability.

Pritchard has 3 #D1 offers early but can expect more. https://t.co/mV0mfmp9nY pic.twitter.com/e2QXCnsqoh

— Brandon Howard (@BHoward_11) April 17, 2022
Update (9:02 AM)-
Recruiting Analysts Predict 2023 Athlete Rodney Gallagher to West Virginia https://t.co/XzLPwYIKr8 pic.twitter.com/6p0iz9a1Df

— West Virginia Sports Now (@WVSportsNow) May 20, 2022
Update (8:57 AM)-
Thank you @CoachBorbs and @Pitt_FB @CoachDuzzPittFB for stopping by Deer Lakes during our workout today @DeerLakesAth pic.twitter.com/m7RsfTL2mw

— Coach Burk (@tim_burk) May 19, 2022
Update 8:31 AM)- 
**Tiquan Underwood extends an offer to 2024 wide receiver Elijah Jones from St. Joseph's Prep in Philadelphia. This was the first D-1 offer for Jones. Later in the day, he picked up offers from Boston College and UConn.
Blessed to receive an offer from University of Pittsburgh!! #H2P 💛💙 @Pitt_FB @T_Roken @ryne011 @TiUnderwood pic.twitter.com/1xg14nCfl1

— Elijah Jones (@elijah14jones) May 18, 2022