The Frank Walker Law/PSN Daily Notebook- May 25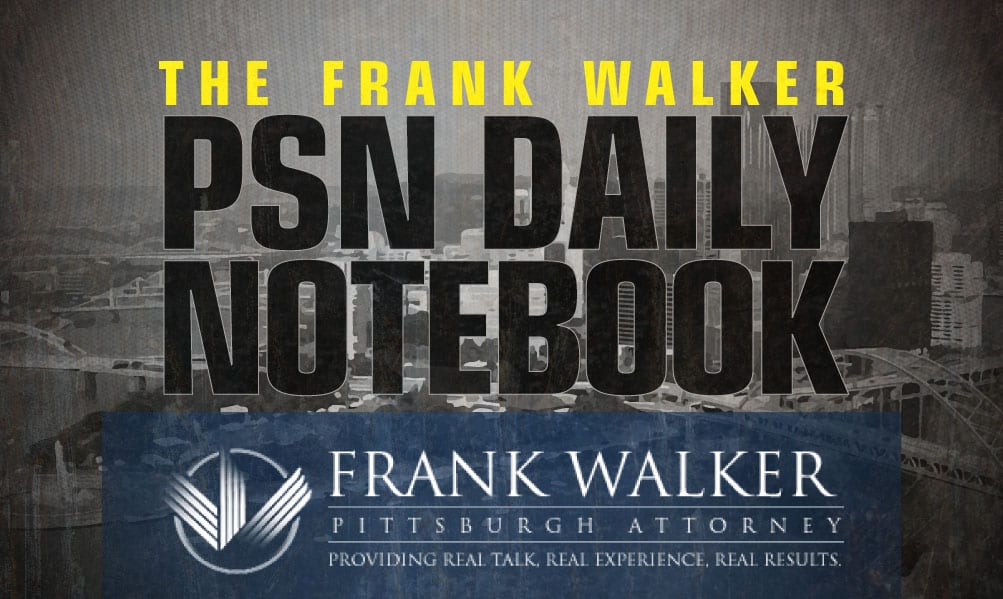 The PSN Daily Notebook is sponsored by Frank Walker, one of Pittsburgh and West Virginia's most respected criminal defense and injury lawyers. Mr. Walker has offices in Pittsburgh and Morgantown and has been named one of Top 100 National Trial Lawyers and is rated a perfect 10.0 Superb by Avvo for ethics, experience and results. To reach Mr. Walker, you can call 412-532-6805 or go to his website frankwalkerlaw.com. For real talk, real experience and real results, contact Frank Walker Law.
Update (2:42 PM)-
Pitt Football, Training Next To The Steelers! #H2P pic.twitter.com/ZvPbyoWeXM

— Frank Cignetti Jr. (@FrankCignetti) May 25, 2022
Update (1:54 PM)-
**Pine-Richland 2024 OL Ryan Cory picks up his first SEC offer today. Along with Kentucky, Cory also holds offers from Louisville, Maryland, UConn, Miami (OH), Cincinnati, Toledo, Kansas State and Oregon.
Blessed and Thankful to receive an offer from the University of Kentucky @UKFootball @Coach_LeDonne @adamgorney @BrianDohn247 @outerlim @210ths @RivalsFriedman pic.twitter.com/Vat92o9de4

— Ryan Cory (@RyanCory15) May 25, 2022
Update (1:36 PM)-
2023 6'3 G Jaydon Young told @PghSportsNow that he is receiving weekly interest from #Pitt. "Probably" will visit Pitt this summer. Visited unofficially last year.

Also hearing from Virginia Tech, Virginia, Florida State, NC A&T, Tennessee, UNCG, Loyola-Chicago + others. pic.twitter.com/zDGh5g4jqR

— George Michalowski (@MichalowskiCBB) May 24, 2022
Update (1:03 PM)-
There have been 7,464 offers made by FBS programs since the evaluation period began

Louisville (146)
Pittsburgh (141)
Michigan (133)
Nebraska (131)
Air Force (129)
Kentucky (126)
Arkansas State (123)
Army (122)
Western Kentucky (121)
Tulane (121)
Navy (118)

🏈🧠🤓

— Zcruit (@ZcruitFootball) May 25, 2022
Update (11:57 AM)- 
**Today, Tiquan Underwood extends an offer to 2023 wide receiver Colbie Young from Lackawanna C.C. in Scranton, Pennsylvania. Young (6'4", 220) has other offers from Virginia Tech, Central Michigan, Albany, Jacksonville State, Furman, Maine and New Hampshire.
2022 Spring practice film 🏈🎥 pic.twitter.com/ARadIgAC2g

— Colbie Young (@ColbieYoung) May 1, 2022
Update (11:31 AM)-
2️⃣0️⃣2️⃣2️⃣ Promotions Schedule

Excited to announce themes and events for Pitt's seven home games this season!

Details » https://t.co/myy1TbxGbc#H2P » https://t.co/UtHX8y7cuH pic.twitter.com/nWqKCCpIYG

— Pitt Football (@Pitt_FB) May 25, 2022
Update (10:02 AM)-
God is Great #Blessed
Most recent offers after Spring Ball #IMG @DemetricDWarren @FlightSkillz @adamgorney @iam_mikeevans pic.twitter.com/HpOlwkev9k

— Zechariah Fort (@ZechariahFort) May 25, 2022
Update (8:49 AM)-
As expected, Bethel Park High School hired Dante Calabria as new boys basketball coach tonight. One of best players I covered in WPIAL in 40 years.

Here's Dante "then" with great Blackhawk team of 1992 – and also more recently. pic.twitter.com/MZzEdA4drO

— Mike White (@mwhiteburgh) May 25, 2022
Update (8:34 AM)- 
**Shenango 2023 offensive lineman Kyle Lenhart picks up an offer this morning from Miami (OH). Lenhart (6'3", 280) also has offers from Albany, Navy, Lafayette, Lehigh, Fordham, Marshall, Duquesne and Dartmouth.
Junior Season Highlights '23 6'4'' 270https://t.co/Ev0U5brEoI@PAPrepsRivals @KeystoneRecruit @Cover3_ATH @Mark61Ross @PaFootballNews

— Kyle Lenhart (@kylelenhart53) November 20, 2021
Update (8:22 AM)- 
**This morning, Penn-Trafford 2023 center/defensive tackle Joseph Enick received an offer from Maine. Enick (6'4", 280) also holds offers from Lehigh, Duquesne, Miami (OH), Albany, Buffalo, Fordham, Central Michigan, Youngstown State and The Citadel.
Complete season highlights. Finished our season Friday night as PIAA Class 5A State Champions. First time in school history as WPIAL and PIAA State Champs! Love this team! Love these guys! #51 Joe Enick Jr-DT/C 6'3 280 by Joe Enick on @hudl https://t.co/hv1VbJkmpp #hudl

— Joseph Enick (@JosephEnick3) December 14, 2021
Update (8:14 AM)-
**Penn Hills 2024 quarterback Julian Dugger received an offer Tuesday night from UMass. This becomes Dugger's third D-1 offer with the other two coming from Toledo and Pitt.
Full Sophomore season!! Just the beginning even more to come. @210ths @Evolve2tenths @phqbclub @EdOBrienCFB #humbleoverhype https://t.co/nZfYTkiEpq

— Julian Dugger (@JulesDugger02) February 8, 2022
Around the Network
Steelers Now: Report: Steelers to Hire Omar Khan as General Manager
Pittsburgh Hockey Now: Kingerski: Penguins Still in Pieces, Hextall Could be Backed into Corner
Pittsburgh Baseball Now: Prospect Promotions Bring Excitement to Pirates, And There Are More To Come
Pittsburgh Soccer Now: Talking soccer with Pitt coach Jay Vidovich
WVU Sports Now: West Virginia Receives Second DB Commitment of the Day in Wesley McCormick
Nittany Sports Now: Matt Wood Makes First-Team All-Big-Ten, Four Other Nittany Lions Selected
The Portal Report: Patrick Ewing has remade Georgetown through the transfer portal