The Frank Walker Law/PSN Daily Notebook- May 26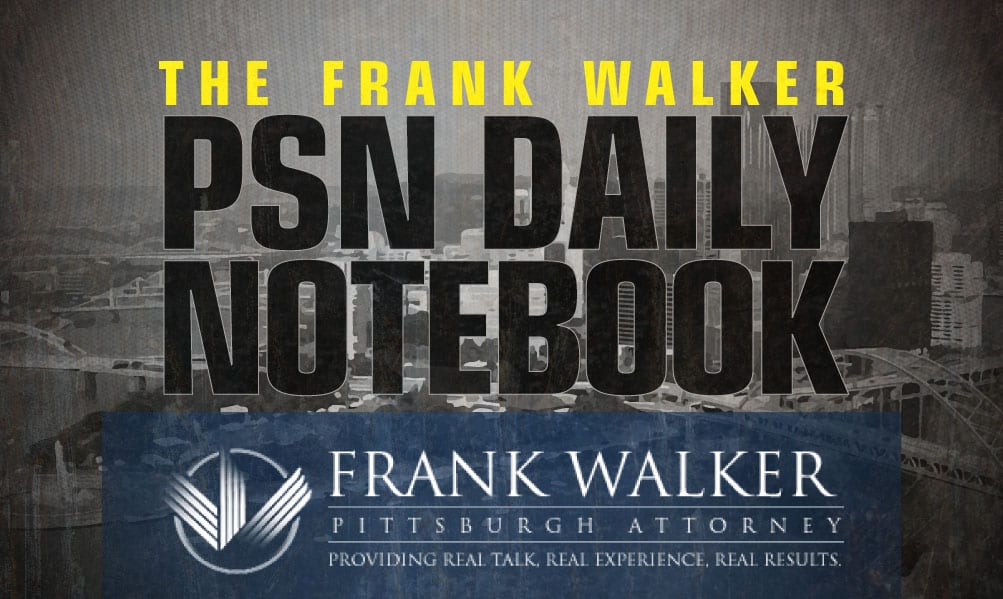 The PSN Daily Notebook is sponsored by Frank Walker, one of Pittsburgh and West Virginia's most respected criminal defense and injury lawyers. Mr. Walker has offices in Pittsburgh and Morgantown and has been named one of Top 100 National Trial Lawyers and is rated a perfect 10.0 Superb by Avvo for ethics, experience and results. To reach Mr. Walker, you can call 412-532-6805 or go to his website frankwalkerlaw.com. For real talk, real experience and real results, contact Frank Walker Law.
Update (8:30 PM)- 
**Pitt extends an offer today to 2023 3-star DL Stantavious Smith from Dougherty High School in Albany, Georgia. Smith (6'1", 260) holds an impressive offer list- Florida State, Kentucky, LSU, Ohio State, Arkansas, Georgia, Florida, Georgia Tech, Nebraska, Notre Dame, South Carolina, Tennessee, Mississippi State, Louisville, Penn State, Oregon, Arizona and Vanderbilt.
Update (4:40 PM)-
Back at home @Ambition___0 pic.twitter.com/qhO4Kn45jv

— Pitt Basketball (@Pitt_MBB) May 26, 2022
Update (4:12 PM)- 
**North Allegheny 2024 OL Cameron Chmura (6'3", 270) received an offer today from Kent State, which is his first D-1 offer.
After a great talk with @Coach_Ferrell55 I am extremely blessed to receive my first FBS Division 1 offer from Kent State University! @CoachStalker @KentStFBRecruit @OB_GoldenFlash @TheHC_CoachLew @nafootball_tfl @PRZPAvic @RivalsFriedman @DemetricDWarren pic.twitter.com/R6XrfxUvVN

— Cameron Chmura ⁵⁰ (@CameronChmura) May 26, 2022
Update (12:59 PM)-
Think it's important to note that McGriff is a 6'6 "guard" and not a wing. Can handle the ball and create for himself and others. Duquesne can use him in a number of different ways next season. https://t.co/NFjXBmyhfJ

— Tristan Freeman (@hoopsnut351) May 26, 2022
Update (12:52 PM)-
The only Facility in the The Country with this setup. No better neighbor to have than the @steelers‼️ 🔵🟡⚫️🟡 pic.twitter.com/PXOg98Da6f

— Pat Narduzzi (@CoachDuzzPittFB) May 26, 2022
Update (12:41 PM)-
**Central Catholic 2024 LB/DE/TE Ty Yuhas received an offer today from Kent State, which becomes his first D-1 offer.
Check out my highlight – https://t.co/K4Ps0JrCc8

— Ty Yuhas (@Tyuhas5587) November 23, 2021
Update (10:47 AM)-
#Steelers quarterback Kenny Pickett is now the overall favorite to be #NFL Rookie of the Year, according to FanDuel. https://t.co/jc1yMVcgTZ pic.twitter.com/BRcPXF6xMz

— Steelers Now (@PghSteelersNow) May 26, 2022
Update (9:45 AM)-
**Pitt extends an offer to 2023 3-star wide receiver Lamar Seymore, who's currently committed to Miami. Seymore attends Northwestern High School in Miami, Florida and committed to the Hurricanes back in April. Seymore received the offer from Tiquan Underwood. Prior to committing to Miami, Seymore received offers from Penn State, Auburn, Georgia, Oklahoma, Illinois, Indiana, Kentucky, Florida State, Central Florida, Colorado and West Virgina. It appears as though Seymore isn't totally committed to Miami because he's scheduled an official visit to Central Florida on June 3.
Ion fold in big games just watch me work 1️⃣4️⃣😈 @247Sports @Rivals pic.twitter.com/Xx1vwGHLKe

— lamar seymore (@lamargotfanz) October 2, 2021
Update (9:35 AM)-
**Another offer from Pitt to a player in the Class of 2023 as this one goes to wide receiver Daidren Zipperer from Lakeland, Florida. Zipperer (6'0″, 165) previously received offers from BYU, Coastal Carolina, Florida Atlantic, Kentucky, Liberty, South Carolina, South Florida, Central Florida, Western Kentucky and Western Michigan.
Spring 2022✅ https://t.co/MBEqKA2rxg

— Daidren Zipperer 🦍 (@daidrenz) May 20, 2022
Update (9:05 AM-
**An offer from Pitt to a player in the Class of 2023 as 3-star Saboor Karriem picks up an offer from the Panthers. Karriem is a 6'3″ cornerback from West Orange, New Jersey. Along with Pitt, Karriem also holds offers from Akron, Boston College, UConn, Duke, Georgia Tech, Illinois, Louisville, Maryland, Syracuse, Temple, Vanderbilt, Virginia Tech and West Virginia. Karriem has an official visit scheduled next week to Illinois.
Great Junior Season! Check out my highlight tape!https://t.co/RE3rs0b3Yw

— Saboor "Prime Time" Karriem (@Saboor_Karriem) November 16, 2021
Update (8:55 AM)-
**A second offer from Pitt to a standout from Philadelphia, as Cory Sanders offers 2024 4-star DE Deshon Dodson from Neumann Goretti HS. Dodson (6'5″, 260) holds offers from Boston College, Maryland, Miami, Ole Miss, Nebraska, Penn State, Rutgers, Syracuse, Texas A&M, West Virginia and Wisconsin.
thank you for the ranking !! i appreciate it @247Sports @BobbyDeren Blessed 🙏🏽 #AGTG 🌟 pic.twitter.com/4MgOMM1Dkv

— deshon dodson (@deshondodson2) April 7, 2022
Update (8:42 AM)-
**Cory Sanders and Pitt extend an offer to 2024 cornerback Khari Reid from Neumann Goretti HS in Philadelphia. Reid (5'10", 165) holds other offers from Boston College, Bowling Green, Maryland, Ole Miss, Penn State and West Virginia.
Happy to say PITT offered. Thank you @coachcsanders and @HEADSAINT for giving me this opportunity #GOPANTHERS💙💛 pic.twitter.com/j3mC9th4rR

— Khari Reid🕊💕 (@kharireid24) May 25, 2022
Around the Network
Steelers Now: Mason Rudolph Motivated by Steelers QB Additions, Excited for Competition
Pittsburgh Hockey Now: Enough Already: Time for NHL to Crack Down On Hits to Head
Pittsburgh Baseball Now: REPORT: Pirates Call Up Tucupita Marcano From Double-A Altoona
WVU Sports Now: BREAKING: Top 100 Recruit Rodney Gallagher Commits to West Virginia
Nittany Sports Now: Penn State Baseball vs. Iowa: Big Ten Tournament Preview