The Frank Walker Law/PSN Daily Notebook- May 31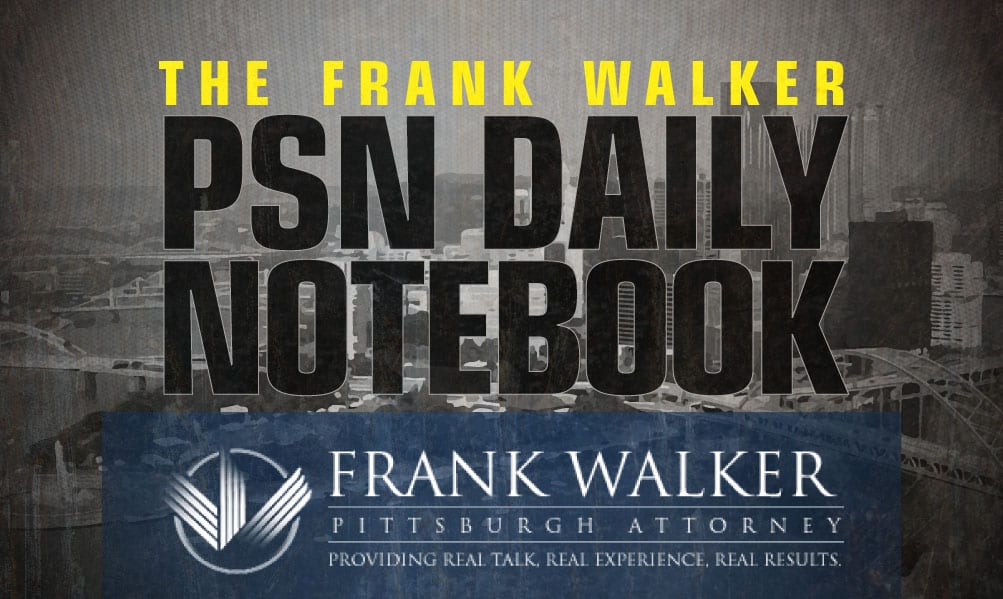 The PSN Daily Notebook is sponsored by Frank Walker, one of Pittsburgh and West Virginia's most respected criminal defense and injury lawyers. Mr. Walker has offices in Pittsburgh and Morgantown and has been named one of Top 100 National Trial Lawyers and is rated a perfect 10.0 Superb by Avvo for ethics, experience and results. To reach Mr. Walker, you can call 412-532-6805 or go to his website frankwalkerlaw.com. For real talk, real experience and real results, contact Frank Walker Law.
Update (9:43 AM)-
The Rams have a lingering Aaron Donald problem; will he play without a new contract? https://t.co/mUeswGi5Hn

— ProFootballTalk (@ProFootballTalk) May 31, 2022
Update (9:32 AM)-
**Pitt is receiving an unofficial visit today from 2023 linebacker Spencer Kishbaugh from Berwick, Pennsylvania. Kishbaugh (6'3″, 210-pounds) does not hold any Power Five offers but has received ones from Army and Air Force.
https://t.co/rkb5yAk52w Junior season stats- 94 tackles, 25 tackles for loss, 9 sacks, 3 INT, 1 forced fumble, 2 defensive tds @CoachJeffMonken @CoachTerryPSU @RickyRahne @CoachTimBanks @CoachStubbs

— Spencer Kishbaugh (@SpencerKishbau2) March 1, 2022
Around the Network
Steelers Now: Watch: Steelers WR George Pickens on Chase Claypool Helping Him Get Acclimated to Team
Pittsburgh Hockey Now: 5 Penguins Offseason Predictions: Who Stays, Goes, and Who Could Arrive?
Pittsburgh Baseball Now: PBN Poll: Who Was Pirates' Worst First-Round Pick of the Last 30 Years?
WVU Sports Now: WVU's Taz Sherman to Work Out for Atlanta Hawks on Tuesday
Nittany Sports Now: Penn State Football all 105: Wide Reciever, Keandre Lambert-Smith