The Frank Walker Law/PSN Daily Notebook- June 1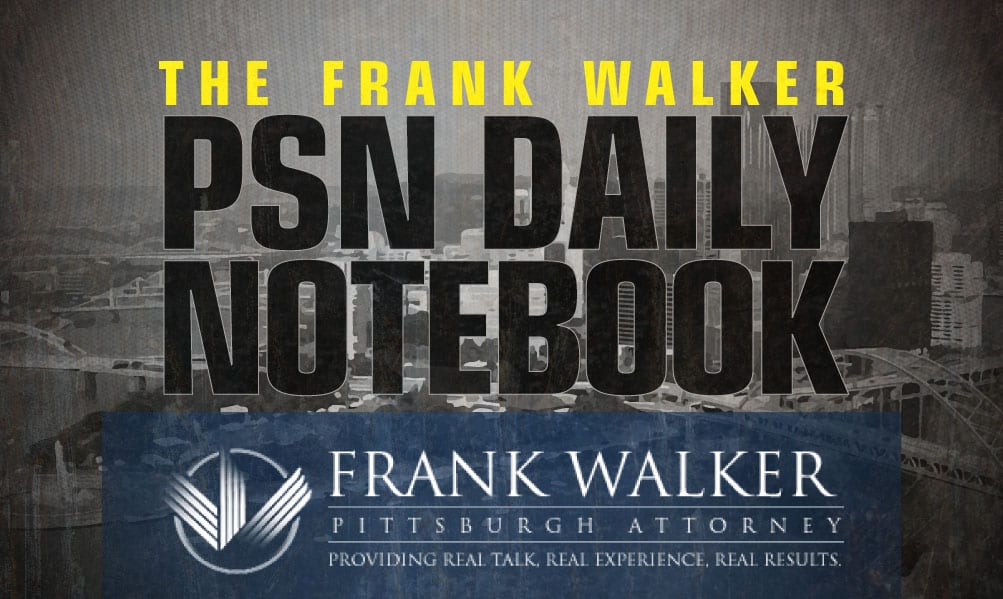 The PSN Daily Notebook is sponsored by Frank Walker, one of Pittsburgh and West Virginia's most respected criminal defense and injury lawyers. Mr. Walker has offices in Pittsburgh and Morgantown and has been named one of Top 100 National Trial Lawyers and is rated a perfect 10.0 Superb by Avvo for ethics, experience and results. To reach Mr. Walker, you can call 412-532-6805 or go to his website frankwalkerlaw.com. For real talk, real experience and real results, contact Frank Walker Law.
Update (5:17 PM)- 
**A second player that's scheduled to make an official visit to Pitt picks up an offer today from Ohio State. First it was 2023 4-star DE Jalen Thompson and now an offer goes to 2023 Ohio 3-star cornerback Jermaine Mathews. Right now, Mathews has an official visit scheduled to Pitt the weekend of June 24-26.
I am Extremely Blessed to Receive an Offer from The Ohio State University #gobuckeyes @CoachTimWalton @ryandaytime @CoachJimKnowles @CoachChadMurphy @Winton_WoodsFB pic.twitter.com/Y5oz60YoD7

— Jermaine Mathews (@Jr2Maine) June 1, 2022
I also ran a 4.35 today pic.twitter.com/wZYGw47UAK

— Jermaine Mathews (@Jr2Maine) June 1, 2022

Update (4:32 PM)-
Will be at @Pitt_FB tomorrow for my official! Let's get it @ARCHIECOLLINS_ @Coach_Manalac @coachcsanders @CoachDuzzPittFB @coachierulli @FootballShiloh pic.twitter.com/9CusK31b36

— Brice Pollock (@PollockBrice) June 1, 2022

Update (3:08 PM)-
Unfinished Business 😤#KentStMBB pic.twitter.com/MlP7KRzOUc

— Kent State Men's Basketball (@KentStMBB) June 1, 2022
Update (2:31 PM)- 
**At the conclusion of an unofficial visit there today, 2023 4-star DE Jalen Thompson picks up an offer from Ohio State. Thompson is making an official visit to Pitt this weekend.
✞

Extremely Blessed to receive an offer from The Ohio State University !!!!🔴⚪️ pic.twitter.com/zKWweeS7yJ

— Jalen Thompson ✞ (@__4jalen) June 1, 2022
Update (12:08 PM)-
**Ryan Manalac and Pitt extend an offer today to 2024 3-star athlete Cameron Frazier Jr. from Columbus, Ohio. This becomes Frazier's second Power Five offer (Michigan) and also holds offers from Akron, Bowling Green, Central Michigan, UConn, Marshall and Toledo.
Speed Kills.. Check out a few of those plays here. Coming to a camp near you come Summer… In the meantime I'm about to tear up the track this spring 🏃🏾full highlights in Bio #WeAreKipp #chopwood @CoachJamesLee pic.twitter.com/b0qibep2uK

— Cameron Frazier Jr 4️⃣ (@CammUpNow) January 23, 2022
Update (10:30 AM)-
**2023 linebacker Cody Smith from Shenendehowa High School in Clifton Park, New York will be attending Pitt's Rising Stars camp on June 11. Smith (6-foot-4, 230 pounds) has visited Holy Cross, Albany, Rhode Island, Stony Brook and Colgate this spring and attended camp at Pitt last year.
I'm going back out to @Pitt_FB on 6/11. It'll great to see @CoachTimSalem @CoachPartridge @CoachDuzzPittFB and @batesbacker again and learn and compete for the Panthers! I had a great time last year! #H2P @shenfootball_01 @CoachBClawson @rfenton33 @bmillz44 @All_Northeast pic.twitter.com/NhZbSsbbEG

— Cody Smith (@Codysmith2023) May 31, 2022
Update (10:00 AM)- 
**2024 wide receiver Durrell Ceasar from Steelton-Highspire High School in Harrisburg, Pennsylvania will be in Pittsburgh for a camp this weekend. Ceasar (6-foot-1, 175 pounds) is a teammate of recently offered 2024 quarterback Alex Erby, and he has picked up an offer from Alvernia University.
I also will be attending @Pitt_FB this weekend as well @CoachDuzzPittFB @AndrewErby @mrpafootball @SportsByBLinder @sportsrecruiter @Marsicosports @PAPrepsRivals pic.twitter.com/1YB8WRaaeX

— Durrell Ceasar (@DurrellCeasar) May 31, 2022