The Frank Walker Law/PSN Daily Notebook- June 5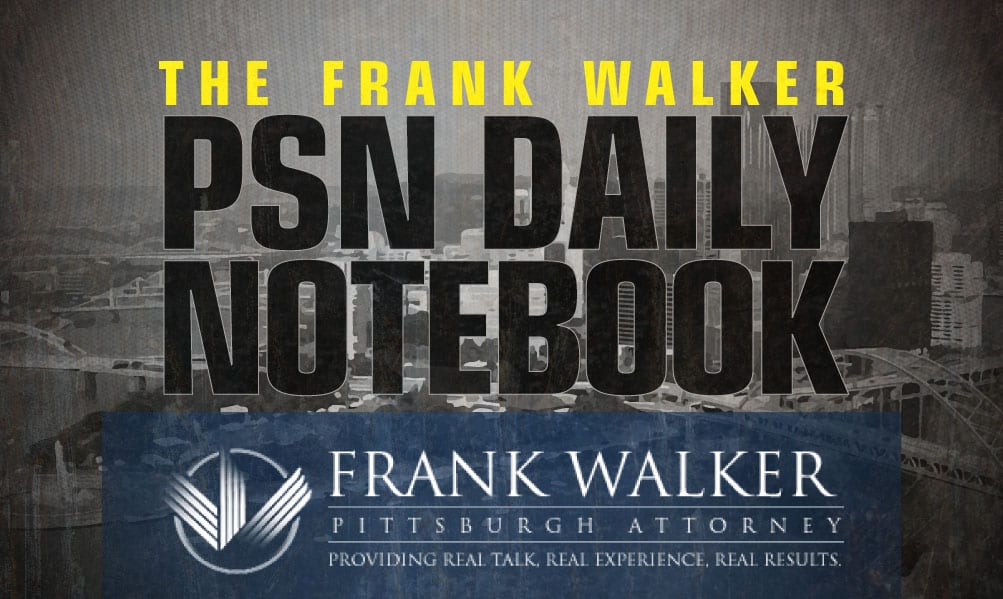 The PSN Daily Notebook is sponsored by Frank Walker, one of Pittsburgh and West Virginia's most respected criminal defense and injury lawyers. Mr. Walker has offices in Pittsburgh and Morgantown and has been named one of Top 100 National Trial Lawyers and is rated a perfect 10.0 Superb by Avvo for ethics, experience and results. To reach Mr. Walker, you can call 412-532-6805 or go to his website frankwalkerlaw.com. For real talk, real experience and real results, contact Frank Walker Law.
Update (12:33 PM)-
Here to stay 🤞🏼 . . . 💛💙 @CoachDuzzPittFB @TiUnderwood @FrankCignetti @Pitt_FB pic.twitter.com/c6UXlOK5kN

— Zion Fowler ✞ (@CantGuardZion) June 5, 2022
Update (9:42 AM)-
**On Saturday, Pitt extended an offer to 2024 3-star TE Gavin Grover from Lewis Center, Ohio. Grover (6'6″, 220) received the offer from Ryan Manalac. Along with Pitt, Grover also holds offers from Virginia Tech, Minnesota, Michigan State, Kentucky, Iowa State, Cincinnati, Ball State and Akron.
Thankful to be named first team All Conference as a Sophmore. Thank you Coach Emi and Coach Solomon. #multisportathlete @OlentangyBoysVB @BravesStrength pic.twitter.com/01l8ZtFeMd

— Gavin Grover (@GavinGrover87) May 17, 2022
Update (8:39 AM)-
**With their official visits over for this weekend, Pat Narduzzi and his staff will be busy today hosting their first prospects camp. Players from all different classes will be coming to Pitt over the next month to take part in these camps, with the goal of catching the eye of the Pitt staff. We will continue to add names to this list throughout the day.
Players attending today's camp:
*2024 quarterback Derek Burk from Deer Lakes High School.
*2024 quarterback Christian Petruzzello from Maryland.
*2025 quarterback Jalen Slaughter from Massillon, Ohio.
*2023 wide receiver Jacob Harris from Westerville, Ohio.
*2023 athlete Buba Bangura from Columbus, Ohio.
*2023 lineman Ty Banco from Trinity High School.
*2023 lineman Braden Mika from Kiski Area HS.
*2023 lineman Toby Cercone from Crestwood, Kentucky.
Update (8:29 AM)-
**Pitt women's basketball extends an offer to 2025 guard Kennedy Henry from Blair Academy in New Jersey. Henry also plays for the New Jersey Sparks in AAU. Henry holds other offers from Arizona State, Princeton, Miami, Florida State, Harvard, Columbia, West Virginia, Virginia Tech, Penn, Boston College and Saint Joseph's.
2025 @KennedyHenryy22 @NewJerseySparks | @BlairAcademy_NJ
chirping it up a few weeks ago @tto2023girls Cinco de Mayo

Full film on @YouTube link below
📽: https://t.co/X27TPOjKgU pic.twitter.com/57Ex2HPNOb

— NYGHOOPS (@NYGHoops) May 20, 2022
I am a true fan! Love to watch you play! I don't think any highlight clip or game is long enough for me, I could watch you for hours! Again great weekend with great competition! You got better this weekend keep growing, keep developing!!! @KennedyHenryy22 video cred @believeinbd pic.twitter.com/fxzIUz1U9D

— Nicole Henry (@nikkicole302) May 24, 2022
Around the Network
Steelers Now: Journey from Beaver Falls Comes Full Circle to Steelers for Donovan Jeter
Pittsburgh Hockey Now: Should Penguins Make Room for P.O Joseph? Roster & Trade Scenarios
Pittsburgh Baseball Now: Report: Pirates Will Option Rodolfo Castro to Make Room for Travis Swaggerty
Nittany Sports Now: 'DO YOU WANT ANY MORE OFFERS TODAY?': 2025 ATH TJ ALFORD OFFERED BY AUBURN, PENN STATE WITHIN HOURS
Pittsburgh Soccer Now: FINAL: Riverhounds SC 1, Detroit City FC 1