The Frank Walker Law/PSN Daily Notebook- June 8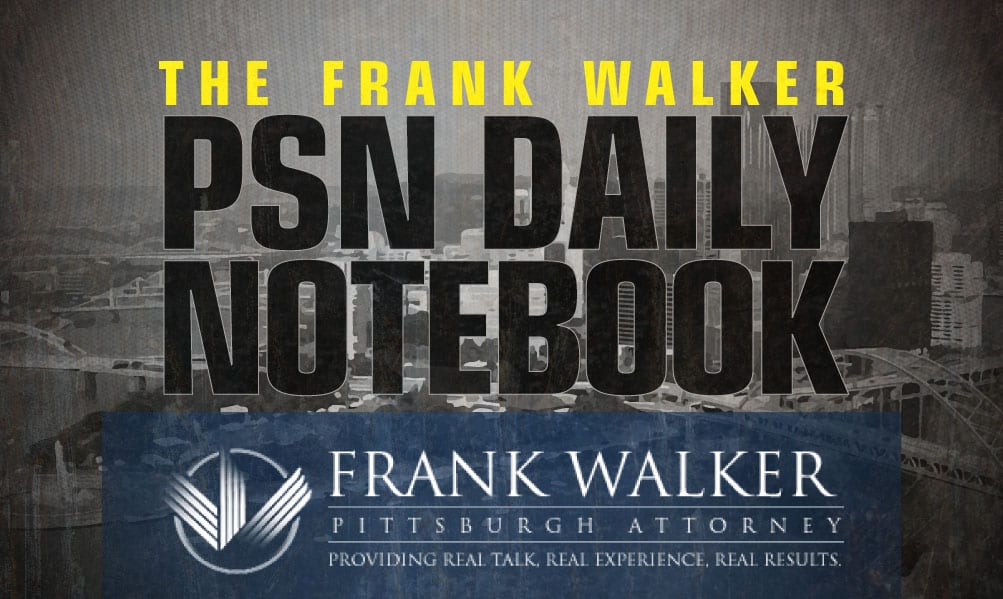 The PSN Daily Notebook is sponsored by Frank Walker, one of Pittsburgh and West Virginia's most respected criminal defense and injury lawyers. Mr. Walker has offices in Pittsburgh and Morgantown and has been named one of Top 100 National Trial Lawyers and is rated a perfect 10.0 Superb by Avvo for ethics, experience and results. To reach Mr. Walker, you can call 412-532-6805 or go to his website frankwalkerlaw.com. For real talk, real experience and real results, contact Frank Walker Law.
Update (11:04 AM)-
My offseason ranking on the OL (breaks for tiers)

OL rankings
1. Pitt
2. Lou
–
3. Wake
4. Mia
5. FSU
–
6. NC State
7. Clemson
–
8. Duke
9. GT
–
10. Cuse
11. UNC
–
12. BC
13. VT
–
14. Virginia

— 💫🅰️♈️🆔 (@ADavidHaleJoint) June 8, 2022

Update (9:08 AM)- 
**On Tuesday, Archie Collins extended an offer to 2023 3-star OT Johnathan Cline from Cartersville, Georgia. Cline (6'4", 295) holds a list of offers from Miami, Central Florida, Cincinnati, Boston College, Coastal Carolina, Colorado State, UConn, Duke, Georgia Tech, Maryland, Memphis, Missouri, NC State, Nebraska, North Carolina, Purdue, Tulane, South Florida and West Virginia.
Rivals 3⭐️ OT
#71
Name: Johnathan Cline
HS: Cartersville high school
state: Ga
Grad year: 2023
3.4 GPA
Position: OL(Tackle)
Ht: 6'4
Wt: 285
Bench: 400
Squat:460
Power clean: 275
Wingspan: 6'7.5
40: 5.0
Preseason all county and all state honorable mentionhttps://t.co/E0UFz1YVo0

— Johnathan Cline (@JohnathanCline6) December 8, 2021
Update (8:37 AM)-
**Eli Morcos is a freshman quarterback from Montgomery, Texas.
I had a great time at the Pitt camp this weekend. Thank you Coach Cignetti and Coach DiBiaso and to all of the coaches and staff. What a big time program!@FrankCignetti @Coach_JDiBiaso @TheQBTech @CoachPatKennedy @CoachDLarsen @Coach_Patt @Pitt_FB pic.twitter.com/3ADzdqNVX9

— Eli Morcos (@EliMorcos1) June 8, 2022
Around the Network
Steelers Now: Steelers RB Najee Harris Scoffs at Weight Narrative, Ready to Play, Lead
Pittsburgh Hockey Now: Penguins Trade Talk: Teams Have Called About P.O Joseph
Pittsburgh Baseball Now: Quintana's Shaky Start Results in Tigers 5-3 Win Over Pirates
WVU Sports Now: WVU Basketball Alum Joe Mazzulla to Interview for Utah Jazz Head Coaching Position
Nittany Sports Now: 4-Star 2023 Alabama Commit Schedules Official Visit with Penn State