The Frank Walker Law/PSN Daily Notebook- June 9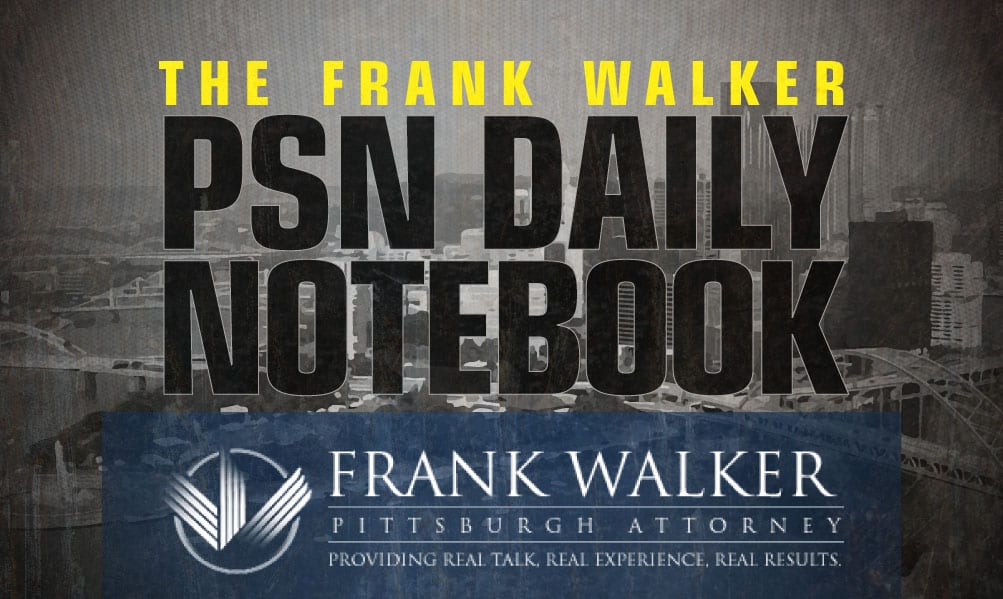 The PSN Daily Notebook is sponsored by Frank Walker, one of Pittsburgh and West Virginia's most respected criminal defense and injury lawyers. Mr. Walker has offices in Pittsburgh and Morgantown and has been named one of Top 100 National Trial Lawyers and is rated a perfect 10.0 Superb by Avvo for ethics, experience and results. To reach Mr. Walker, you can call 412-532-6805 or go to his website frankwalkerlaw.com. For real talk, real experience and real results, contact Frank Walker Law.
Update (9:10 PM)-
**Tim Salem and Pitt extend an offer to 2025 cornerback Ivan Taylor from West Orange High School in Winter Garden, Florida. Taylor (5'11", 170-pounds) also holds early offers from Michigan, Ole Miss and South Carolina.
Update (2:08 PM)-
**2026 quarterback Jacob Davis (Springboro, Ohio) will be attending Pitt's prospect game this Saturday. Over the past few weeks, Davis has visited and attended camps at Ohio State, Cincinnati, Notre Dame and Tennessee.
Great time @GoBearcatsFB camp. Thank you @GinoGuidugli @krut_24 @PAbrams75 @Im_MikeB!@TrainBSP @TritonQBAcademy @QBHitList @JaredLuginbill @TomLoy247 @ByKyleKelly @937FBinsider @AlPopsFootball @PrepRedzoneOH @Bryan_Ault @mike_bey11 @stumpf_brian @MohrRecruiting @SWiltfong247 pic.twitter.com/kKLhCNbJw9

— Jacob Davis QB 2026 (@JacobDavisOH) June 5, 2022
I will be @Pitt_FB camp this Saturday!@FrankCignetti@Coach_JDiBiaso pic.twitter.com/twopciBh4L

— Jacob Davis QB 2026 (@JacobDavisOH) June 9, 2022
Update (1:07 PM)-
**The latest offer for Belle Vernon 2024 4-star athlete Quinton Martin comes from Michigan State. Martin holds other Power Five offers from Boston College, Cincinnati, Kentucky, Louisville, Maryland, Michigan, Notre Dame, Ohio State, Penn State, Pitt, Rutgers, Syracuse, Texas, Texas A&M, Virginia Tech, West Virginia and Wisconsin.
After a great talk, i am blessed to review an offer from Michgan State University 🟢⚪️ @Ereed26 @MSU_Football @BrianDohn247 @210ths @RivalsFriedman @BVAFootball pic.twitter.com/n8c5FvgW8U

— Quinton Martin (@QuintonMartin25) June 9, 2022
Update (12:26 PM)- 
**Pitt 2023 defensive back commit Shelton Lewis picks up a new offer from Maryland.
MARYLAND OFFERED !! @REALPACMAN24 @StockbridgeFoo2 @coachbraswell @PinkstonTodd @StockbridgeHFC @ErikRichardsUSA @SWiltfong247 @DemetricDWarren @On3Recruits @Mansell247 @RivalsJohnson pic.twitter.com/VKPyuCtd9X

— Shelton Lewis (@SheltonLewis14) June 9, 2022
Update (11:22 AM)-
**2023 4-star offensive tackle Stanton Ramil will make his second official visit to North Carolina. Last weekend, he made his first to Pitt.
So excited for my official visit to UNC Chapel Hill! @CoachBicknell @CoachPhilLongo @CoachMackBrown @UNCFootball #GoHeels pic.twitter.com/0TjX3itBFT

— Stanton Ramil (@StantonRamil) June 8, 2022
Update (10:50 AM)-
**Penn Hills 20223 DB/WR Raion Strader has given a verbal commitment to Miami (OH). Strader also held an offer from Toledo.
COMMITTED🔴⚪️@Martin_Miami_HC @CoachBrechin @BlantonRobert @210ths pic.twitter.com/UCdBXEXF17

— RaionStrader (@RaionStrader) June 8, 2022
https://t.co/cAQd6R2AHd regular szn ⭐️@wpialsportsnews @phqbclub @210ths @Cover3_ATH

— RaionStrader (@RaionStrader) November 2, 2021
Update (10:26 AM)-
The field for the Savannah Invitational (Nov. 25-27), per sources:

South Alabama
Valparaiso
Nicholls State
South Dakota State
James Madison
Evansville
Mercer
Towson
Fairfield
Robert Morris

— Jeff Goodman (@GoodmanHoops) June 9, 2022