The Frank Walker Law/PSN Daily Notebook- June 14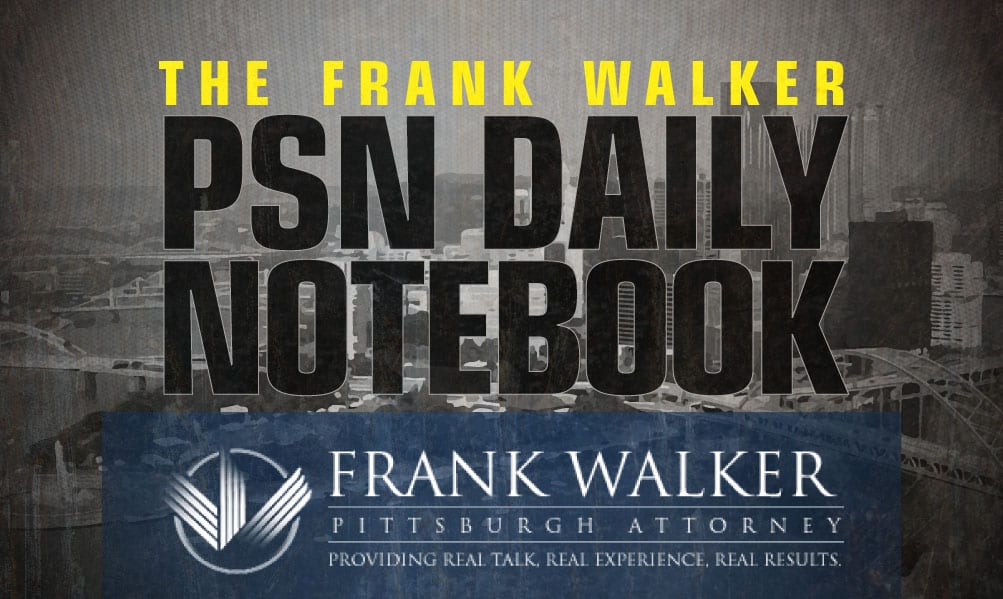 The PSN Daily Notebook is sponsored by Frank Walker, one of Pittsburgh and West Virginia's most respected criminal defense and injury lawyers. Mr. Walker has offices in Pittsburgh and Morgantown and has been named one of Top 100 National Trial Lawyers and is rated a perfect 10.0 Superb by Avvo for ethics, experience and results. To reach Mr. Walker, you can call 412-532-6805 or go to his website frankwalkerlaw.com. For real talk, real experience and real results, contact Frank Walker Law.
Update (3:24 PM)-
**Pitt has extended an offer today to 2024 4-star DL Dimitry Nicolas (6'3″, 275) from Monsignor Pace HS in Opa Locka, Florida. Nicolas holds offers from Georgia, Miami, Michigan, Michigan State, NC State, Oregon, Syracuse and Texas A&M.
Check out this video!https://t.co/OSM8WYQRWE

— Dimitry Nicolas (@D1_hunch0) November 9, 2021
Update (2:22 PM)-
**2023 3-star wide receiver Daidren Zipperer from Lakeland, Florida announced today they he'll be making an official visit this weekend at Pitt. This will be Zipperer's second official visit (Central Florida). Zipperer (6'0″, 165) holds other offers from BYU, South Carolina, South Carolina, Central Florida and Kentucky. Zipperer received his offer from Pitt on May 25 and is being recruited by Cory Sanders and Tiquan Underwood.
⛓⛓⛓@coachcsanders @TiUnderwood 🔵🟡 pic.twitter.com/2QVikMRvXm

— Daidren Zipperer 🦍 (@daidrenz) June 14, 2022
Update (2:08 PM)-
**Another player earns an offer following his workout at the Pitt prospects camp. 2024 wide receiver Kyan Mason from St. Edwards High School in Cleveland, Ohio received the offer from Tiquan Underwood and Archie Collins. This becomes Mason's second Power Five offer (Kentucky).
Had an great camp yesterday at the University of Pittsburgh @Pitt_FB Thanks for helping me perfect my craft! @CoachDuzzPittFB @TiUnderwood pic.twitter.com/gd88qncHTc

— Kyan Mason (@k3yann) June 13, 2022
Update (1:54 PM)-
**Pitt extends an offer to Class of 2026 defensive lineman Daverin Deuce Geralds from Suwanee, Georgia. Geralds (6'2″, 230) received the offer from Charlie Partridge. The 8th grader also has 14 offer D-1 offers: Tulane, Tennessee, Southern, Grambling State, Mississippi Valley State, Missouri Valley State, Michigan, Arkansas State, Ole Miss and Louisville.
Always punching the ⏰. #GottaGoToWork pic.twitter.com/wVn8fbv1tD

— Daverin Deuce Geralds (@DeuceGeralds) June 7, 2022
Update (10:20 AM)-
Congrats, @JordanLeen_ 🤝

Thanks for your hugely impactful contributions as associate head coach at Pitt over the past five seasons!

» 27 NCAA Qualifiers
» 10 ACC Champions
» 7 All-Americans

Good luck with @Brown_Wrestling 👏 pic.twitter.com/y9Ng92EceK

— Pitt Wrestling (@Pitt_WRES) June 14, 2022
Update (10:01 AM)-
Dior Johnson to @Pitt_MBB could be steal. His talent is evident & he shows a high basketball IQ. History shows he jumps around.

It he sticks with the script it could be a huge addition for Jeff Capel.
Capel has the experience of coaching highly ranked players. Possible win-win.

— Paul Biancardi (@PaulBiancardi) June 14, 2022
Update (8:39 AM)-
**Over the weekend, sophomore cornerback Nigel Maynard traveled to Pittsburgh from Smyrna, Tennessee to participate in Pitt's prospect camp. He obviously impressed the coaching staff because Monday night Maynard received an offer from Archie Collins. This becomes Maynard's second Power Five offer (Michigan).
200m: 22.6 and 100m: 11.1 pic.twitter.com/YBN7qt0ske

— Nigel Maynard (@NigelMaynard10) April 15, 2022
Around the Network
Steelers Now: Something Doesn't Add Up About JuJu's Exit from the Steelers
Pittsburgh Hockey Now: Penguins 1st-Round Projections, Name to Watch: Isaac Howard, Team USA
Pittsburgh Baseball Now: Pirates Postgame: Keller Pitches Well But 6th Inning Collapse Adds To Losing Streak
WVU Sports Now: 2023 RB Jordan Louie Commits to West Virginia
Nittany Sports Now: 2023 Brashear linebacker Ta'Mere Robinson Names Penn State in his Final 3
Nittany Sports Now: Penn State versus Pitt and WVU for a 3-star receiver
The Portal Report: The most impactful transfers by Power Five Conference