The Frank Walker Law/PSN Daily Notebook- June 15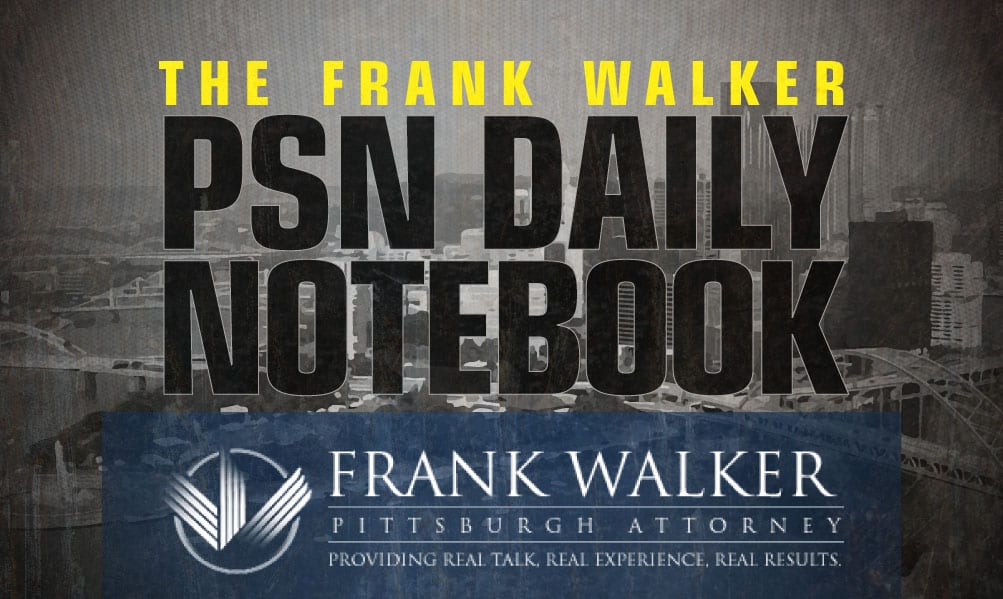 The PSN Daily Notebook is sponsored by Frank Walker, one of Pittsburgh and West Virginia's most respected criminal defense and injury lawyers. Mr. Walker has offices in Pittsburgh and Morgantown and has been named one of Top 100 National Trial Lawyers and is rated a perfect 10.0 Superb by Avvo for ethics, experience and results. To reach Mr. Walker, you can call 412-532-6805 or go to his website frankwalkerlaw.com. For real talk, real experience and real results, contact Frank Walker Law.
Around the Network
Steelers Now: Why a Ravens extension of Lamar Jackson isn't good for the Steelers
Pittsburgh Hockey Now: Exclusive: Rick Tocchet Says Don't Write Off Penguins Just Yet
Pittsburgh Baseball Now: Well at least they didn't get no-hit.
WVU Sports Now: Gateway QB will be visiting the Mountaineers this month.
Nittany Sports Now: One of the top PA football recruits picks Penn State.
The Portal Report: You know who the #1 biggest transfer portal loss is already…
Update (4:31 PM)- 
**A new offer for North Hills 2024 Forward Royce Parham, who also has offers from Pitt, Duquesne, TCU, George Mason, Penn State and Robert Morris.
6'5" Royce Parham'24 @RoyceParham of @teamdurant_AAU has earned an offer from Rutgers University 👀 pic.twitter.com/wXA8OpGqRF

— 𝒜𝓃𝒹𝓇ℯ𝓌 𝒮𝓁𝒶𝓉ℯ𝓇 (@Andrew__Slater) June 15, 2022
Update (1:55 PM)-
**A second offer to a freshman from California as Tiquan Underwood offers wide receiver Marcus Harris from Santa Ana, California. Harris (6'1″, 175) holds other offers from Arizona State, Georgia, Michigan, Texas, Utah, UNLV and Florida Atlantic. Pitt actually offered Harris previously last June, with that coming from previous wide receivers coach Brennan Marion so Underwood and Pitt re-offered him last night.
— Marcus Harris 🚶🏾‍♂️ (@marthagreatest) December 17, 2020
Update (1:40 PM)-
**Pitt attempts to push their recruitment out West as they extend an offer to freshman wide receiver Phillip Bell III from Christian Brothers High School in Sacramento, California. Bell (6'1″, 185-pounds) received the news from Tiquan Underwood. Along with Pitt, Bell holds other early offers from Arizona, California, Georgia, Michigan, Oregon, Oklahoma State, Texas A&M and Washington.
Update (1:32 PM)-
**Prior to arriving for his official visit later this month, Pitt has extended an offer to 2023 offensive tackle Tai Ray from Apopka, Florida. Ray (6'6″, 300-pounds) also holds offers from Indiana, South Florida, Florida Atlantic and others. Ray is someone to keep an eye on as a possible future Pitt commitment.
Update (1:22 PM)-
**Tim Salem and Pitt extend an offer to 2024 running back Brandon Hood from Eagles Landing Christian Academy in McDonough, Georgia. Hood (5'10", 190) has also received offers from Penn State, Michigan State and Georgia Tech.
Sophomore Season Highlights ⁦@CSAPrepStar⁩ ⁦@RecruitGeorgia⁩ ⁦@ELCAFootball⁩ ⁦@247recruiting⁩ https://t.co/QXoDObVhNU

— Brandon Hood (@xhoodx26) January 25, 2022
Update (9:26 AM)-
Now up at #BreakfastWithBenz—@DuqMBB vs. Kentucky. @DuqMBB Football vs. Florida St. and WVU? Why — and how — @GoDuquesne has taken on big scheduling challenges https://t.co/NCFZ0Ug538

— Tim Benz (@TimBenzPGH) June 15, 2022