The Frank Walker Law/PSN Daily Notebook- June 16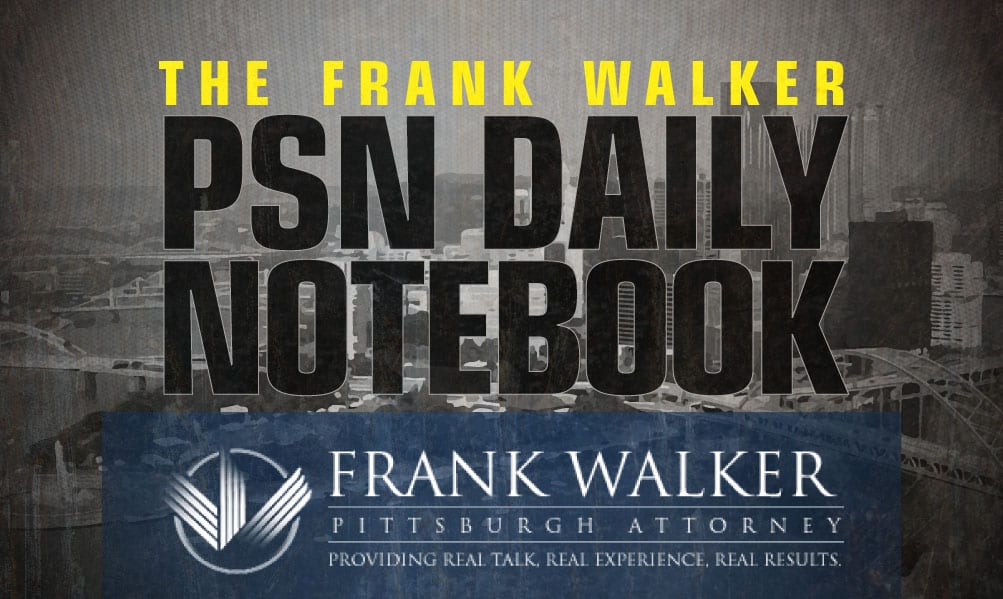 The PSN Daily Notebook is sponsored by Frank Walker, one of Pittsburgh and West Virginia's most respected criminal defense and injury lawyers. Mr. Walker has offices in Pittsburgh and Morgantown and has been named one of Top 100 National Trial Lawyers and is rated a perfect 10.0 Superb by Avvo for ethics, experience and results. To reach Mr. Walker, you can call 412-532-6805 or go to his website frankwalkerlaw.com. For real talk, real experience and real results, contact Frank Walker Law.
Update (11:09 PM)-
Man my guy @jimmybearscott1 reports for duty @Pitt_FB Sunday 🥹🙏🏽 looking forward to seeing you do some special things in some backfields big dawg!!

— Coach McCann (@CoachMcCannERT) June 16, 2022
Update (11:05 PM)-
2024 6'3 guard Justin Menard told @PghSportsNow that he has heard from Pitt associate HC Tim O'Toole.

Plays for Loomis Chaffee, where Nate Santos played prep ball. pic.twitter.com/dOMM7NK0X3

— George Michalowski (@MichalowskiCBB) June 16, 2022
Update (7:39 PM)-
2024 5 ⭐️ Ian Jackson (@22_captainjack) has picked up an offer from Pittsburgh @Pitt_MBB @HayesHoopsCHSAA @wizkidsaau

— Alex Karamanos (@TheCircuitAlex) June 16, 2022
Update (7:37 PM)-
New #Pitt offer, 2023 offensive lineman Job Mould from Xaverian Brothers HS in Wellesley Hills, MA, informed me he'll taking an OV on June 24th-26th. The 6-ft-6 inch, 290 lb. prospect has tremendous athleticism for his size. #H2P 🟡🔵 @PghSportsNow pic.twitter.com/03rbRdfssk

— Harry G. Psaros (@PittGuru) June 16, 2022
Update (6:07 PM)-
#Pitt has offered 2024 forward Tyler McKinley, a 6-foot-8 PF out of Cincinnati.

The ⭐️⭐️⭐️⭐️ is ranked as the No. 60 recruit in the nation by 247Sports. pic.twitter.com/r54Gys5l1A

— George Michalowski (@MichalowskiCBB) June 16, 2022
Update (5:49 PM)-
**A second lineman from the Class of 2023 has earned an offer after participating in the Pitt football prospects camp. Offensive tackle Jon Mould (6'6″, 290-pounds) from Xaverian Brothers High School in Wellesley Hills, Massachusetts. Mould holds offers from Air Force, Army, Buffalo, UConn, UMass, Richmond, Tulane and a number of Ivy League schools. This is Mould's first Power Five offer.
Under two minute video with wingspan, broad jump, junior year highlights, and more. Showcases what I have to offer as a OT. pic.twitter.com/FDUB5hINWu

— Jon Mould (@23jmould) April 26, 2022
Update (5:29 PM)-  
**Florida 2023 3-star wide receiver Daidren Zipperer meets former Pitt quarterback Kenny Pickett on his official visit.
Just ran into Kenny Pickett at my OV to Pitt 🔵🟡 #H2P pic.twitter.com/oAOlW3vqLT

— Daidren Zipperer 🦍 (@daidrenz) June 16, 2022
**2023 3-star linebacker Jordan Bass is on his Pitt official visit.
📍Pittsburgh, PA pic.twitter.com/vb16pyee2O

— Jordan Bass (@jaycincoo_) June 16, 2022
Update (5:17 PM)-
**A new name is added to the list of Pitt's official visitors this weekend. 2023 3-star running back Montravius Lloyd from Lakewood, Florida has arrived in Pittsburgh. Lloyd (6'0″, 205) holds offers from Pitt, Arizona, Coastal Carolina, East Carolina, Florida Atlantic, Florida State, South Florida, Wake Forest and West Virginia.
— Montravius (Trey) Lloyd (@LloydMontravius) May 15, 2022
Update (5:12 PM)-
Champions on and off the field 🏆

Pitt led all Division I football teams in community service hours in 2021-22.#H2P 🤝 pic.twitter.com/dwvGntJgNi

— Pitt Football (@Pitt_FB) June 16, 2022
Update (5:03 PM)- 
**Maryland 4-star DE Desmond Umeozulu is starting his official visit to Pitt.
Let's Go!! Pittsburgh I'm on my way way! @CoachAPowell @Samokunlola87 pic.twitter.com/OYsHjoS9O0

— Desmond Umeozulu ⑨ ☨ (@KashDez) June 16, 2022
Update (3:56 PM)-
**Pitt has extended an offer to 2023 4-star tight end Ethan Davis from Collins Hill High School in Suwanee, Georgia. This is interesting because Davis has been committed to Tennessee since December. Rivals has Davis ranked as the No. 120 overall player in the Class of 2023. Aside from Tennessee, Davis was offered by Auburn, Cincinnati, Florida, Florida State, Georgia, Georgia Tech, LSU, Ole Miss, Mississippi State, Missouri, North Carolina, NC State, Ohio State, Oregon, Penn State, South Carolina, Texas, Texas A&M, Virginia Tech and West Virginia.
Update (3:31 PM)- 
**2023 3-star Athlete Rasheem Biles has arrived for his Pitt official visit.
📍OV @Pitt_FB !!

— Rasheem "The dream" Biles 🖤. (@Rasheembiles) June 16, 2022
**2023 3-star WR Daidren Zipperer has arrived for his official visit to Pitt. Zipperer is scheduled to visit BYU next weekend.
📍UNIVERSITY OF PITT 🔵🟡

— Daidren Zipperer 🦍 (@daidrenz) June 16, 2022

Update (2:27 PM)- 
**Daithi Quinn is a 2024 guard from North Quincy, Massachusetts.
Daithi Quinn'24 @DaithiQuinn of @thebabc has heard from Pitt, South Florida, Temple, Rhode Island, Brown, & Longwood pic.twitter.com/uqlhTW9aLz

— 𝒜𝓃𝒹𝓇ℯ𝓌 𝒮𝓁𝒶𝓉ℯ𝓇 (@Andrew__Slater) June 16, 2022
Update (2:22 PM)- 
**A nice offer comes in today for Lincoln Park 2024 guard Brandin Cummings.
After a great conversation with Coach @Mhj_5, I am blessed to receive a scholarship offer from Lafayette College 🖤 #RollPards pic.twitter.com/HRbfOrpYr6

— Brandin Cummings (@ambition___3) June 16, 2022
Update (12:54 PM)-
**Another offer from Pitt to a junior offensive tackle as this one goes to Nick Krahe from Harborcreek, Pennsylvania. This offer from Pitt is the third one from a Power Five school for Krahe, with offers from Maryland and Boston College. Krahe (6'5″, 280-pounds), who got the news from Dave Borbely, has other offers from Air Force, Albany, Buffalo, Marshall, New Hampshire, Richmond, Toledo and Youngstown State. Krahe participated in Pitt's Prospect Camp this past weekend.
Check out my improved Junior Season Highlights‼️https://t.co/B3qGGuZ2VT

— Nick Krahe (@nick_krahe) March 29, 2022
Update (12:46 PM)-
**Andre Powell and Pitt have extended an offer to 2024 running back Jakorion Caffey from Avon, Ohio. Caffey (5'11", 190-pounds) also holds offers from Boston College, Maryland, Bowling Green, Kent State, Miami (OH), Toledo and UMass.
2024 Avon running back Jakorion Caffey looking good in one-on-ones. Gets the best of Glenville linebacker Arvell Reese, who has an Ohio State offer, on this rep. pic.twitter.com/lmlKeMABJe

— Dan Hope (@Dan_Hope) June 14, 2022