The Frank Walker Law/PSN Daily Notebook- June 18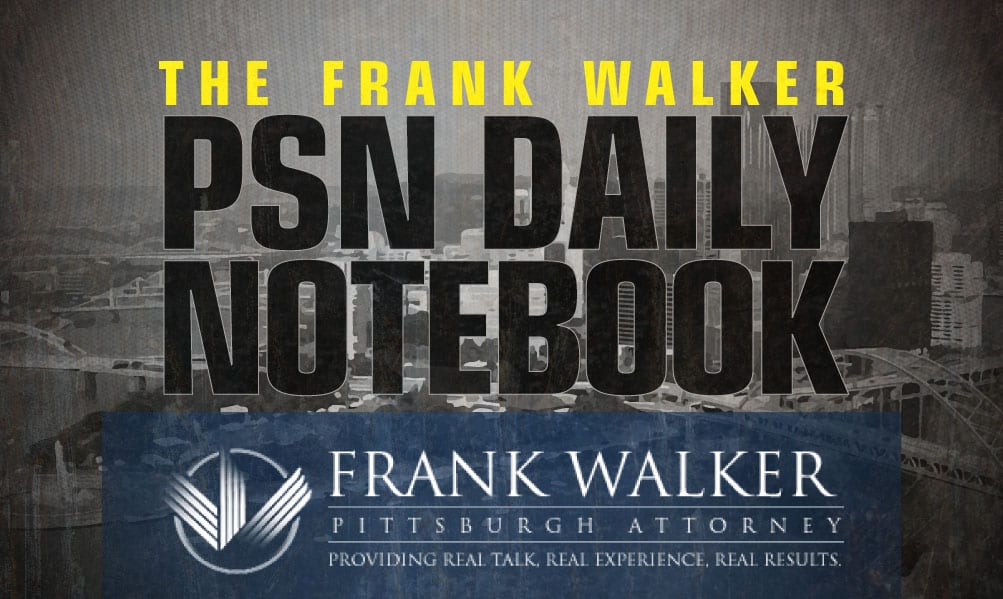 The PSN Daily Notebook is sponsored by Frank Walker, one of Pittsburgh and West Virginia's most respected criminal defense and injury lawyers. Mr. Walker has offices in Pittsburgh and Morgantown and has been named one of Top 100 National Trial Lawyers and is rated a perfect 10.0 Superb by Avvo for ethics, experience and results. To reach Mr. Walker, you can call 412-532-6805 or go to his website frankwalkerlaw.com. For real talk, real experience and real results, contact Frank Walker Law.
Update (9:25 PM)- 
**2023 4-star DE Desmond Umeozulu tweeted this out from his Pitt official visit this weekend.
Pitt Fans Show Some Love To My Instagram !https://t.co/Mzr5cdy85Q pic.twitter.com/NwFSmARg4V

— Desmond Umeozulu ⑨ ☨ (@KashDez) June 19, 2022
Update (9:16 PM)- 
**2024 3-star QB Alex Erby (Steelton, Pennsylvania) is in Pittsburgh. Tomorrow, Erby will take part in Pitt's prospects camp. Erby already holds an offer from Pitt.
I am Here PITTNATION!📍@FrankCignetti @Coach_JDiBiaso @PghSportsNow pic.twitter.com/UsBMtDrgkl

— 3⭐️ Alex Erby (@ErbyAlex) June 19, 2022
https://t.co/8Er34ldmwR
Year 3 otw..@mrpafootball @AndrewErby @PrepRedzonePA @SportsByBLinder @EPAFootball @Pa_Preps @CoachJayUConn @4thDownMag @RyanSnyderOn3 @adamgorney @RivalsFriedman @rivalsmike @ELammers_Rivals @NationsElite1 @SteeltonRoller

— 3⭐️ Alex Erby (@ErbyAlex) February 25, 2022

Update (4:20 PM)-
Elijah Gertrude'23 @elijah_gertrude of @TheCityRocks & @HCHawksHoops has heard from:
St. John's
Rutgers
Seton Hall
Virginia
Maryland
Pitt
Northwestern
Temple
Siena
East Carolina
St Bonaventure
Iona
DePaul pic.twitter.com/nVuwifLDY2

— 𝒜𝓃𝒹𝓇ℯ𝓌 𝒮𝓁𝒶𝓉ℯ𝓇 (@Andrew__Slater) June 18, 2022
Update (2:49 PM)-
**Last weekend, Caden Piening participated in Pitt's prospect camp and today he received word from Randy Bates that he'd earned an offer from Pitt.  Piening (6'4″, 225-pounds) is a freshman athlete from Anderson High School in Cincinnati, Ohio. Along with Pitt, Piening also holds offers from West Virginia, Kentucky, Indiana, UConn, Akron and Eastern Kentucky.
Check out 2021-2022 Freshman Season Full Highlights by Caden Piening on @hudl https://t.co/iVcr39ADwp #hudl @_AHS_Football @CoachEvanDreyer @OTooleJimmy @BSnyder_go @AndersonRaptors

— Caden Piening (@CadenPiening) December 11, 2021
Update (10:27 AM)-
Bronx G @choppafam3 Elijah Moore of @CardinalHayes has added offers from St. John's , Mississippi state, Little Rock and Bryant and spoken to Oregon, Maryland, Pitt, Penn state , cal Berkeley, pic.twitter.com/eQYkxWFIm0

— Adam Zagoria (@AdamZagoria) June 18, 2022
Update (9:28 AM)-
When James Conner was battling cancer, one nurse helped him through his fight. On Friday, Conner was back to support her in the same fight. https://t.co/heFH3tOtTR

— KDKA (@KDKA) June 18, 2022
Around the Network
Steelers Now: Former Steeler Zach Banner Joins 'Red Table Talk' for Discussion on Hate in America
Pittsburgh Hockey Now: Better Late Than Never: Penguins Have Hit on Picks Deep in Draft
Pittsburgh Baseball Now: Pirates Postgame: Rodon Shoves, Peguero Gets The Call
WVU Sports Now: West Virginia Baseball Adds Transfer Grant Siegel
Nittany Sports Now: A BREAKDOWN OF PENN STATE'S 2022-24 RECRUITING CLASSES BY POSITIONS, STAR RATINGS