The Frank Walker Law/PSN Daily Notebook- June 25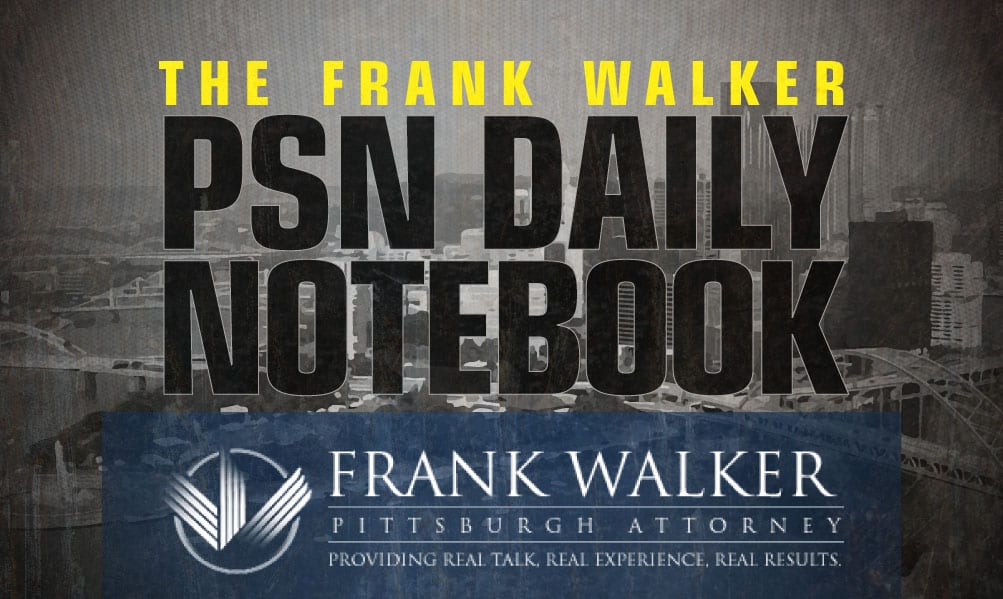 AROUND THE NETWORK
Steelers Now: David Carr thinks the Steelers will be back in the playoffs this season
WV Sports Now: 2023 WVU basketball starting lineup prediction
Nittany Sports Now: Pitt and Penn State two of the finalists for a 4-star defensive back.
Pittsburgh Hockey Now: The Penguins prospects? They're … developing.
Pittsburgh Baseball Now: The lumber company is back at PNC Park as the Pirates have upped their home run total this season.
The Portal Report: Breaking down the NBA Draft by experience.
Mike Farrell Sports: Five Heisman-Worthy defenders
Update (9:59 PM)-
One of the most enjoyable Football Days I've ever been a part of.

Thank you to Habakkuk Baldonado, Israel Abanikanda, Sirvocea Dennis, Erick Hallett, Carter Warren, David Green and Jared Wayne!

These are tremendous young men and they deserve all the success coming to them! pic.twitter.com/3NhH3CX3SC

— Jake Heigel (@BrockwayFootba1) June 25, 2022
Update (9:34 PM)-
6'3" K. J. Satterfield'23 @kj_satterfield & 6'7" Seck Zongo'23 of @tps_hsbb have earned offers from Robert Morris University pic.twitter.com/LWlSKPhRIt

— 𝒜𝓃𝒹𝓇ℯ𝓌 𝒮𝓁𝒶𝓉ℯ𝓇 (@Andrew__Slater) June 25, 2022
DAMN!
That's a George Aston level neck! https://t.co/r6qExP8a6N

— Uncle 🅿️itt (@TheWillardYears) June 26, 2022
Update (9:31 PM)-
My boy @CoachPartridge having fun during @Pitt_FB official visit weekend‼️🤣🤣🤣🤣 🎥 IG @tha_boikeem pic.twitter.com/9FqDAjapvN

— IG: @SleeperAthletes (@SleeperAth1etes) June 25, 2022
Update (9:29 PM)-
Yup, @DiddyBop12_ still hits like a sledgehammer! #H2P 🟡🔵 https://t.co/eYOQOW8azZ

— Harry G. Psaros (@PittGuru) June 26, 2022
Update (12:30 PM)- 
**Recent four-star Pitt commit Carlton Carrington earning some praise today.
Carlton Carrington 2023 6'4 CG (Pittsburgh Commitment) was one of my top 5 players I saw at the grind Session Combined. He's got terrific upside frame. He's gonna be a special player going forward. pic.twitter.com/C6HNQO0d2Z

— samcullen (@samcullen41) June 25, 2022
Update (12:15 PM)-
**Penn-Trafford defensive lineman Conlan Greene announced his college decision and committed to Temple Friday. Greene (6-foot-4, 250 pounds) committed to the Owls over offers from Central Michigan, Duquesne, Fairmont State, Notre Dame College, Maine and St. Francis.
Excited to be an owl #TempleTUFF #nexTUp23 @ptwarriorfb @Temple_FB pic.twitter.com/khh7pim5i7

— Conlan (@ConlanGreene) June 24, 2022
Update (12:00 PM)- 
**Pitt extended an offer to 2026 DL Semaj Fluellyn from Griffin, Georgia on Thursday. Fluellyn has been active on the camp scene and recently made visits to Georgia, Arkansas, Auburn and Georgia Tech this spring.
⁦@Semaj5Fluellyn⁩ blessed to earn an offer from ⁦⁦@PittPanthers247⁩ ⁦@AABonNBC⁩ ⁦@AlPopsFootball⁩ ⁦@borntocompete⁩ ⁦@ErikRichardsUSA⁩ ⁦@Mansell247⁩ ⁦@CStory808⁩ ⁦@ChadSimmons_⁩ ⁦@CoachBoAlex⁩ ⁦@RecruitGeorgia⁩ pic.twitter.com/UQOepUMWUY

— Coach Roderick Fluellyn (@RFluellyn) June 24, 2022
Update (11:35 AM)- 
Eddie Benton has been a women's college assistant at Mississippi State, Duquesne, Cinncy, Brown, St. Francis.

Now he's new girls coach at Oakland Catholic High School in WPIAL.

Still remember him playing at Perry and winning state title in 1992 w/ Will Macon. pic.twitter.com/5leeBXuUGr

— Mike White (@mwhiteburgh) June 24, 2022