The Frank Walker Law/PSN Daily Notebook- June 27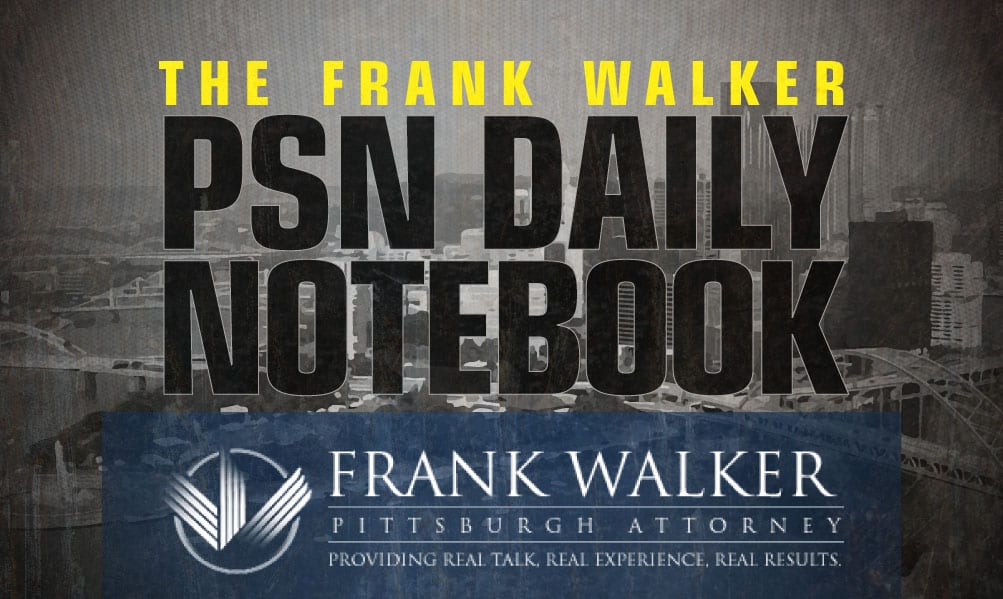 The PSN Daily Notebook is sponsored by Frank Walker, one of Pittsburgh and West Virginia's most respected criminal defense and injury lawyers. Mr. Walker has offices in Pittsburgh and Morgantown and has been named one of Top 100 National Trial Lawyers and is rated a perfect 10.0 Superb by Avvo for ethics, experience and results. To reach Mr. Walker, you can call 412-532-6805 or go to his website frankwalkerlaw.com. For real talk, real experience and real results, contact Frank Walker Law.
Update (6:21 PM)- 
🔥🔥🔥 pic.twitter.com/LpSXyK9j6z

— Amazingly BeYoutiful (@tha_chozen_one_) June 27, 2022
Coach Wooooood!!!! 🐐👏🏾🥰💯@TiUnderwood #Certified pic.twitter.com/0fd9MELiZ3

— Amazingly BeYoutiful (@tha_chozen_one_) June 27, 2022
Update (5:28 PM)-
Elite 5🌟 WR @tha_boikeem rocking @jP5_ERA during his OV to #Pitt over the weekend. https://t.co/tOhxQYe5S7

— Karl Ludwig (@LudwigKarl8) June 27, 2022
Update (2:07 PM)-
Tied a program record with 4️⃣ Academic All-ACC selections!

Shoutout to @BillyCorcoran32, @mattgilbertson_, @baron_stuart & @J_Whales7 for their work inside the classroom.

✍️ https://t.co/TOjjYuh62x#H2P pic.twitter.com/VQe6ujLE2s

— Pitt Baseball (@Pitt_BASE) June 27, 2022
Update (1:49 PM)-
Thanks to @CoachDuzzPittFB and @Pitt_FB for a great 7 on 7 and Big Man Competition today! Jersey Shore can't wait to get back next year! #H2P #BulldogFootball pic.twitter.com/XGsBMnx8d9

— Jacob Anderson (@Anderson_Mr_1) June 27, 2022
Update (1:40 PM)-
West Allegheny HS's Nodin Tracy will continue to rack up offers. Fordham University is the latest. Capable of playing a wide number or positions. Only the beginning. A P5 caliber player. #talent #WPIAL https://t.co/3sun0fP0w0

— Harry G. Psaros (@PittGuru) June 26, 2022

Update (12:11 PM)- 
**Congrats to Seneca Valley 2023 safety Luke Lawson who announced that he's committing to attend Navy.
Junior season highlights: 1st team all conference safety, stats in film – https://t.co/pVr8uCFVcS @coachtricketts @thelab_fb @jpmcfeeley @CoachPatsilevas @R_Lehmeier @timothysasson @wpialsportsnews @Cover3_ATH @WPIAL_Insider @TribLiveHSSN @TribStandout pic.twitter.com/xxZT9WOoba

— Luke Lawson (@lukePlawson) November 19, 2021
Update (12:03 PM)-
They just better know them Gates getting locked so have all the Fun they want rn! 😤😤😤😤 #💩Personal https://t.co/j12OPNUaJx

— Marquis Williams (@wiliamsisland14) June 27, 2022
Update (11:48 AM)- 
**On Sunday, Andre Powell and Pitt extend an offer to 2024 4-star defensive end Daniel Holmes from Gonzaga High School in Washington DC. Holmes (6'6″, 240-pounds) is rated by Rivals as a Top 200 player in the Class of 2024 and the No. 3 ranked prospect in the state of Maryland. At this stage of his recruitment, Holmes holds offers from Boston College, Florida State, Indiana, Maryland, Miami, Michigan, Ole Miss, Penn State, Rutgers, Toledo, USC, Vanderbilt and Virginia Tech.
https://t.co/wpovUz7Txh Sophomore Season Highlights!

— Daniel (DD) Holmes (@danielholmes00) December 13, 2021