The Frank Walker Law/PSN Daily Notebook- June 29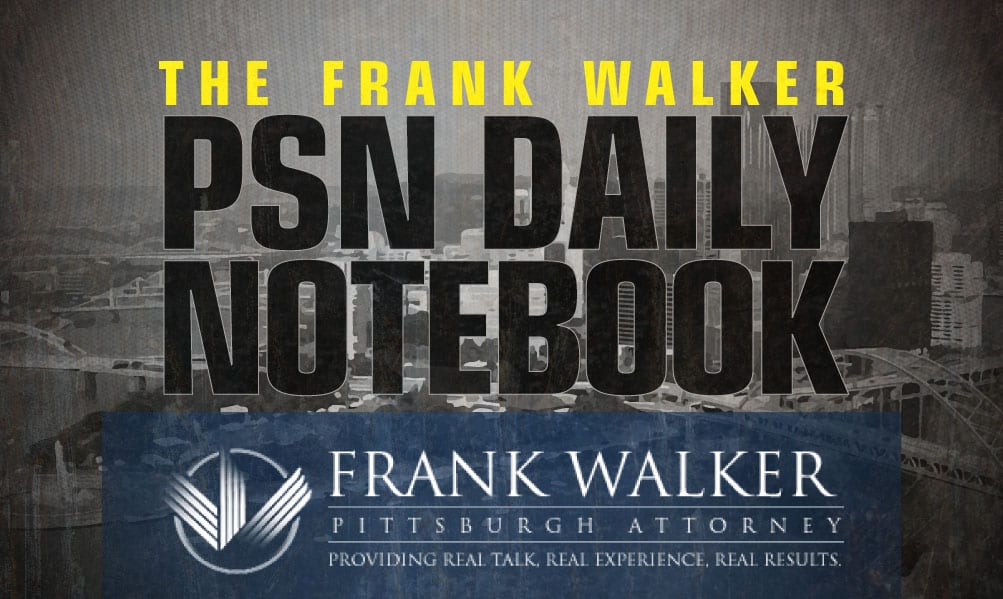 The PSN Daily Notebook is sponsored by Frank Walker, one of Pittsburgh and West Virginia's most respected criminal defense and injury lawyers. Mr. Walker has offices in Pittsburgh and Morgantown and has been named one of Top 100 National Trial Lawyers and is rated a perfect 10.0 Superb by Avvo for ethics, experience and results. To reach Mr. Walker, you can call 412-532-6805 or go to his website frankwalkerlaw.com. For real talk, real experience and real results, contact Frank Walker Law.
Update (8:29 PM)-
First look at new Pitt PG Dior Johnson in a Pitt uniform 👀

Via: Diorr on IG pic.twitter.com/TeS0oKUAuE

— Nick Farabaugh (@Nick_Farabaugh) June 29, 2022
Update (8:25 PM)-
**Pitt women's basketball extended an offer to top 2025 recruit Madison Francis today. Francis, a 6-foot-1 wing from Lancaster Central High School in Lancaster, New York, is a four-star recruit who has also received offers from North Carolina, Penn State, Miami, Florida, Purdue, Clemson, Ohio State, Syracuse and Rhode Island.
I truly appreciate the scholarship offer and the great conversation from the University of Pittsburgh. Thank you, @Pitt_CoachWhite, @NickDiPillo, and the rest of the @Pitt_WBB staff! 🔵🟡🏀🐆 pic.twitter.com/vvIxrqXsWy

— Dabeautifulballa40 (@Madison28185042) June 29, 2022
Update (1:14 PM)-
how it started vs. how it's going @Elite11 Finalist 2022 #HardWorkPaysOff #elite11 #H2P pic.twitter.com/MiVr27jMH6

— T. Taylor Minchey (@tt_minchey) June 28, 2022
Update (10:25 AM)-
**The Robert Morris men's basketball team will have a non-conference game on November 7 at Ohio State.
📅 Our non-conference schedule has arrived.

🎟️ Don't miss out, season tickets are on sale now❗https://t.co/j6WGAIHb6n pic.twitter.com/b89qkvHopQ

— Ohio State Hoops (@OhioStateHoops) June 29, 2022
Update (10:17 AM)-
Back from abroad. @williamjeffress & @n_santos33 share cultural experience in Greece with @East_Coast_BBC.

— Pitt Basketball (@Pitt_MBB) June 29, 2022