The Frank Walker Law/PSN Daily Notebook- June 30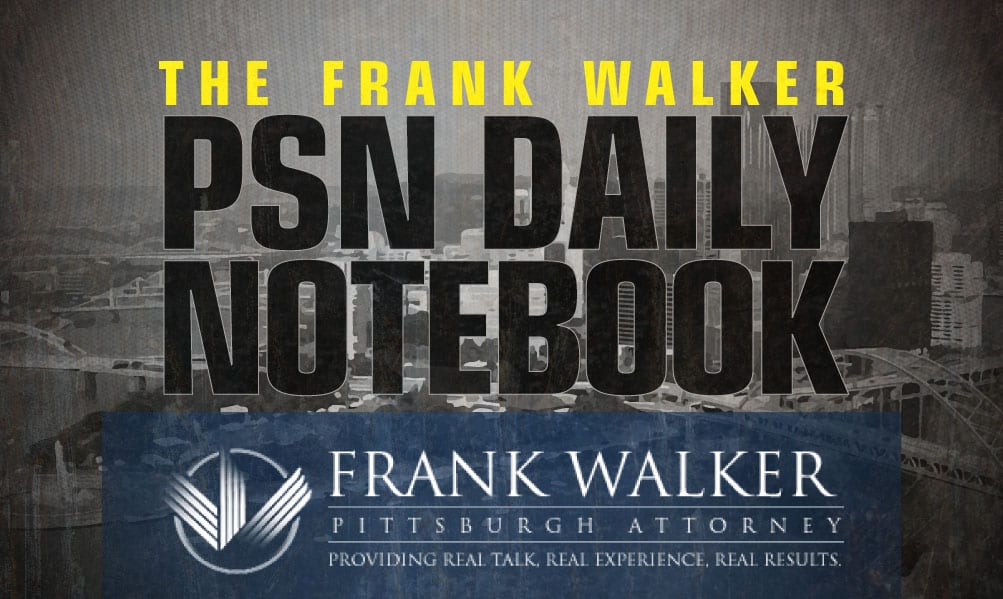 The PSN Daily Notebook is sponsored by Frank Walker, one of Pittsburgh and West Virginia's most respected criminal defense and injury lawyers. Mr. Walker has offices in Pittsburgh and Morgantown and has been named one of Top 100 National Trial Lawyers and is rated a perfect 10.0 Superb by Avvo for ethics, experience and results. To reach Mr. Walker, you can call 412-532-6805 or go to his website frankwalkerlaw.com. For real talk, real experience and real results, contact Frank Walker Law.
AROUND THE NETWORK
WV Sports Now: WVU football in a similar situation with Pitt as they bank on a highly-rated transfer quarterback to be the starter.
Nittany Sports Now: The Big Ten is looking to steal USC and UCLA from the Pac 12.
Pittsburgh Soccer Now: It's going to be another grind for Pitt men's soccer in 2022.
The Portal Report: Well that didn't work out very well for WVU…
Steelers Now: Kenny Pickett already top 5 in the NFL in jersey sales.
Pittsburgh Baseball Now: Bryan Reynolds has been en fuego in June.
Update (7:19 PM)-
Work Hard, Play Hard🔥‼️🔵🟡🔫🏈💥

Great day if Paintball for the guys 💪🏽 pic.twitter.com/v9XKfiEbRe

— Pat Narduzzi (@CoachDuzzPittFB) June 30, 2022
Update (10:54 AM)-
Team Hinson putting camp on notice 😳 pic.twitter.com/JKjXLZwKmW

— Pitt Basketball (@Pitt_MBB) June 30, 2022
Update (10:08 AM)-
Some more pictures via Kante's Instagram, including one with Pitt head coach Jeff Capel and one with Pitt's Gilbert Brown, who coached Kante at South Kent School prior to his time at Pitt. pic.twitter.com/aHW4DgCJ7W

— George Michalowski (@MichalowskiCBB) June 30, 2022
Update (10:04 AM)- 
We will play @DaytonWBB and @BonniesWBB at home and on the road this year 🏀

Check out the rest of our home and away matchups for the 2022-23 season ⬇️https://t.co/L7s6DKzzYo

— Duquesne Women's Basketball (@DuqWBB) June 30, 2022
Our 2022 schedule is 𝐇𝐄𝐑𝐄 🗓️

We're set to host 9⃣ home matches this fall, which one are you looking forward to most⁉️

🗞️ https://t.co/pYqklx3aQC
🎟️ https://t.co/nSVczPffNh #H2P pic.twitter.com/vkfT4sBXzS

— Pitt Women's Soccer (@Pitt_WSOC) June 30, 2022
Update (9:56 AM)-
4⭐️ Papa Kante on his visit to Pitt pic.twitter.com/AhcAjzOK6N

— George Michalowski (@MichalowskiCBB) June 30, 2022
Update (9:55 AM)-
Let's slow down on comparing Kenny Pickett to Joe Burrow, says @CarterCritiques.https://t.co/74aC8AFJrQ pic.twitter.com/WNtEklYt0f

— Steelers Now (@PghSteelersNow) June 30, 2022
Update (9:42 AM)-
Big-time performances Wednesday night at the Pro Day workout of the #Elite11 Finals are led by Kenny Minchey out of Pope John Paul II (Tenn.) 🏈🎯 pic.twitter.com/nel0rStV49

— Brian Stumpf (@Stumpf_Brian) June 30, 2022
Update (9:27 AM)-
Some big news in WPIAL girls hoops tonight, as longtime Mt. Lebanon coach Dori Oldaker has resigned after 19 seasons. They don't get much better than Dori, who has won six WPIAL and five PIAA titles in 23 seasons at Mt. Lebanon and Blackhawk. #PAGirlsHoops https://t.co/A3E8CSJIoo

— Brad Everett (@BREAL412) June 29, 2022
Update (9:17 AM)-
Night 2 @Elite11 Pro Day Winner

Kenny Minchey (@kenny_minchey) / Pope John Paul II Prep (TN) pic.twitter.com/m3ygQalQJv

— Elite11 (@Elite11) June 30, 2022
Update (9:13 AM)-
4⭐️ QB Kenny Minchey wins Pro Day competition at the @Elite11 finals. Great performance Day 2! 🥇📈 🔺@kenny_minchey pic.twitter.com/VH59bvunxf

— Riley Howard III 🇲🇭 (@RileyElite3) June 30, 2022