The Frank Walker Law/PSN Daily Notebook- July 5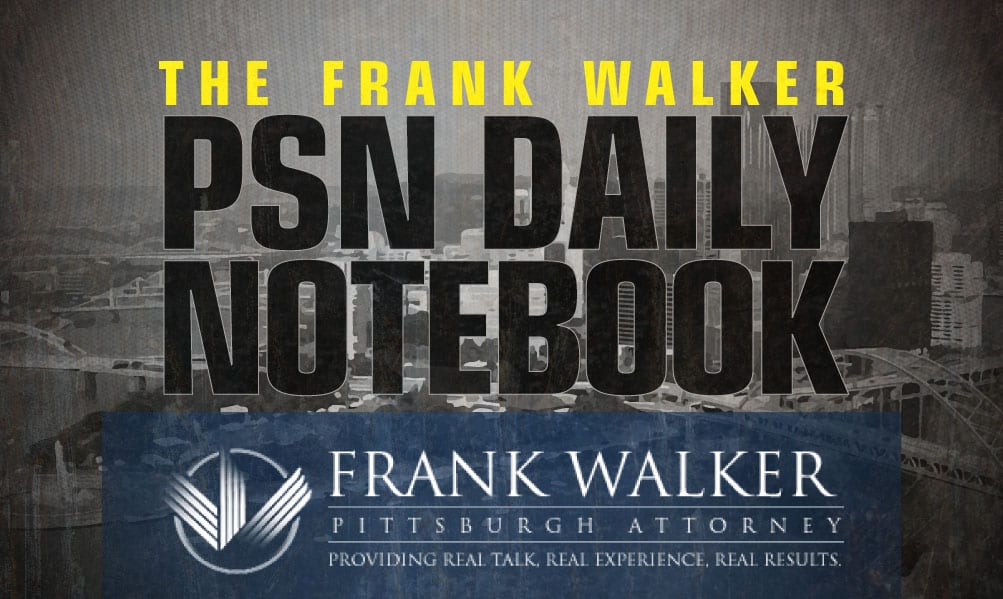 The PSN Daily Notebook is sponsored by Frank Walker, one of Pittsburgh and West Virginia's most respected criminal defense and injury lawyers. Mr. Walker has offices in Pittsburgh and Morgantown and has been named one of Top 100 National Trial Lawyers and is rated a perfect 10.0 Superb by Avvo for ethics, experience and results. To reach Mr. Walker, you can call 412-532-6805 or go to his website frankwalkerlaw.com. For real talk, real experience and real results, contact Frank Walker Law.
Update (9:26 PM)-
ACC Academic Honor Roll 📚🎓

Pitt had 35 football student-athletes on the list in 2022, including these 4x honorees.@_Deslin @OwenDrex @chris_maloney2 #H2P 👏 pic.twitter.com/UayOPJeUY7

— Pitt Football (@Pitt_FB) July 5, 2022
Update (4:19 PM)-
2023 Olympus Prep (NJ) 7'0 C Babacar Mbengue (@b_m_1_2_) now holds offers from Ole Miss, Texas Tech, Arizona State, Duquesne, Tulsa, & SMU. Running with @NewWorldAAU in July! @NextUpRecruits pic.twitter.com/fDh7iO4fQD

— NextUp Hayden (@NextUpHayden) July 5, 2022
Update (3:05 PM)-
— Mike Farrell (@mfarrellsports) July 5, 2022
Update (1:38 PM)-
The Elite 11 Stock Report https://t.co/uIloRB4Df1

— Mike Farrell (@mfarrellsports) July 5, 2022
Update (1:15 PM)- 
**The latest offer for North Hills 2024 forward Royce Parham comes from Sean Miller and Xavier. Parham (6'8", 200-pounds) also holds offers from Pitt, Duquesne, Robert Morris, Penn State, George Mason, VCU, Rutgers and TCU.
Blessed to receive a offer from Xavier after speaking with coach @CoachMillerXU @XavierMBB @Dwayne_Wise @teamdurant_AAU @NorthHillsHoops pic.twitter.com/UuIuAtJ8ML

— Royce Parham (@RoyceParham) July 5, 2022
Update (9:11 AM)-
*CBS Sports Jon Rothstein isn't giving Duquesne much of a chance this season.
Atlantic 10 Offseason Breakdown.

– Preseason Power Rankings
– Preseason Awards
– Full Depth Chartshttps://t.co/amP7PFW7DO

— Jon Rothstein (@JonRothstein) July 5, 2022
Update (7:42 AM)-
**The Pitt women's basketball staff will be out on the road recruiting today. Here are the locations.
@Pitt_WBB is hitting the road today! 👀's open for future Panthers! #H2P @Pitt_CoachWhite @CoachTerri_Pitt @BriannaKiesel03 pic.twitter.com/80smAL4t4H

— Nick DiPillo (@NickDiPillo) July 5, 2022
Update (7:36 AM)-
Well said!!!! Fact!!! https://t.co/G7Gddn7Qrm

— Pat Narduzzi (@CoachDuzzPittFB) July 5, 2022
Around the Network
Steelers Now: Steelers All 90: Duke RB Workhorse Mateo Durant Seeks NFL Fit
Pittsburgh Hockey Now: Molinari: Have Opinion on Keeping 71, 58? Hextall Shouldn't Care
Pittsburgh Baseball Now: Pirates Acquire LHP Manny Bañuelos from Yankees for Cash Considerations
WVU Sports Now: West Virginia Included in Top 3 for 2023 3-Star DB Tayvon Nelson
Nittany Sports Now: PENN STATE MBB WILL FACE BUTLER IN THE GAVITT TIPOFF GAMES
Pittsburgh Soccer Now: FINAL: Riverhounds SC 3, NY Red Bulls II 0