The Frank Walker Law/PSN Daily Notebook- July 6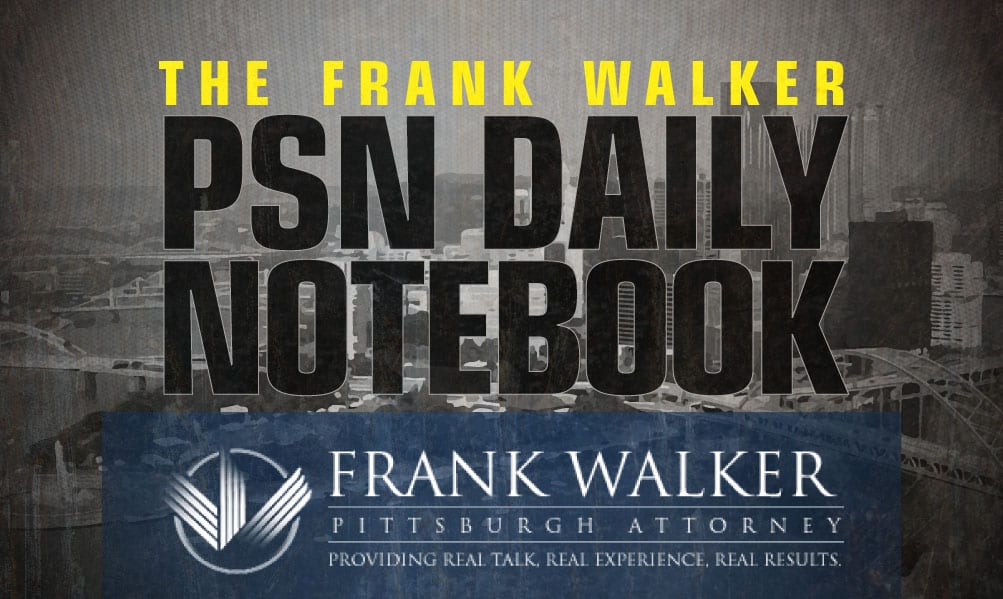 The PSN Daily Notebook is sponsored by Frank Walker, one of Pittsburgh and West Virginia's most respected criminal defense and injury lawyers. Mr. Walker has offices in Pittsburgh and Morgantown and has been named one of Top 100 National Trial Lawyers and is rated a perfect 10.0 Superb by Avvo for ethics, experience and results. To reach Mr. Walker, you can call 412-532-6805 or go to his website frankwalkerlaw.com. For real talk, real experience and real results, contact Frank Walker Law.
Update (9:31 PM)-
Houston, Georgia Tech, Yale, Pitt, Iowa, UCF, Georgia, Texas St, Stonehill, Samford, Kennesaw St for @MiddlesexMagic 16s vs @Xpress2024 pic.twitter.com/xCbO2pWUN4

— 𝒜𝓃𝒹𝓇ℯ𝓌 𝒮𝓁𝒶𝓉ℯ𝓇 (@Andrew__Slater) July 6, 2022
Update (9:12 PM)-
Wake Forest, Houston, UCLA, UConn, Pittsburgh, Stanford, Michigan, VCU, Game Theory Podcast, Maryland, Arizona, Seton Hall, URI, Albany, DePaul, Georgetown, Brown, American, Vermont, Stonehill, Charlotte, Ole Miss for @TeamThrillUAA vs @RioUniversity pic.twitter.com/jtpG1X0ycb

— 𝒜𝓃𝒹𝓇ℯ𝓌 𝒮𝓁𝒶𝓉ℯ𝓇 (@Andrew__Slater) July 7, 2022
Update (2:23 PM)- 
**Duquesne football gets a commitment from Gateway 2023 OL/DE Matthew Brooks.
Staying Home 🖤 @DuqFB @CoachFarisonDUQ @CoachMikeCraig @coachrichDuq @CoachRegWells @CoachGribbin @CoachDonHoll1 @coachivy1788 pic.twitter.com/M5G6qVzZz8

— Matthew Brooks (@MattBrooksJr) July 6, 2022
https://t.co/2dYTGuYdJJ Junior Season Highlights are up !! @coachivy1788 @CoachDonHoll1 @coachdonnyholl @wpialsportsnews @PaFootballNews @210ths @CoachBorbs

— Matthew Brooks (@MattBrooksJr) November 2, 2021

Update (8:54 AM)-
The Portal Report's National Football Analyst @mfarrellsports breaks down the most impactful non-QB transfers in the #ACC!#NoleFamily, #H2P, #4The404, and more…

FULL LIST: https://t.co/irTWxJgxSR pic.twitter.com/bl0AJjutVy

— The Portal Report (@ThePortalReport) July 5, 2022
Update (8:51 AM)-
CBS Sports has confirmed the ACC and Pac-12 have discussed a 'loose partnership' that could include 'championship game' in Las Vegas as a way to get ESPN to pay more — https://t.co/Do0GY2YbwU https://t.co/Xvy6VyQdxM

— Dennis Dodd (@dennisdoddcbs) July 6, 2022
Around the Network
Steelers Now: T.J. Watt Sure-Fire Pick for Steelers 2022 MVP
Pittsburgh Hockey Now: Dana Heinze, Penguins' longtime equipment manager, retires
Pittsburgh Sports Now: Florida 3-Star WR/Pitt Target Lamar Seymore Sets Decision Date
WVU Sports Now: West Virginia Announces Game Promotions; Which One Excites You Most?
Nittany Sports Now: Crystal Ball projects 2023 four-star offensive lineman Evan Link to Penn State
Pittsburgh Soccer Now: Takeaways & Player Grades: Cicerone-Dixon combo pull Hounds out of funk