The Frank Walker Law/PSN Daily Notebook- July 8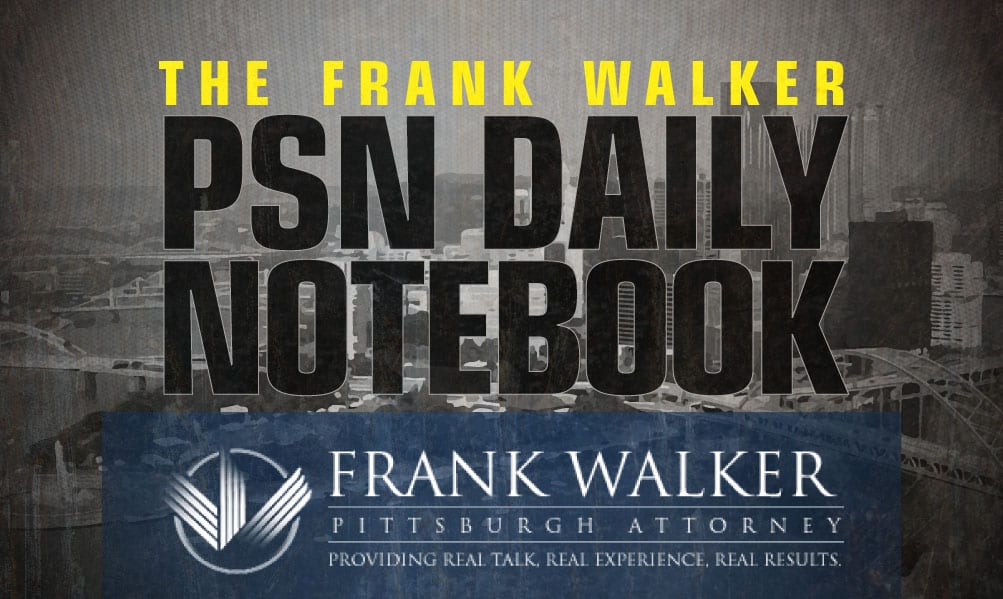 The PSN Daily Notebook is sponsored by Frank Walker, one of Pittsburgh and West Virginia's most respected criminal defense and injury lawyers. Mr. Walker has offices in Pittsburgh and Morgantown and has been named one of Top 100 National Trial Lawyers and is rated a perfect 10.0 Superb by Avvo for ethics, experience and results. To reach Mr. Walker, you can call 412-532-6805 or go to his website frankwalkerlaw.com. For real talk, real experience and real results, contact Frank Walker Law.
Update (9:35 PM)-
Scouting Notebook📓⏩ #2022EYBL

'23 Carlton Carrington (Pitt commit) was the catalyst for @TeamMe7oEYBL in their 8:00am W. Stood out as a multi-level scorer & shooter. Had some eye-opening weakside hits to shooters after creating breakdowns, & displayed impressive mobility on D. pic.twitter.com/8xdoX2x393

— Pro Insight™️ (@_proinsight) July 9, 2022
Update (9:01 PM)-
Tennessee, Kentucky, Pitt, Indiana, Purdue, SIU, Ball St, Indiana St. Hofstra for @TeamFinalEYBL vs @indyheatgymrats pic.twitter.com/SoYwHW64pD

— 𝒜𝓃𝒹𝓇ℯ𝓌 𝒮𝓁𝒶𝓉ℯ𝓇 (@Andrew__Slater) July 9, 2022
Update (4:14 PM)-
. @PSACardinals 16s vs @HoustonHoops17U

UConn, BC, Georgia Tech, Washington St, Pittsburgh, St. John's, Virginia among those in attendance pic.twitter.com/znTiDmc15F

— 𝒜𝓃𝒹𝓇ℯ𝓌 𝒮𝓁𝒶𝓉ℯ𝓇 (@Andrew__Slater) July 8, 2022
Update (2:20 PM)-
**Today, Robert Morris men's basketball extends an offer to 2024-point guard Damon Thompson Jr. from Richmond, Virginia. Thompson (5'11", 160) also holds offers from Hofstra, College of Charleston, NJIT and George Washington.
Update (11:51 AM)-
**Today, Duquesne men's basketball extends an offer to 2023 shooting guard Alex Bates IV from Matthews, North Carolina. The 6'5″ shooting guard also holds offers from Navy, Campbell, Boston University and Radford.
Blessed to receive a D1 offer from Duquesne university. @DuqMBB @CoachStitzel @UFCA_BBALL @DHolloway_ pic.twitter.com/yWLP2YVFjL

— Alex Bates IV ®️ (@abates_4) July 8, 2022
Update (10:05 AM)-
122 days until Pitt opens its season against UT Martin. https://t.co/BZ2iwXoF69

— George Michalowski (@MichalowskiCBB) July 8, 2022
Update (9:52 AM)-
New York twins Julian and Justin Champagnie to meet for first time as NBA players in Summer League. https://t.co/09hZr6MBNh @JulianChampagn2 @JusChampagnie @StJohnsBBall @NH_Lightning @sixers @Raptors

— Adam Zagoria (@AdamZagoria) July 8, 2022
Around the Network
Steelers Now: Steelers All 90: Will This Be the Year Derek Watt Gets a Greater Role?
Pittsburgh Hockey Now: Penguins' First-Round Draft Pick Might Be Big Hit … Eventually
Pittsburgh Baseball Now: Postgame Show: Pirates Split With Reds, Roansy Optioned To Indy
WVU Sports Now: West Virginia Voted 8th in Big 12 Preseason Poll
Nittany Sports Now: 4-STAR QB MARCUS STOKES DE-COMMITS, 2 MORE TOP TARGETS PASS ON PSU
Pittsburgh Soccer Now: FINAL: Riverhounds SC 1, Indy Eleven 0