The Frank Walker Law/PSN Daily Notebook- July 13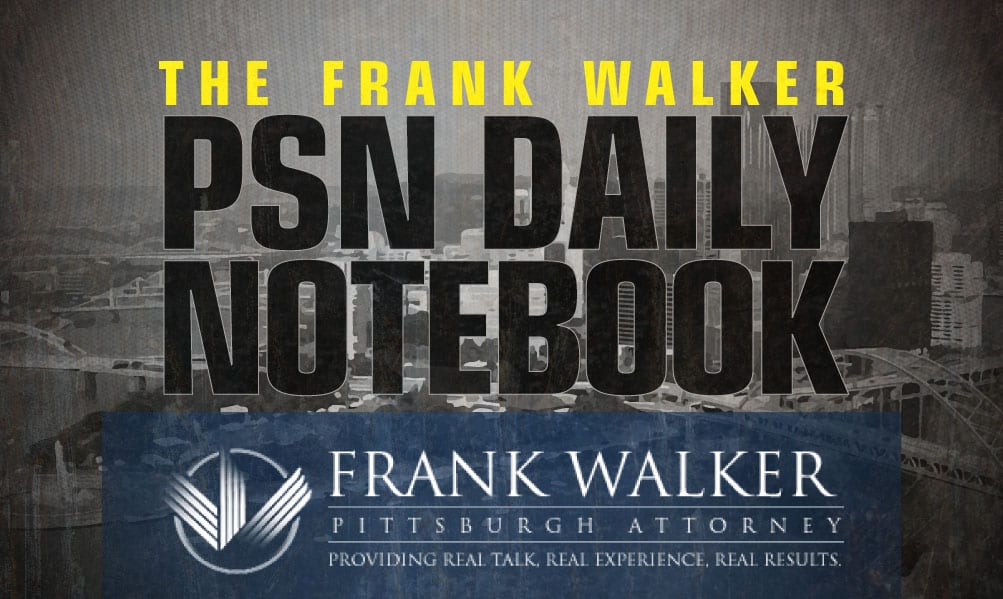 The PSN Daily Notebook is sponsored by Frank Walker, one of Pittsburgh and West Virginia's most respected criminal defense and injury lawyers. Mr. Walker has offices in Pittsburgh and Morgantown and has been named one of Top 100 National Trial Lawyers and is rated a perfect 10.0 Superb by Avvo for ethics, experience and results. To reach Mr. Walker, you can call 412-532-6805 or go to his website frankwalkerlaw.com. For real talk, real experience and real results, contact Frank Walker Law.
Update (3:00 PM)-
**Pitt basketball extended its second offer of the day to 2024 guard Kendall Braden from Toledo Christian High School in Toledo, Ohio. Braden (5-foot-9) also holds offers from Kent State, North Dakota, Cleveland State, Bradley, Youngstown State, Eastern Michigan, Murray State, Wright State and Toledo.
I had a great call today with @Pitt_WBB and I am thankful for the offer! @Pitt_CoachWhite @BriannaKiesel03 @CoachTerri_Pitt @NickDiPillo @Legends_Bball pic.twitter.com/KUDghBO4Vy

— Kendall Braden (@KendallBraden1) July 13, 2022
Update (1:25 PM)-
**Lance White and Pitt basketball extended an offer to 2023 forward Mary Meng from Midview High School in Grafton, Ohio this afternoon. Meng (6-foot-4) also holds offers from Kent State, Lafayette, Miami (Oh.), Birmingham, Canisius, Ashland, Youngstown State and Wofford.
Very excited to receive an offer from @Pitt_WBB. Thank you @Pitt_CoachWhite! @MacBasketballUA pic.twitter.com/qrTLFnZaEz

— Mary Meng (@MengMary) July 13, 2022
Update (1:15PM)-
Pitt 🛩 ACC Kickoff Media Day

Thursday, July 21 🎙📸🎥@Sirvocea @_Deslin @CarterWarren79 #H2P » @ACCFootball pic.twitter.com/x47GpJ2oeq

— Pitt Football (@Pitt_FB) July 13, 2022

Update (12:30 PM)-
One of the player who really helped turn the Pitt Men's Soccer program around in his three seasons from 2017-19. Solid addition for the Riverhounds https://t.co/CETHN3AvrD

— Dominic Campbell (@DOMISMONEY) July 13, 2022
Around the Network
Steelers Now: Art Rooney II: Acrisure Deal Gives Steelers Competitive Edge
Pittsburgh Hockey Now: Malkin is Staying; Gets Four-Year, $24.4 Million Contract
Pittsburgh Baseball Now: Pirates Defeat Marlins 3-2; Win Fourth Straight Game for First Time Since 2019
WVU Sports Now: Former West Virginia Pitcher Daniel Ouderkirk Commits to Penn State
Nittany Sports Now: JOHN HARRAR, NATALIE HEISING PENN STATE'S RECIPIENTS OF BIG TEN OUTSTANDING SPORTSMANSHIP AWARD
Pittsburgh Soccer Now: Open Field launches competitive men's club in partnership with CCAC