The Frank Walker Law/PSN Daily Notebook- July 14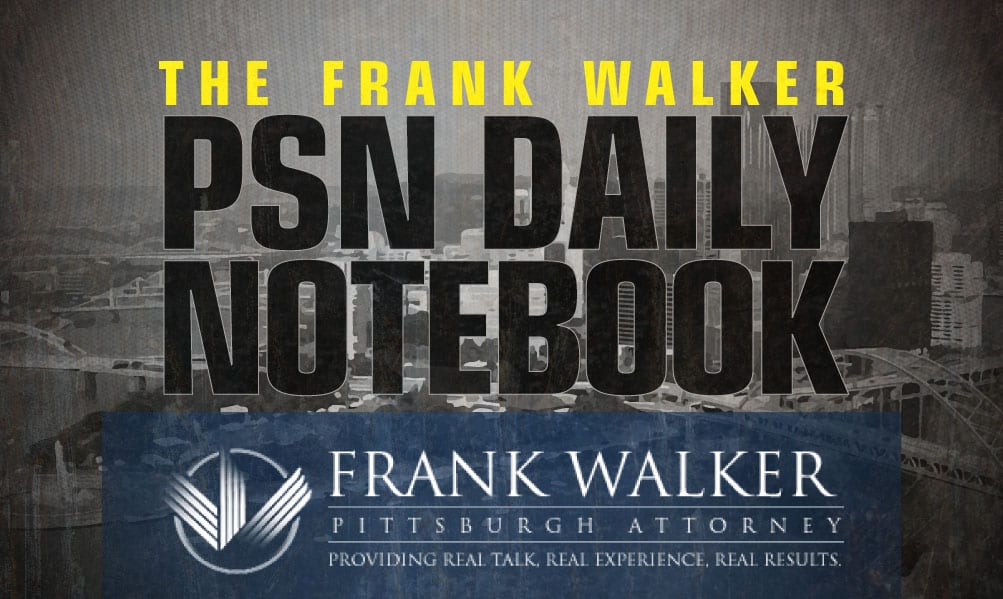 The PSN Daily Notebook is sponsored by Frank Walker, one of Pittsburgh and West Virginia's most respected criminal defense and injury lawyers. Mr. Walker has offices in Pittsburgh and Morgantown and has been named one of Top 100 National Trial Lawyers and is rated a perfect 10.0 Superb by Avvo for ethics, experience and results. To reach Mr. Walker, you can call 412-532-6805 or go to his website frankwalkerlaw.com. For real talk, real experience and real results, contact Frank Walker Law.
Update (8:42 PM)- 
**Norwin 2023 kicker/punter Joey Castle has received an offer from Akron. Castle also holds offers from Buffalo and Toledo.
I am excited to announce I have received an offer from The University of Akron!! @TeamsCoachTuck @BallCoachJoeMo @HKA_Tanalski @KohlsKicking @BillBeckner @NKnightsFBall #gozips #eyesup pic.twitter.com/1rxzNVQJIL

— Joey Castle (@JoeyCastle7) July 15, 2022

Update (8:37 PM)-
Pitt has offered 2024 Dwayne Pierce, per @Andrew__Slater.

Pierce is a 6'6 SG out of Christ the King in NY.

"I'm a versatile 3 level scorer & a good interior & perimeter defender & my #1 asset is seeing the floor." pic.twitter.com/9QP8OAzVNt

— George Michalowski (@MichalowskiCBB) July 15, 2022
Update (2:02 PM)-
2024 Damon Thompson Jr. @redd1k_drt has added a few more offers as of late including Jacksonville and Robert Morris.

We spoke to him a few weeks ago about how his summer has been going: https://t.co/30Jce84p8M pic.twitter.com/Q36Ok8xBNc

— Patrick O'Brien (@POBScout) July 14, 2022
Update (1:32 PM)-
2024 Team Durant/Imani Christian PF Virgil Hall (@iamvirgilhall) is currently on a unofficial visit at Robert Morris, his coach tells me.

— THE MILLER REPORT ™️ (@Miller_Report) July 14, 2022
Update (1:00 PM)-
Pitt women's basketball adds a new member to their staff, with Hannah Daneilsen joining as head strength and conditioning coach. Danielsen worked at Mississippi State last season in the same job for their women's basketball team. She also worked for Wichita State, Arizona State, Maryland and Utah is similar roles.
We got better (& stronger) today‼️

Super excited to welcome @coachHMW to the Steel City 🌆

🔗 https://t.co/Bwtt11PUlh#H2P pic.twitter.com/nOvzKWIB0p

— Pitt Basketball (@Pitt_WBB) July 14, 2022
Update (12:58 PM)- 
The Petersen Events Center is now upgraded, as Pitt invested to help complete an entire renovation of the Campus View Club. The renovations will be finished by the start of the 2022-23 season.
Gameday atmosphere the Pete 📶

➡️: A new round of enhancements to the premium spaces + a complete renovation of the Campus View Club

✍️: https://t.co/vBpMpsLFVn#H2P

— Pitt Panthers (@Pitt_ATHLETICS) July 14, 2022
Update (12:27 PM)-
Pitt WBB offers Chicago point guard Destiny Jackson, of the 2025 class Jackson also holds offers from Houston and Illinois.
Blessed to receive and offer from @Pitt_WBB thank you @Pitt_CoachWhite and @CoachTerri_Pitt looking forward to learning more about the program @MacIrvinGirls pic.twitter.com/2vcev6cH24

— Destiny Jackson (@JacksonDestoo) July 14, 2022

Update (11:19 AM)-
What a great picture of the Bowser family out on vacation repping the Pitt gear 💙 #H2P https://t.co/KUQHm47GeB

— Calijah Kancey (@Ckancey8) July 14, 2022
Update (10:26 AM)-
Happy 37th birthday to @Revis24 🎂

⭐️ Super Bowl Champion
⭐️ 1st Round Pick
⭐️ 4x All-Pro
⭐️ 7x Pro-Bowl
⭐️ Revis Island
⭐️ 2010s All-Decade Team
⭐️ NFL Record 31 Passes Defended in a Single Seasonpic.twitter.com/w29Y6yROlY

— Dov Kleiman (@NFL_DovKleiman) July 14, 2022
Around the Network
Steelers Now: SN Debate: Should Steelers Negotiate with Players in Regular Season?
Pittsburgh Hockey Now: 'Couple Too Many,' Hextall Confirms Penguins Trying to Trade Defensemen
Pittsburgh Baseball Now: Pirates Blow JT Brubaker's Strong Start, Marlins Defeat Pirates 5-4 in Back And Forth Game
WVU Sports Now: Breaking Down West Virginia's Preseason Depth Chart: Offense
Nittany Sports Now: Atlanta Falcons Sign Former Penn State Defensive End Arnold Ebiketie
Pittsburgh Soccer Now: Back in the 'Burgh: Edward Kizza Joins Hounds on Loan from Revs