Pitt Commit Carlton Carrington Named EYBL Breakout Player of the Session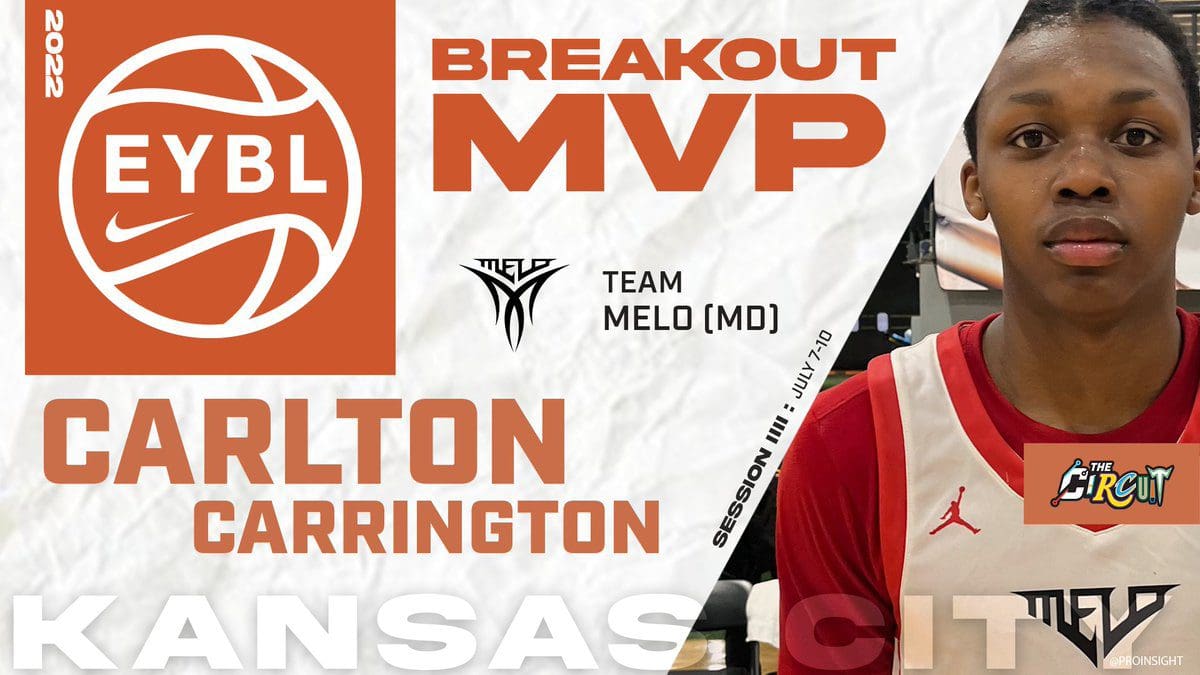 All summer, Pitt 2023 commit Carlton Carrington has been competing for Team Melo, a DMV-based program that competes on the Nike EYBL circuit.
The EYBL is arguably the most talent-filled travel basketball circuit out there, along with Adidas and Under Armor's circuits. Carrington and his Team Melo teammates have been lighting it up all summer, and recently qualified for the EYBL championships at Peach Jam, where hundreds of college coaches and scouts gather in late July every season.
After exploding for an average of 16.7 points and 7.5 rebounds per game this past weekend in the league's Kansas City session, Carrington was named the EYBL Breakout Player of the Session. He also earned Second Team All-Session honors for his stellar performances.
To find out more about Carrington's performance down in Kansas City, PSN caught up with Matthew DaRosa of Endless Motor Scouting, who has watched Carrington play numerous times this year in both high school and EYBL action.
After watching Carrington play back in December for his loaded St. Frances (Baltimore) high school team, DaRosa checked him out again this past weekend.
"I saw Carlton suit up for St. Frances, his high-school team," DaRosa told Pittsburgh Sports Now. "At that point, he was impressive that first time. The first thing that stands out is the perimeter shot-making ability, the NBA range. He has a good frame that immediately caught my eye. He can probably add 15-20 pounds of muscle mass. I kind of tracked him from there. Then, I saw him this last weekend in Kansas City and he was a bit more impressive this time around."
"On the high school team at St. Frances, he was more of an off-ball option. Whereas Jahnathan Lamothe (Maryland commit) carried the load in terms of shot creation and on-ball playmaking. Carlton was sort of a secondary playmaker in that setting."
Carrington's full stat-line from this past weekend in Kansas City reads as follows: 16.7 PPG, 7.5 RPG, 4.3 APG, 1.3 SPG.
Nike EYBL IV: Kansas City 🤯 Breakout Player Of The Session

Carlton Carrington // Team Melo (MD)

STATS: 16.7 PPG, 7.5 RPG, 4.3 APG, 1.3 SPG

READ 👇🏾https://t.co/CpsJyNsKdR @TeamMe7oEYBL pic.twitter.com/yyXaR3jko8

— The Circuit (@TheCircuit) July 14, 2022
"Now, you fast forward to what I saw this past weekend with Team Melo, he [Carlton] was a bit more of an on-ball guy," DaRosa added. "He was creating his own offense and really setting up for others. He did a fairly good job of creating his own shot and getting lift on his jump shot against contests. He has a pretty high release point which aids him in shooting against guards his size or maybe a bit smaller. And what I saw this past weekend in Kansas City is a bit more versatility in the shooting profile. He's not just sitting in the corner and catching and shooting or attacking a closeout, they're actually running set actions for him. Running dribble handoffs for him. That's the thing that immediately popped out. He's coming off that and raising up with comfort and displaying NBA range. It was a really impressive display of shooting prowess, what I saw this past weekend in Kansas City."
Pittsburgh Sports Now recently caught up with Carrington and his father, Carlton Carrington Jr., in an exclusive interview. For more on the Carrington family and what brought Carlton to Pitt, check out the latest from PSN below.
Carlton Carrington III: A Recruitment Full of Patience and Guidance Pays Off with Pitt Commitment